Rhett Mullins, Clinical Psychology graduate student, awarded Air Force Health Professions Scholarship
We are pleased to announce that Rhett Mullins, Clinical Psychology graduate student, has been awarded an Air Force Health Professions Scholarship. He is one of only 7 students nationally to receive this scholarship this year! Congratulations!!!
Dr. Erin Rasmussen elected President of Association for Behavior Analysis International
Dr. Erin Rasmussen was recently elected president of the Association for Behavior Analysis International (ABAI). The organization has been the home for behavioral psychology since 1974 and has over 7,000 active members worldwide. Dr. Rasmussen has been a member of ABAI since her first conference as a student in 1995. She served on the ABAI Science Board from 2012-2015 and served a term as the Associate Editor (2014-2019) for the organization's journal Perspectives on Behavior Science, helping to re-brand the journal and its mission (formerly called The Behavior Analyst). She was also a graduate student representative to ABAI's Executive Council from 1998-2001. Rasmussen will hold the position of president for a three-year term. She is the youngest member to date to have been elected to serve this position.
Clinical Psychology student, Luis Rodriguez, awarded external grant
Luis Rodriguez, Clinical Psychology graduate student, was recently awarded an external research grant by the Speech Pathology and Behavior Analysis Special Interest Group. The award will assist in funding his dissertation, which examines risk-taking (i.e., probability discounting) in speech in a stuttering population. Luis's research will be supervised by Dr. Erin Rasmussen and is a joint collaboration with Dr. Dan Hudock.
Experimental Psychology Student selected for highly competitive intensive summer training
Experimental student Aimee Bozeman has been selected for the highly competitive Spinal Cord Injury Training Program (SCITP), at Ohio State University, this summer. The SCITP is a 2-week intensive training program with intensive labs, lectures, and group discussions, and is led by some of the world's leading spinal cord injury scientists.
Clinical student wins poster competition
Clinical Ph.D. student Joy Lee won the poster competition at the Four Corners Association for Behavior Analysis conference March 2019. She presented a poster on monetary and food discounting across the academic semester.
Two Psychology faculty members receive high awards
Two faculty members from the Psychology Department were selected for Idaho State University awards for the 2018-19 school year. Dr. Nicki Aubuchon-Endsley was selected for the Outstanding Service award and Dr. Tera Letzring was selected for the Outstanding Research award. The service award recognizes faculty who have made significant contributions in service to the university and society. The research award recognizes faculty who exemplify excellence in research based on the significance of research, publications of research findings, evidence of extended development of a research area, and student mentorship.
Psychology professor Dr. Erika Fulton selected as expert reviewer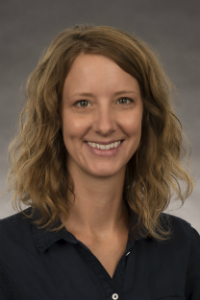 Psychology professor Dr. Erika Fulton has been selected as an expert reviewer for the Advisory Panel of the National Standards for High School Psychology Curricula, set by the American Psychological Association. She is one of two reviewers serving in the cognitive domain on a panel of 16 experts. Dr. Fulton is uniquely qualified for this appointment as she worked in K-12 education for 10 years before preparing to become a university professor.

Psychology undergraduate student selected for competitive research internship in Chicago
Shelby Weber, a graduating senior psychology major (double majoring in Sociology) received notification that she was selected for a competitive research internship this summer funded by the National Institute of Drug Abuse (NIDA). She has been matched to work on a project in Chicago at Rush Medical Center interviewing inner-city women to assist on the TAP study- a study of trauma and chronic pain- funded by the National Institute of Health thru 2020. The NIDA summer internship is a two month fellowship with stipend and housing. It is a very competitive selection process. We are so pleased Shelby was selected for this opportunity! Shelby has elected to pursue a PhD in clinical psychology at ISU this fall.
Experimental Psychology Grad Student Doug Colman awarded Outstanding Graduate Student
Doug hits the mark on all of the criteria for the Outstanding Graduate Student Award. Doug's level of academic achievement is extremely high, as reflected in his cumulative GPA of 3.94 - which includes grades from challenging classes that have mostly been statistical courses or seminar-format courses. Doug has sought out additional, high quality, intensive career-related experiences to ensure he learned as much as possible during this phase of this career. Two of these experiences stand out as exceptional. First, he spent several weeks during the summer at the University of British Columbia to learn more about the statistical model we use to analyze our data from the person who developed the model. This visit resulted in a publication in a respected, peer-reviewed journal. The other experience was the 2-week intensive summer institute that Doug attended last summer. He was chosen from among 300 applicants for one of 77 spots, which was an honor and recognition of his academic success and potential. Doug's involvement in conducting and disseminating research has been impressive: he has eight publications, seven manuscripts in preparation, and a multitude of conference presentations and posters. His research is conceptually and methodologically rigorous and timely. Furthermore, he is at the forefront of emerging changes in the Psychology to increase the reproducibility, transparency, and replicability of research findings. In addition to designing and conducting his own research projects, Doug has mentored undergraduate and junior graduate students on research projects, and he is an encouraging and talented mentor. Doug has worked with three undergraduate students to help them develop projects that have been presented at national, regional, and local conferences. Two students he mentored received research awards for the quality of the abstracts they submitted to regional conferences. Doug has independently instructed multiple courses at ISU at both the lower- and upper-division undergraduate levels, and is a fabulous teacher who cares deeply about his students and their learning. Overall, Doug is an excellent student, teacher, mentor, leader, and researcher, and is fully deserving of ISU's Outstanding Graduate Student Award.
ISU Clinical Psychology ranked in top 50 best Ph.D. Programs
The doctoral program in Clinical Psychology at Idaho State University was recently ranked in "The Top 50 Programs in Clinical Psychology 2017" by Best Counseling Degrees. It ranked 4th!

The ranking is based on the EPPP pass rate, length of the program, tuition (full time out of state), and licensure percentage.
http://www.bestcounselingdegrees.net/best/ph-d-in-clinical-psychology/
Psychology Graduate Students present first authored research at International Society for Traumatic Stress Studies
Psychology graduate students Bailey Perschon, Stephanie Kaplan, Elizabeth Craun, and Colin Mahoney, as well as recent ISU graduate, Chris Decou, all presented first authored research posters at the International Society for Traumatic Stress Studies in Chicago November 9-11, 2017. Faculty members Shannon Lynch, Maria Wong, and Nicki Aubuchon-Endsley were coauthors on the students' presentations.
Maria Wong Receives ISU Achievement Award
ISU Achievement Award – Maria Wong – Wong is professor and director of the Development and Resilience Lab in the Psychology Department at Idaho State University.
She received her Ph.D. in developmental psychology from the University of Chicago and completed postdoctoral work in substance use at the University of Michigan.
Her research examined risk and protective factors associated with important developmental outcomes such as substance use, suicidal behavior and resilience.
Her current work focuses on understanding how sleep and self-regulation (control of affect, behavior and cognitive processes) affect substance use.
Her work has been funded by the National Institute on Alcohol Abuse and Alcoholism and National Institute of General Medical Sciences. Her research was cited in articles published by National Public Radio, Time Magazine, BBC, CNN, NBC, Reuters and the Associated Press.
2017 Idaho State University Homecoming award recipients announced
Joy Lee, a clinical PhD student in the Psychology Department has just been awarded a $10,000
Joy Lee, a clinical PhD student in the Psychology Department has just been awarded a $10,000 research grant from the Sidney W. and Janet R. Bijou Grant, which is offered through the Society for the Advancement of Behavior Analysis. The grant supports doctoral research that combines behavior analysis and developmental science principles. Joy will use the money to fund her dissertation, which will be to test the extent to which food impulsivity changes across the lifespan, with special emphasis on the transition from childhood to puberty. Joy's mentor for the grant proposal and project is Dr. Erin Rasmussen.
Mona Xu was awarded ​an Outstanding Achievement Award
Mona Xu was awarded ​an Outstanding Achievement Award by the Mountain West Clinical Translational Research - Infrastructure Network. The MW CTR-IN comprises 7 Mountain West states and 11 institutions, including ISU. Dr. Xu was recognized during their annual conference in May 2017 in Las Vegas.
Committee on Women in Psychology
Shannon Lynch, Psychology Professor, has been appointed to the Committee on Women in Psychology for a three-year term. The Committee on Women in Psychology is a standing committee of the American Psychological Association (http://www.apa.org/pi/women/committee/). It has six members. The committee collects information regarding the status on women in psychology and develops and informs policy recommendations that affect women's lives. The committee has produced a Changing Gender Composition in Psychology report and a resolution on Human Trafficking that have been approved and will be published this spring. An ongoing task is a project focused on sexual assaults on campuses and campus climate. Dr. Lynch attended the consolidated spring meetings for this committee assignment March 24-26 in Washington DC.
ISU Graduate Research Symposium Recognitions
The Psychology Department congratulates our students who won recognition for their work presentations and posters at the ISU Graduate Research Symposium hosted by the Graduate School.
Top Oral Presentation in Health & Innovations
Retinoic-Acid Induced Spina Bifida in Rats: Behavior and Morphology -- Hillary Swann, Leah Kollmeyer, Steven Conway, Valerie Mendez-Gallardo, Kira Hunter, Nicholas Burgett & Michele Brumley
Top Oral Presentation in Complex Social & Behavioral Systems
Pupil Dilation and Blink Rate as Measurements of Cognitive Load During Deception -- Reinalyn Echon, Kandi Turley-Ames, Shana Humphreys & Charles Parker
Top Oral Presentation in Building Success Across Diverse Context
Exploring the Publication Network of Graduate Students Across Programs: A Social Network Analysis -- Douglas Cruthirds, Jessica N. Stoker & Douglas E. Colman
Top Poster in Adversity & Resilience
Suppression and Acceptance as Predictors for Physical Health among Incarcerated women -- Bailey Perschon, Bryn Kennel, Shelby Weber, Duyen Vo, Emily Konecky & Shannon Lynch
Top Poster in Complex Behavioral Systems
Differences in Caregiver Coping Style Effect Efficacy of Mindfulness-Based Interventions -- Lucinda Scott