President's Office Staff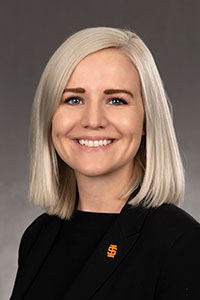 Dani Dunstan
Chief of Staff
(208) 282-3343
Institutional priorities

The status of key projects and initiatives

Mission, vision, and values at ISU

Employee engagement
Dani Dunstan joined Idaho State University as chief of staff to the president in August of 2018. Dani has a passion for the mission of higher education. In her role as chief of staff, Dani develops strategy, programs, and initiatives that serve student needs and further the mission of education in Idaho. Dani brings a strength-based leadership approach aimed at employee growth and engagement at all levels of the university. In this role, Dani is responsible for the execution of the President's agenda and high-level priorities. This is accomplished by maintaining an inventory of all critical path projects and resolving issues that could impact the execution of initiatives. Dani participates in institutional planning, policy development, and problem resolution. She also acts as an emissary and liaison to the campus community on behalf of the President.
Prior to joining Idaho State University Dani served as the director of campus operations at Boise State University and the executive assistant to the chief operating officer. Before joining Boise State, Dani served as the Community Relations Coordinator for Idaho's Dairy Products Commission managing community outreach programs and executing marketing and communications initiatives.

Dani holds a master's degree in Public Administration and a bachelor's degree in Political Science. In her spare time, she enjoys reading, running, and traveling.
Shereen Ainsworth
Executive Assistant
(208) 282-2566
How to schedule Kevin for an event
Shereen Ainsworth joined Idaho State University as Executive Assistant to the president in June of 2016.
Prior to joining Idaho State University Shereen worked as the Executive Assistant and HR Specialist for Platypus Technologies. Before joining Platypus Technologies, Shereen spent many years as the Scheduler and Office Manager for Speaker Paul Ryan.
Shereen is a master's degree candidate in Public Administration and has a bachelor's degree in Political Science. In her spare time, she enjoys camping with the family, reading, learning new things, and exploring Idaho and the surrounding states.
Contact
(208) 282-3440
Administration Building
921 S. 8th Ave, STOP 8310
Pocatello ID, 83209-8310