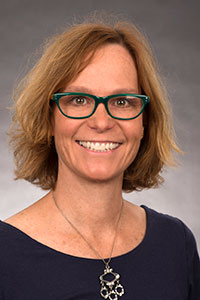 Donna L. Lybecker
Professor of International Relations, Environmental Politics, and Comparative Politics
Office: Graveley Hall, North Wing, 3rd floor
Ph.D. Colorado State University, 2003
Donna L. Lybecker's research interests include the politics of borders, environmental politics in the Western U.S. and Latin America, and the framing of political issues. Her specific interests include the US-Mexico border, water issues among the Western states and more recently the role language and narratives play in policy development. Dr. Lybecker has co-authored two books, Great Debates in Environmental History with B. Black (2009), and Cases in International Relations: Pathways to Conflict and Cooperation with G. Hastedt and V. Shannon (2014). And she was named "Distinguished Teacher" at ISU in 2013.
Currently Dr. Lybecker serves as Chair of the Political Science Department and as ISU Science Co-Lead for the NSF EPSCoR Managing Idaho's Landscapes for Ecosystem Services (MILES) project grant. The MILES grant draws together faculty from the bio-physical and social sciences, allowing for research into the complexity of ecosystems and combining ecological research with public values, citizenship styles, and power assessments. Research for MILES also allows Dr. Lybecker to engage the community and local stakeholders. Dr. Lybecker previously worked as a contractor with the U.S. Geological Survey and as a post-doc with the U.S. Forest Service. She continues her research with these scholars.
Outside of ISU, Dr. Lybecker is a member of the United States Environmental Protection Agency (USEPA) National Advisory Committee, and an Associate Editor for the Social Science Journal and for the International Journal for Sustainable Society. She also works for the College Board and for the Educational Policy Improvement Center, and is on the Board of Directors for southeast Idaho's Sagebush Steppe Land Trust.
Select Publications
"The Social Construction of a Border: The US-Canada Border." Journal of Borderlands Studies. Forthcoming 2017 (with Mark K. McBeth, Adam Brewer, and Carine De Sy).
"Do We Understand What the Public Hears? Stakeholders' Preferred Communication Choices for Discussing River Issues with the Public," Review of Policy Research, Vol. 33, No. 4 (2016), 376-392 (with Mark K. McBeth, and James W. Stoutenborough).
"Do Stakeholders Analyze their Audience: The Communication Switch and Stakeholder Personal versus Public Communication Choices," Policy Sciences. Vol. 49(4) (2016), 421-444 (with Mark K. McBeth, and James W. Stoutenborough).
Cases in International Relations: Pathways to Conflict and Cooperation (with Glenn Hastedt and Vaughn Shannon). CQ Press (2014).
"Trash or Treasure: Recycling Narratives and Reducing Political Polarization, Environmental Politics, Vol. 22, No. 2 (2013), 312-332.
"The Commission for Environmental Cooperation as a Model for Promoting Sustainable Development in the Americas," International Journal of Sustainable Society, Vol. 3, No. 2 (2011), 151-173 (with Stephen P. Mumme).
The Story of Good Citizenship: Framing Public Policy in the Context of Duty-Based versus Engaged Citizenship (with Mark McBeth and Kacee Garner). Politics and Policy, Vol. 38, No. 1 (2010), 1-23.
The Commission for Environmental Cooperation and Transboundary Conservation across the U.S.-Mexico Border (with Stephen P. Mumme, Osiris Gaona, and Carols Manterola). Conservation of Shared Environments: Learning from the United States and Mexico. Laura Lopez-Hoffman, Emily D. McGovern, Robert G. Varady, and Karl W. Flessa, eds. Tucson, AZ, University of Arizona Press (2009).
The Policy of Border Fencing between the U.S. and Mexico: Permeability and Shifting Functions. Journal of the Southwest, Vol. 50, No. 3, (2008), 335-352.
Great Debates in Environmental History (with Brian C. Black). Greenwood Publishing (2008).