Events and Resources for Students
Philosophy Club
Philosophy Club is an informal gathering of philosophy students and faculty. We meet once a week to talk about topics of interest to students. Occasionally we watch a movie and discuss it. Both students and faculty enjoy the opportunity to talk philosophy without the pressure of tests, papers, and grades.
Philosophy Club meets once a week during fall and spring semesters, at a day, time, and place arranged at the beginning of each semester to accommodate the schedules of those interested. For the current schedule, please contact Melissa Norton at 208-282-2274, or by e-mail at manorton@isu.edu.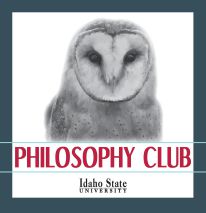 Philoso-Lunch
During the semester we meet weekly on Fridays to share lunch and ideas. Informal conversation. Bring lunch. Bring a friend! All are welcome.
Liberal Arts room 248 (the philosophy alcove)
Fridays at noon
Starting the 2nd week of each semester
Resources
Scholarships