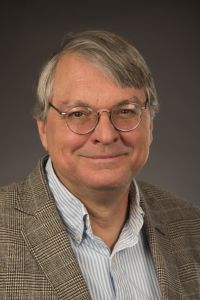 Russell Wahl
Professor of Philosophy
Office: LA 253
208-282-2392
Education
PhD, Philosophy (1982), Indiana University
MA, Philosophy (1977), Indiana University
BA, Philosophy and Government (1974), Colby College
I began my career working in the history of analytic philosophy and logic. I was particularly interested in the theory of logic found in Russell's and Wittgenstein's work. Since then I have also developed an interest in Bertrand Russell's theory of knowledge and the relation between science and philosophy. For the last twenty years I have also done research in early modern philosophy, particularly the rationalists of the seventeenth century. Mostly I have worked on the theories of ideas, perception and causation developed in this period, and again the relation between science and philosophy.
My main teaching areas are logic, theory of knowledge, philosophy of science, and early modern philosophy. Most of my teaching at Idaho State has been in introductory courses. In these courses we often find students who have never had any exposure to philosophy and are then quite taken by the richness of the field and the benefits that come with careful thinking.
I did my graduate work at Indiana University under Romane Clark. Nino Cocchiarella, Mike Dunn and Alberto Coffa were also members of my committee and people from which I learned a great deal. I taught at Wabash College in Indiana for five years before coming to Idaho State University in 1985. Since 1995 I have been director of the Philosophy Program here.
Book
The Bloomsbury Companion to Bertrand Russell, edited by Russell Wahl (Bloomsbury, 2018). Recipient 2019 Book Award Prize, Bertrand Russell Society.
Articles and Book Chapters
"The Reception of Russell's A History of Western Philosophy". Russell NS. Vol. 39 No. 1, Summer 2019.
"Syllogism in the Port-Royal Logic." The Aftermath of Syllogism, Marco Sgarbo, ed. 2018.
"Sense Data and the Inference to Material Objects: The Epistemological Project in Problems and its Fate in Russell's Later Work." In Linksy and Wishon, eds. Acquaintance, Knowledge, and Logic: New Essays on Bertrand Russell's The Problems of Philosophy. Stanford: CSLI, 2015, 87-105.
"The Axiom of Reducibility." Russell, NS Vol. 31 No. 1, 63-80, Summer 2011.
"Occasionalism, Laws and General Will." British Journal for the History of Philosophy, Vol. 19 No. 2, 219-240, March, 2011.
"Port- Royal: The Stirrings of Modernity." Handbook of the History of Logic Vol. II Mediaeval and Renaissance Logic, ed. Gabbay and Woods. Elsevier, 2008.
"'On Denoting' and the Principle of Acquaintance." Russell, Vol. 27, no. 1, Summer 2007.
"Occasional Causes." Explanation and Causation. (Topics in Contemporary Philosophy, Vol 4) ed. Cambell and O'Rourke. MIT Press, 2007.
"Malebranche: The Senses, Representation and the Material World." Perception and Reality: Descartes to the Present, Schumacher, ed. Paderborn: Mentis Verlag, 2004.
"Representation and Resemblance." Philosophies of Classical France, Elmarsafy, ed. Berlin: Weidler Buchverlag, 2001.
"Colour: Physical or Phenomenal." (with Jonathan Westphal) Philosophy, Vol. 73, no. 284, April 1998.
"The Port Royal Logic." Historical Antecedents to Informal Logic, Walton and Brinton, eds., London: Avebury Press, 1997.
"How Can What I Perceive Be True?" History of Philosophy Quarterly, Vol. 12 No. 2, April 1995, reprinted in Descartes, Sorell, ed., London: Ashgate, 1999.
"Impossible Propositions and the Forms of Objects in Wittgenstein's Tractatus." The Philosophical Quarterly, Vol 15, No. 179, April 1995.
"Russell's Theory of Meaning and Denotation and 'On Denoting.'" Journal of the History of Philosophy, Vol. 31, No. 1, January 1993.
"Descartes, Leibniz and Berkeley on Whether We Can Dream Marks of the Waking State." (with Jonathan Westphal), Studia Leibnitiana, Vol. 24, No. 2, 1992.
"The Arnauld Malebranche Controversy and Descartes' Ideas." Monist Vol. 71, No. 4, Oct. 1988, reprinted in Port Royal to Bayle, Essays on Early Modern Philosophers from Descartes and Hobbes to Newton and Leibniz, Vol. 4, V. Chappell, ed., Garland, 1992.
"Some Consequences of Possibilism." Australasian Journal of Philosophy, Vol. 65, No. 4, Dec. 1987.
"Bertrand Russell's Theory of Judgment." Synthese, Vol. 68. No. 3. Sept. 1986.
Awards/Honors
Distinguished Researcher, ISU, 2009
Outstanding Service, ISU, 1998
Master Researcher, ISU, 1994
Courses Taught
4470/5570: Symbolic Logic and Philosophy of Mathematics
4460/5560: Theory of Knowledge
4435/5535: Metaphysics
4430/5530: Philosophy of Science
3353: Philosophy of Law
3315: History of Philosophy: Early Modern Philosophy
3305: History of Philosophy: Greek Reason and Christian Faith
1103: Introduction to Logic
1101: Introduction to Philosophy
Advanced Logic (Formal Semantics and Set Theory)
American Philosophy
Contemporary Analytical Philosophy
Medieval Philosophy
17th-Century Philosophy
Descarts and Cartesians