Idaho Nursing Legend Alyce Kazuko Sato dies at age 88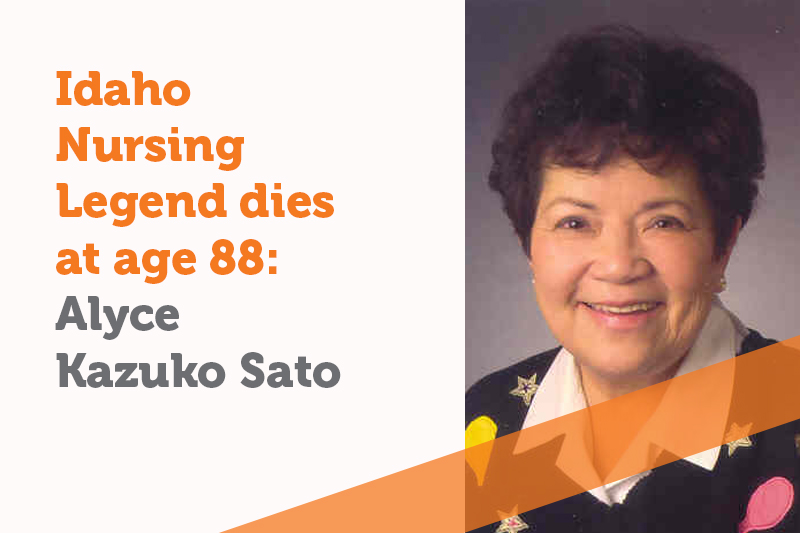 POCATELLO - December 23, 2019
Alyce Kazuko Sato, PhD, MSN, RN, a well know Idaho nurse died Sunday, December 15, 2019, in Pocatello. She described herself as a life-long learner and she attributed that to her childhood and family. She was born March 7, 1931, to Japanese immigrant parents who did not speak much English, and in their home they only had a small radio. Thus, Alyce became a frequent visitor to the public library. She said that reading was her adventure and that she could not remember a time in her life when she did not have a library card. Reading prompted her desire to learn. She loved reading about nurses and it was a natural move for her to become a nurse.
She is remembered in part for her contributions to nursing over several decades, and Idaho State University College of Nursing where she holds Professor Emeritus status. She first practiced as an LPN, and then went to Idaho State University where she obtained her bachelor's degree in nursing in 1969. She followed this degree with a master's in curriculum development from Idaho State University in 1976, and then a master's degree in nursing from the University of Portland in 1979. She worked at hospitals in Pocatello and became the In-service Education Director at St. Anthony Hospital. That prompted her to become interested in teaching.
Alyce then joined the nursing faculty at Idaho State University where she taught for 28 years. During her time at ISU she obtained a PhD in educational administration from the University of Utah and became the chairperson for the Department of Nursing. During her tenure at ISU, the master's program in nursing expanded to remote areas of the state, and graduate education in Idaho increased. Her many contributions have impacted nursing education and the careers of generations of Idaho nurses. Alyce was instrumental in moving the Department of Nursing to a School of Nursing and loved ISU.
Dr. Sato received many honors during her career. In 1981 she was appointed by Governor John Evans to the Idaho Board of Nursing (BON). In 1983 she was elected chairman of the BON and she served in that role until 1987 when her term expired. In 1995, she was again appointed to the BON by Governor Cecil Andrus, and she served a 4-year term. In 2006 she was named an Idaho Nursing Legend and also received the Distinguished Career in Nursing recognition by the March of Dimes.
Colleagues describe Alyce as:
"A true friend and colleague dedicated to the preparation of caring and competent nursing graduates."
"A terrific teacher, such a strong student and nursing advocate with a great sense of humor!"
"She will always be remembered by the students she taught and the faculty with whom she worked. My memories of her will always make me smile."
"She was a devoted wife, supportive mother and grandmother. She loved inviting guests in and preparing wonderful Japanese cuisine, which was a real treat. Somehow, between on-going education, ISU obligations, and BON responsibilities, she also managed to sew special outfits for the children as needed!"
Karen Neill, interim dean for the College of Nursing says "Alyce was dedicated to the nursing profession and patients, and made outstanding and valued contributions to building the profession of nursing at ISU and across Idaho. She will be greatly missed."
College of Nursing on Facebook
Idaho Department of Health and Welfare