Idaho State University, Fi-Ber Sports to test hockey skate protector using $111K Idaho Global Entrepreneurial Mission grant
June, 30, 2017
POCATELLO – Researchers at Idaho State University are building a machine to fire hockey pucks at 100 miles per hour at hockey skate protective gear to test a product designed by Fi-Ber Sports, Inc. in Boise.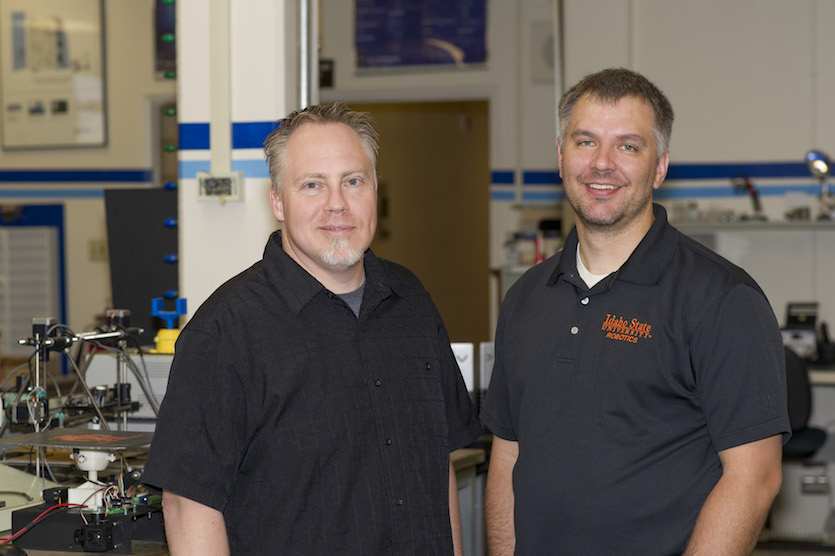 Fi-Ber Sports has created a product called HOPlite Skate Armor™ that incorporates a patented design to protect amateur and professional hockey players from catastrophic injury.
The research is funded by a $111,453 Idaho Global Entrepreneurial Mission grant from the Idaho Department of Commerce, a program designed to facilitate research partnerships between Idaho higher education institutions and the technology-based startup companies in the state.
"Idaho State University is pleased and proud to be working in collaboration with the Department of Commerce and Fi-Ber Sports on this unique project," said Cornelis Van Der Schyf, ISU vice president for research. "This type of collaboration between a public research institution, a state department and the private sector is essential in growing Idaho's economy. The really exciting part of this particular project is that College of Technology investigators are leading this research, contributing to the generation of new knowledge in the discipline of sports dynamics."
Researchers and engineers from the ISU Department of Robotics and Communications Systems Engineering Technology will build the advanced testing apparatus and sensors that accurately replicate and measure the impact of a fast-moving hockey puck and evaluate exactly how the HOPlite Skate Armor™ system functions.
"We are going to be measuring these forces on the hockey skate with and without the new HOPlite Skate Armor™ gear as well as complete comparative testing on other similar products in the market," said Shane Slack, director of the ISU robotics department and principal investigator.
The testing will be completed in the research area of the ISU Eames Advanced Technical Education and Innovations Complex, a campus facility formerly known as RISE, the Research and Innovation in Science and Engineering Complex.
ISU researchers hope to build the machine to fire and test the hockey pucks by mid-September and then run tests through the remainder of the fiscal year ending June 2018. Geran Call, ISU robotics instructor, is the co-principal investigator on the project.
"This represents advancement in our efforts to continue collaborations between our public research institution and the private sector, particularly in our support of economic development and job creation in Southeast Idaho and the region," said Christopher Fasel, director, ISU Technology Commercialization Office. "Our collaboration with the Department of Commerce is giving us the opportunity not only to build the economy, but also advance science."
During Fiscal Year 2017, the IGEM Council has awarded a total of $979,572 to commercialization research projects benefitting the State of Idaho. Funds are appropriated annually by the Idaho State Legislature.
"Technology offers us a compelling and exciting opportunity in modern medical innovation," said Megan Ronk, director of Idaho Commerce. "I am excited for the outcome of this project and the vast impact it can have in the future of sports medicine."