Pop-up centenary exhibit to highlight 1916 Easter Rising
March, 28, 2016
Students from the Department of History at Idaho State University will have their work covering the 100-year anniversary of the 1916 Easter Rising in Ireland displayed in a centenary exhibit in ISU's Pond Student Union Building on March 28 and 29 from 8 a.m. to 10 p.m.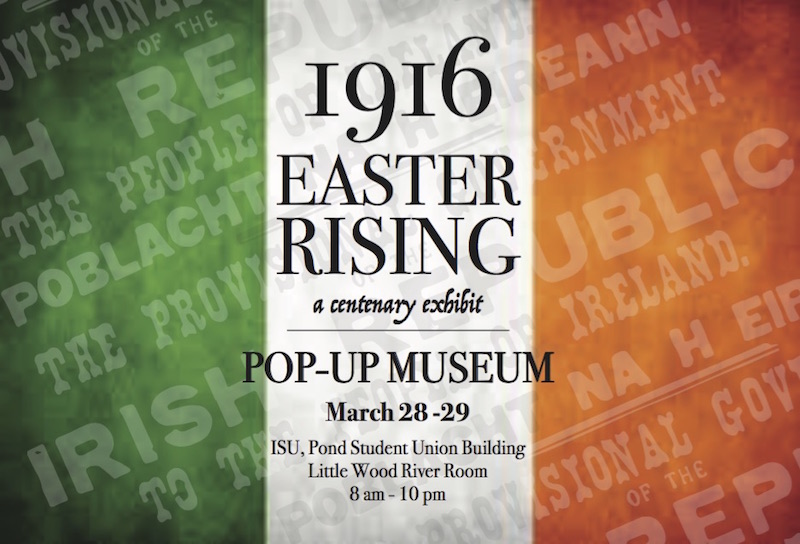 The students are part of professor Justin Stover's Modern Ireland class and have been learning and preparing for the exhibit this semester. Some examples of work include posters explorations of women and children during the rebellion, music commemorating the event and original artwork. Students will be present during the exhibit for guests to engage with.
"The pop-up exhibit allows my students to engage in the centenary anniversary of the 1916 Easter Rising on a deeper level," Stover said. "They were able to gather information through discussion and debate in class, as well as their own individual research."
The 1916 Easter Rising was a rebellion that aimed to end British rule in Ireland. It symbolizes reinvented Ireland and its legacy reinforced division.
The exhibit will be on display in ISU's Little Wood River Room in the Pond Student Union from 8 a.m. to 10 p.m. Admission is free and everyone is welcome to attend.
For more information, contact Justin Stover at stovjust@isu.edu or 282-2379.