Keyboards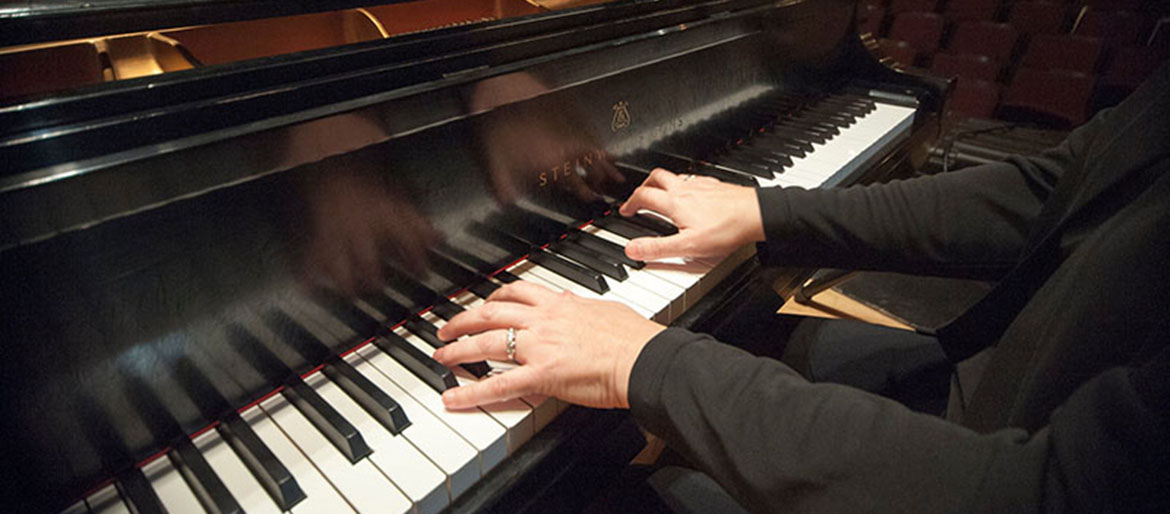 Degrees Offered with Keyboard Major - Piano or Organ:
Bachelor of Music
Bachelor of Arts
Bachelor of Science
Bachelor of Music Education
Music Minor
Audition Requirements
To be admitted into lessons as a major or minor, prospective students must perform and audition.
There are four parts to the audition:
performance by memory of two or three contrasting pieces from the standard Classical advanced repertoire
performance of selected major and harmonic minor scales and arpeggios
sight-reading of intermediate solo piano literature
answering/asking questions.
For more specific information, see the Guidelines for Keyboard Auditions.
Keyboard Area Description
The ISU Keyboard Area is determined to remain focused on the future career success of each of our students.
We are proud to place 100% of our applying graduates into high-level graduate schools, and 100% of our Bachelor of Music Education candidates into full-time jobs in the public school system immediately upon graduation.
The ISU Music Department offers several degrees with either piano or organ as a major instrument. We offer a balanced keyboard program, and we work diligently to prepare all graduates for at least three major music career areas out the following:
Solo performance
Collaborative performance
Studio teaching
Public School teaching
Preparation for graduate study
Prospective students are encouraged to apply by the general ISU application deadline, which necessitates having transcripts, test scores and application materials in by February 15.
Keyboard majors typically fund their college careers through the following scholarship and work opportunities:
Academic scholarships, provided by the university
Piano scholarships, awarded by audition
Ensemble scholarships, awarded by audition (contact ensemble directors directly)
Piano teaching in the ISU Preparatory Piano Program
Collaborating with singers and instrumentalists
ISU sponsored and other competitions
Our primary goal is to offer students the education and mix of experiences that will ensure a successful career for each graduate. One of our distinguishing traits is catering to the unique mix of talents and skills that each student possesses. We are able to achieve this because of our close-knit community, esprit de corps among faculty and students, and unusually high teacher-to-student ratio.
Dr. Kori Bond, the coordinator of the keyboard area, advises each keyboard major in order to tailor -make a curriculum and experiences according to each student's interests and skills. Keyboard graduates have gone on to pursue Master's Degrees and/or successful careers in a variety of areas, for which they received formal training at ISU. These include:
University-level or private studio instruction
Composition
Music Theory
Jazz Piano
Collaborative Piano
Church Music
Public and Private School Education
The ISU Keyboard Area boasts extremely high success rates for students applying for graduate school and entering competitions. 100% of graduates in the past 20 years have not only been accepted at high-level universities, but virtually all of them have received assistantships and complete scholarships. These schools include:
University of Cincinnati
University of Missouri at Kansas City
University of Oklahoma
University of Oregon
University of Wyoming
Students and graduates have been prizewinners in numerous local, state, and Northwest regional competitions, including the MTNA Young Artists Competition, Federation of Music Clubs competition, Musicians West competition, Young Artists' competitions for the Idaho State Civic Symphony and the University of Wyoming Symphony, among many others.
More information about our programs can be found at the following links.
Pedagogy Study and the ISU Preparatory Piano Program
Practice, Rehearsal, and Teaching Facilities
Visiting Performing Artists and Master Classes
Faculty
Dr. Kori Bond
Professor of Piano, Keyboard Coordinator
Michelle Adams
Class Piano
Preparatory Piano program
The ISU Preparatory Piano program was founded in 2000 to serve a dual purpose: to offer quality piano instruction to students at all levels, school-age and above; and provide ISU keyboard majors the necessary and guided teaching internships that will ensure their professional success. The teachers include experienced keyboard majors at ISU, faculty and staff at ISU, and ISU alumni. This program is nationally accredited by the National Association of Schools of Music.
Director and founder, Dr. Kori Bond, meets privately with each prospective student and at least one parent or guardian (in the case of pre-college students), in order to ensure making a thoughtful and strategic match between student and teacher. To arrange an interview, contact Dr. Bond at 208-282-2551, or bondkori@isu.edu. Each teacher in the program balances a traditional Classical approach using standard piano methods with other material, which is slightly different with each teacher. For example, some teachers are particularly interested in jazz, church music, popular music, composition, or other interests.
Students receive a private lesson once a week for 13 weeks each semester, with rates starting at $169 per semester. For more specific fee information, click here. [link] All pre-college students are required to perform by memory in recitals at the end of each semester. Students may also register in the summer, at a more flexible schedule. Each semester, select students are invited to perform in a master class with either Dr. Bond or a visiting teacher. Adult students are provided with an alternative performing venue--a "Playing Party," which occurs at the end of the spring semester each year.
Included in the semester fee are:
Recital performances every semester in Goranson Hall on a Steinway Concert Grand
Master classes with visiting piano teachers, Dr. Kori Bond, or Mark Neiwirth
Free tickets to piano recitals given by ISU Faculty and guest artists
Preparation for competitions and festivals
For more information on specific aspects of the program, click on the following links.
Instructor biographies
Student Handbook
Student Recitals
After contacting Dr. Bond, parents or students can register via the following form.
Music Department
(208) 282-3636
(208) 282-4884
921 South 8th Avenue, Stop 8099 Pocatello, ID 83209