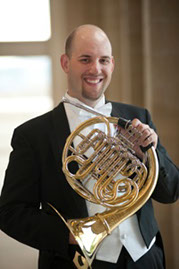 Michael Helman
Instructor of Music, Horns
(208) 282-3636
B.Mus. 2001, Columbus State University
M.A. 2004, University of Iowa
Joined ISU Faculty in 2008
Michael Helman is the Business Manager for the School of Performing Arts and an instructor of music at Idaho State University. His teaching responsibilities within the School of Performing Arts include applied horn and music appreciation, while also coaching student brass ensembles. He is an active clinician, adjudicator and performer throughout Southeast Idaho and works with all levels of musicians. He currently performs as Principal Horn with the Idaho State Civic Symphony, Portneuf Brass Quintet, City Creek Winds and recently became a core member of the newly established ENSEMBLE: PÉRIPHÉRIE. He also serves as personnel manager and serves on the symphony board as a player representative for the ISCS. In addition to his current ensemble and university affiliations, Michael performs regularly with the Idaho Falls Symphony and Teton Chamber Orchestra. In May 2010, he was featured as the guest artist with the Century High School Band in a performance of Morceau de Concert by Camille Saint-Saëns. In October, he will perform the Saint-Saëns with the Idaho State University symphonic band.
Prior to relocating to Pocatello, Idaho, Michael was the Director of Bands and Music Education for Oaklawn Academy in Edgerton, Wisconsin. He held this position for three years while maintaining a private studio and performing with the Oshkosh Symphony Orchestra and Four Seasons Theater.
Michael attended the University of Iowa from 2002-2004, where he earned a Master of Arts degree in horn performance. During his time in Iowa City, he studied with Jeff Agrell and worked as the teaching assistant to the horn studio. In addition to performing extensively with both the orchestra and band programs, he was active within the Center for New Music and Evan Mazunick's "soundpainting" ensemble throughout his tenure. Other Iowa chamber ensembles include the Old Capitol Brass Quintet, UI Graduate Woodwind Quintet, Iowa Brass Choir and the Iowa Horn Trio. He holds the Bachelor of Music in Music Education degree from Columbus State University (Columbus, GA), where he studied horn with Dr. Kristen Hansen
Michael's other professional experience includes performances with the American Wind Symphony (2003), St. Louis Chamber Winds, North Carolina Symphony, North Carolina Opera Company, and the Brevard Music Festival (2000/2001). He has had additional studies and/or master class appearances with Jack Masarie, Dr. John Ericson, Allen Spanjer, Gregory Hustis, Gregory Miller, Andrew McAfee and Jean Rife.
His favorite chamber musician to collaborate with is his wife, Shandra, and he is inspired daily by his cats, Gracie and Hattie (they both oversee his practice).
Music Department
(208) 282-3636
(208) 282-4884
921 South 8th Avenue, Stop 8099 Pocatello, ID 83209