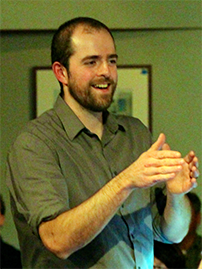 Jon Armstrong
Associate Professor of Music | Jazz & Commercial Music
B.A. 2006, University of Washington
B.Mus. 2006, University of Washington
M.F.A. 2008, California Institute of the Arts
Joined ISU Faculty in 2015
Jonathan Armstrong is a fiercely creative musician, composer, and educator living in Pocatello, ID where he serves as the Director of Jazz Studies at Idaho State University. His background is a mix of intensive academic training and extensive professional experiences on saxophones, bass, and electronic sampler. While living in Los Angeles, Jonathan maintained a busy performance schedule as a highly sought after musician. Along with frequent gigs and recording sessions, he played regularly with bands led by Bennie Maupin, Mike Barone, Vincent Gallo, Vinny Golia, and Dan Rosenboom. Jonathan also co-founded the critically acclaimed modern jazz quartet Slumgum and the cutting edge electronic psychedelic group Pitch Like Masses and has toured throughout the United States, Europe, and Japan.
As a composer, Jonathan has written music for dance, theater, film, television, and podcasts. In 2013, he formed the Jon Armstrong Jazz Orchestra, a 22 piece modern big band that is dedicated to realizing his daring long form compositions. These compositions are the culmination of his career incorporating sophisticated structures of modern classical music, complex rhythms and forms of world music, and expressive jazz solos.
Jonathan has been experimenting recently with compositions that combine improvisation with just intonation resonance and trance rhythms. Since moving to Idaho, he spends a lot of his time hanging with his wife and taking in the awesome and dynamic natural beauty.