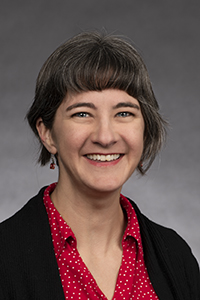 Erin Armstrong
Instructor of Music | Clarinet Choir
Joined ISU faculty in 2016
B. Mus 2003, Carnegie Mellon University

M. F. A. 2008, California Institude of the Arts
Originally from New England, Erin Armstrong directs the ISU Clarinet Choir and Clarinet FunTime Band. She is dedicated to eliciting emotionally charged performances from diverse groups and commissioning new works from risk-taking composers. From 2016 until the start of the pandemic, Erin led the ISU Civic Band. Erin plays clarinet and bass clarinet in the Idaho State-Civic Symphony. She holds degrees and certificates from Carnegie Mellon (BM clarinet '03), Masaryk University in Czech Republic, University College Cork in Ireland, the Williams-Mystic Maritime Studies program, and the California Institute of the Arts (MFA sax/flute/clarinet '08).
In Los Angeles, Erin conducted the Symphonic Band at Los Angeles City College, created and directed five elementary school music and two drama programs, and led one middle school instrumental program and another middle school marching band. She was the first recipient of the Dedication Award with Harmony Project Hollywood, where she taught private and group lessons on clarinet, flute, and saxophone. There, Erin often performed with her students at special events including NBC Nightly News with Brian Williams, Circus Vargas, Jam in the Van with Chali 2na, and a TedX talk.
Erin toured for two years as an actress/musician with the Caravan Stage tall ship circus theater in New Orleans, Holland, and Belgium. Other performance credits include guest didgeridoo soloist with the American Youth Symphony, appearances with the Aspen Festival Orchestra, and on Fox Network's Glee.
Erin is a founding member of Contemporary Los Angeles Winds and The Grand Pause Trio. She plays bari sax and clarinet in her husband's Jon Armstrong Jazz Orchestra, and flute/clarinet in Burnt Hibiscus. Her poetry from Burnt Hibiscus and other escapades is available for purchase in handmade chapbooks. She works as an editor and member of the creative team with Winning On Stage and College Prep for Musicians. Along with Jon Armstrong, she is astounded daily by their hilarious children, Nora and Breen.