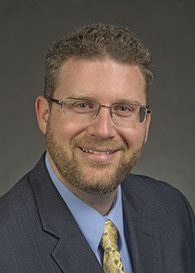 Dr. Thomas E. Kloss
Professor of Music | Associate Director of Athletic Bands | Coordinator for Music Education | Associate Department Chair
B.M. 1997, 1998, University of Arizona
M.M. 2005, Arizona State University
Ph.D. 2011, Arizona State University
Awards:
2023 - Benny Award for Faculty of the Year
2017 - Distinguished Service Award
2016 - College of Arts and Letters Faculty Excellence Award
Joined ISU Faculty in 2011
Thomas E. Kloss received his Bachelor of Music degrees in music education and saxophone performance at the University of Arizona in Tucson, AZ. He received his Master of Music and Ph. D. in music education from Arizona State University, where he taught courses in instrumental pedagogy, research in music education, and string methods. He is also certified in Kodaly (Level 2) and Orff (Level 1) elementary methods.
His research interests include the effects of band teacher turnover, oral histories of retired music educators, and student centered learning in large ensemble classes. He has presented research at several venues, including the Society for Music Teacher Education Symposium, the 13th Latin American Regional Conference and 5th Pan American Regional Conference, NAfME Northwest and Biennial Conferences, and the Idaho and Arizona Music Educators Conferences, and has been published in Update: Applications of Research in Music Education, Arizona Music News, Research and Issues in Music Education, Praxis: Sam Houston Journal from the Center for Music Education, Bulletin of the Council for Research in Music Education (Spring 2022), and Idaho Music Notes.
In 2015, Dr. Kloss became the Associate Director of Athletic Bands. His duties include the Bengal Marching Band and Basketball Pep Band. He is also the Director of the ISU Summer Marching Band Camp, which is held in June at ISU. Dr. Kloss is also a member and associate conductor of the Pocatello Municipal Band, and conducts the ISU Civic Concert Band.