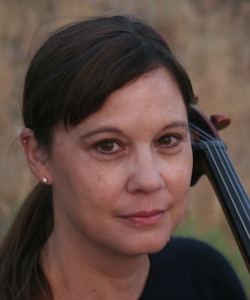 Dr. Eleanor Christman Cox
Assistant Professor | Cello
B.Mus. 2001, Indiana University
M.Mus. 2003, University of Wisconsin
D.M.A. 2009, University of Wisconsin
Joined ISU Faculty in 2014
Dr. Eleanor Christman Cox is the Assistant Professor of Cello and Director of the Preparatory String Program in the School of Performing Arts at Idaho State University, where she teaches applied cello and various music courses. She is also the principal cellist in the Idaho State Civic Symphony.
Known for her rich, sensitive melodic lines, Ms. Cox has appeared in recital as a soloist and chamber musician throughout the United States, both on faculty recitals and as a guest artist. She has held faculty positions at Ripon College, Utah Valley University, the University of Utah Preparatory Division, and Salt Lake Community College. As an orchestral musician she has performed with the Green Bay Symphony, Madison Symphony, Tallahassee Symphony, Choral Arts Philadelphia, and Ballet West.
On baroque cello Ms. Cox has performed nationally and internationally with such groups as the Wisconsin Baroque Ensemble, Madison Bach Musicians, Utopia Early Music, Jeune Orchestre Atlantique, American Baroque Orchestra, and Great Basin Baroque. As a proponent of new music, she has worked with composers John Harbison, David Ludwig, and Stephen Dembski, whose Suite for Solo Cello she premiered.
As a Certified Laban/Bartenieff Movement Analyst, Ms. Cox is pursuing research on the relationships of function and expression and exertion and recovery in musicians. Her research was published in Laban/Bartenieff Movement Analysis: Contemporary Applications, by Colleen Wahl.
Ms. Cox's primary teachers include Irene Sharp, Helga Winold, Emilio Colón, and Uri Vardi. She has also received instruction from Jaap ter Linden, Richard Aaron, Tanya Carey, members of the Audubon, Emerson, and Borodin Quartets, Bonnie Hampton, and Laurence Lesser.