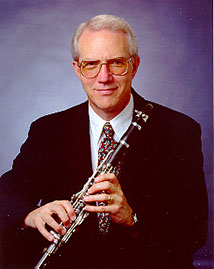 Dr. Alan E. Stanek
Professor Emeritus and Past Department Chair
B.M.E. 1961, University of Colorado
M.Mus. 1965, Eastman School of Music, University of Rochester
D.M.A. 1974, University of Michigan
joined ISU Faculty in 1976. Retired in 2001
In addition to his administrative duties Dr. Stanek was responsible for teaching clarinet, clarinet performance literature, woodwind methods for music education majors, coaching chamber music ensembles, and supervising student teachers. From 1976 to 1980 he was the Conductor/Music Director of the Idaho State Civic Symphony. He served as principal clarinetist of the Idaho State Civic Symphony from 1980 until his retirement in 2001, and the Pocatello Municipal Band for thirty-six years.
Dr. Stanek is an active member of the International Clarinet Association, serving as its President from 1996 to 1998 and Historian for the association 2003 to 2016. He has performed internationally in France, Belgium and Hungary in addition to guest artist appearances at ICA ClarinetFests® held at major universities in the United States. He is the author of numerous articles about clarinet performance and literature and has published reviews of various conferences, new clarinet music and recordings in the association's quarterly journal The Clarinet. His article entitled Clarinet Solo Preparation: A Course of Study and a Review of Recommended Solo Literature is published electronically on The Online Clarinet Resource.
Dr. Stanek was honored with the Governor's Award for Support of Arts Education in October 1998, was inducted into the Idaho Music Educator's Hall of Fame in January 2006, and received the President's Medallion Award for outstanding accomplishments, exceptional service and personal generosity which reflect the admirable principles and ideals which bring distinction to Idaho State University in 2017. More recently, the International Clarinet Association awarded Honorary Membership to Dr. Stanek for Lifetime Achievements in Performance, Teaching and Professional Service at its annual ClarinetFest in July 2019.