Museum in the News
Dr. Leif Tapanila, IMNH director, is a co-author on a scientific paper published this summer in the Bulletin of the American Museum of Natural History that describes the Trans-Saharan Seaway in Mali, Africa, and the strange creatures that existed there 50 to 100 million years ago.
Of the seven new species of prehistoric Idaho creatures Idaho State University Department of Geosciences affiliate researcher and Museum Affiliate Curator Dr. L.J. Krumenacker was able to help document and name in scientific journals that were published this month, his favorite is Cimolodon akersteni, named after his former advisor and paleontological mentor Bill Akersten, who retired from ISU about a decade ago.
IMNH Anthropology Curator, Dr. Andy Speer, publishes The Seagull Bay site—Clovis technology from American Falls on the Eastern Snake River Plain. "We are interested in the animals that died off right when this Clovis culture was at its peak," Speer said. "We ask questions like 'did these people kill all these animals, was it climate change or was it both?' In North America alone, 90 genera of animals over 100 pounds died off during the Clovis period at the close of the Pleistocene 11,700 years ago," Speer said.
Idaho Museum of Natural History's buzzsaw sharks featured story in December National Geographic Magazine
Dr. Brandon Peecook, Vertebrate Paleontology, is one of 30 co-authors on a recent publication with Proceedings of the National Academy of Sciences. "I was part of a research team conducting a meta-analysis on the disproportionate benefits of active learning – as opposed to lecturing – techniques in the classroom to student populations underrepresented in STEM fields," Peecook said. "We found significant results for grade improvement and retention in the discipline for key student groups. We're expecting this data to help drive large movements in pedagogy across the country."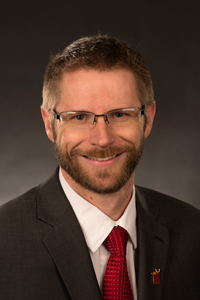 Dr. Leif Tapanila, IMNH director, recently published a paper with Benjamin Rendall that documents the remarkable recovery of marine life after the 360 million-year-old Alamo Impact near Las Vegas, NV. The Museum holds all the fossils collected on this project that took over a decade of field mapping and collecting by Tapanila's lab.
3D printers to produce coronavirus PPE
"I think we will really be able to help the needs of the university and our region," said Leif Tapanila, director of the Idaho Museum of Natural History, who is coordinating ISU's campus-wide effort. "These kinds of efforts are widespread across the state and country, to make models for 3D printers, find the plastic supply and answer the call to meet the needs for personal protection equipment."
Read more about how the Museum is leading the way on 3D printing PPE