ISU Cares Customer Service Program
ISU Cares is a feedback program regarding positive experiences with university employees and departments. We also welcome concerns about customer service, diversity and inclusion issues, or any other suggestions for improvement at Idaho State University.
We thank all of our ISU Cares Award Recipients for their excellent service!
2016 ISU Cares Awards - Meridian pictures
Monthly winners
Jon Holmes has worked at ISU since 2003, originally as a student employee, then staff, and finally as a faculty member in the Informatics and Computer Science program in the College of Business. He has held the positions of Help Desk Technician, Student Researcher, Computer Systems Analyst, Adjunct Professor of Informatics and computer Science, and currently Clinical Assistant Professor of Informatics. He received a BBA in Computer Information Systems, and a MBA in 2011, both from Idaho State University. Jon is being recognized for going above and beyond to take students to the Boise Startup Week. It was an amazing experience for the students and much appreciated. In his spare time he enjoys spending time with his wife and six kids. He is also involved with a local sword-fighting club. Thank you Jon, for your amazing customer service.
Jason Bosen has worked at ISU since 2012 when he was a student employee, and was hired as full time staff in June 2017. He is currently an IT Customer Service Consultant with ITS, but has also had positions as Stage Manager/Light and Sound Technician, and IT Technician. Jason is currently nearing completion of a degree in Computer Science from ISU. He is being recognized for assisting when a VIP came to the Idaho Falls campus on short notice. He responded quickly and was available when the VIP arrived to take care of the need. He performs consistently and it definitely deserves recognition. In his spare time he enjoys spending time with his wife, reading, watching movies, listening to music, playing games, and enjoying other forms of cultural expression. New and emerging technologies fascinate him, and he likes to research them. Thank you Jason, for your great customer service.
Katie Beck is a full time student, works part-time as a CPI in the Idaho Falls Student Services office, and is ASISU-Idaho Falls Vice President. She is working on a bachelor's of Psychology from ISU. Katie is being recognized for helping calm a student down that was having an anxiety attack, after others tried to comfort the student to no avail. She is so genuine in all aspects, and is a great example. In her spare time she enjoys reading, watching TV with her dog, participating in club events with the Performing Arts Club-Idaho Falls, and spending time with her family. Thank you Katie, for your excellent customer service.
Kellyann Duncan has worked at ISU going on 3 years. She was hired as an Admin Assist I, and is currently an Admin Assist II in Health Occupations. She is being recognized for always being willing to help and go above and beyond to make sure the instructors she works with have the tools they need to educate the students in Health Occupations. Kellyann attends classes at ISU, and in her spare time she enjoys traveling, and likes attending concerts with her husband and children.
Déirdre Carney started teaching at ISU in 2009. She has taught basic writing, English composition, and professional and technical writing. She graduated from ISU in August with a Ph.D. in English and the Teaching of English and TESOL Certification. She is being recognized for going beyond her job requirements to help one of her former students. The student emailed her asking her for help with her resume, and she did everything she could to help the student provide the best resume through multiple back and forth emails. In her spare time, Déirdre likes gardening, cheering on the New York Mets, reading everything she can about Eleanor Roosevelt, and working on various writing projects. Thank you so much for the awesome customer service you provide.
Corey Zink has worked at ISU since 2013 as Student Services Director. Corey was nominated by his staff for being an excellent example of what a boss embodies. The nominators indicate that he is knowledgeable, well organized, always willing to help anyone, and has a good rapport with faculty, staff, and students. He is always looking for ways to improve the experience for students and staff, while holding the staff to a high standard. He is a caring and conscientious leader, and everyone enjoys working with him. Thank you Corey for the outstanding customer service you provide.
Carissa Harral was the Summer 2017 semester winner. Carissa has worked in the Office of the Registrar nearly five years, previously as a customer service representative, and currently as Assistant University Scheduler. She earned an associate's degree in general studies, and is working towards a bachelor's degree in Anthropology. In her spare time she enjoys playing board games with friends and family. She also enjoys cooking and hiking. Congratulations Carissa!
---
Idaho State University is committed to providing good service to all our customers, internally and externally. Since January 2009 we have awarded:
8 - $1000 ISU Cares Customer Service Provider of the Year awards
20 - $250 ISU Cares Customer Service Provider of the Year Runner-Up Awards
10 - $1000 ISU Cares Extraordinary Employee Award (formerly ISU Cares Manager Award)
9 - ISU Cares Department of the Year Award earning a Pizza and Pop Party
75 - $100 ISU Cares Division Awards
26 - $100 ISU Cares Semester Awards
536 - $15 ISU Cares monthly "Spot" Awards
4 - Bengal Boss Awards
---
ISU Cares Customer Service Awards
view a list of all employees who have been recognized for their exemplary service since 2009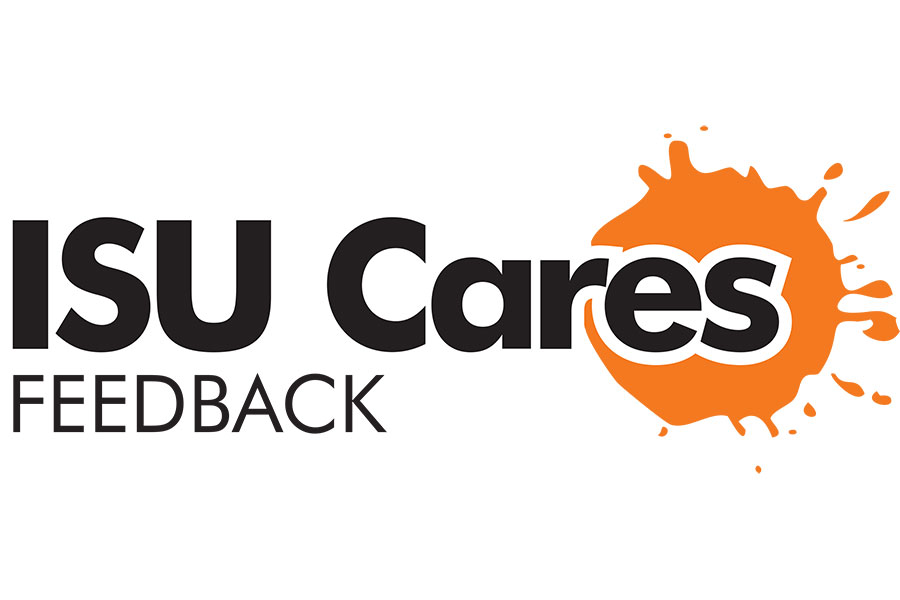 access our ISU Cares online feedback form.
see a list of websites to access the online survey and to see where the survey boxes are located in Meridian, Idaho Falls, and Pocatello.
---
We would like to thank ISU Credit Union for their continued support of our ISU Cares Program! They provide us with $15 Visa cards each month to help us thank our monthly ISU Cares "Spot" award winners, support our ISU Cares Department of the Year awards, ISU Cares Division yearly awards, and our Employee of the Year awards!