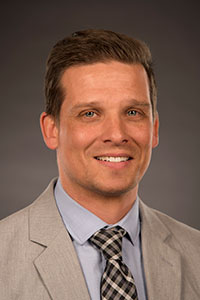 Zackery Heern
Chair of History and Associate Professor - Middle East, Islam, World History
Office: LA 333
208-282-2379
Education
Ph.D. University of Utah
Books
The Emergence of Modern Shi'ism: Islamic Reform in Iraq and Iran. London: Oneworld Publications, 2015.
Shi'i Law and Leadership: The Influence of Mortaza Ansari. Saarbrucken, Germany: Lambert Academic Publishing, 2010.
Peer-Reviewed Journal Articles
"One Thousand Years of Islamic Education in Najaf: Myth and History of the Shi'i Hawza," Iranian Studies. Vol. 50, Issue 3, 2017, pp. 415-438
"Thou Shalt Emulate the Most Knowledgeable Living Cleric: Redefinition of Islamic Law and Authority in Usuli Shi'ism," Journal of Shi'a Islamic Studies. Vol. VII, No. 3, Summer 2014, pp. 321-344.
Chapter in Edited Book
"Three Sources of Shi'i Knowledge and Authority: Continuity and Change in Islamic Intellectual History," in Proceedings of the Third Annual International Conference on Shi'i Studies. London: ICAS Press, 2018.
Encyclopedia Articles
"Muḥammad Ibrāhīm Kalbāsī (1766-1845)," Encyclopaedia of Islam, Forthcoming.
"Ayatullah Abu al-Qāsim Kāshānī (1882-1962)," Encyclopaedia of Islam, Forthcoming.
"Sayyid Mīrzā Muḥammad Bāqir Khwānsārī (d. 1313/1895)," Encyclopaedia of Islam, Forthcoming.
"Minority Religions in the Middle East: 1250-1920," in Cultural Sociology of the Middle East, Asia, and Africa, Edited by Andrea L. Stanton, et. al. Vol. 1. Thousand Oaks: Sage Publications, 2012, pp. 159-162.
Book Reviews
Twelve Infallible Men: The Imams and the Making of Shi'ism, by Matthew Pierce. Journal of Islamic Studies, Volume 29, Issue 3, 1 September 2018, Pages 452–454.
Understanding Shiite Leadership: The Art of the Middle Ground in Iran and Lebanon, by Shaul Mishal and Ori Goldberg. International Journal of Middle East Studies, Volume 47, Issue 03, August 2015, pp. 651-653.
The Odyssey of Ibn Battuta: Uncommon Tales of a Medieval Adventurer, by David Waines. Al-Masaq: Islam and the Medieval Mediterranean, Volume 25, Issue 2, August 2013, pp. 265-267.
Current Projects
Britain and Shi'ism in Iraq: Imperialism and Resistance in State Formation, In Preparation.
Courses Taught
ARBC 1101 Elementary Arabic I
ARBC 1102 Elementary Arabic II
HIST 1120 Themes in World History
HIST 2254 Middle East History and Culture
HIST 2241 History of World Religions
HIST 3354 Modern Middle East
HIST 4454 Modern Iraq and Iran
HIST 4474 Islam in the Modern World
HIST 4431 History of Revolutions
HIST 4491 Seminar