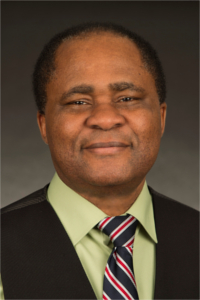 Raphael Chijioke Njoku
Professor - African History and Culture; Chair of Global Studies and Languages
Office: Graveley Hall 101
208-282-4164
Education
Ph.D. Dalhousie University
Research Interests
African intellectual history, African social and political history, African philosophy, culture and development, democratization, social movements and comparative politics
Books
The History of Somalia. Westport: ABC-CLIO, Press, 2013.
Africa and the Wider World, coedited with Hakeem Ibikunle TIjani and Tiffany Fawn Jones. Boston: Pearson/Macmillan, 2010.
African History, Coedited with Chima J. Korieh, Iowa: University Readers, Inc., 2010.
War and Peace in Africa: History, Nationalism, and the State, coedited with Toyin Falola. Durham, NC: Carolina Academic Press, 2010.
Missions, States, and Colonial European Expansion in Africa, coedited with Chima J. Korieh. New York: Routledge, 2007.
Culture and Customs of North Africa: Morocco. Westport: Greenwood Press, 2005
African Cultural Values and Igbo Political Leadership in Colonial Nigeria, 1900-1966. New York: Routledge, 2006.
Articles and Book Chapters
"Eastern Nigeria and the Rise of a New Class of Ogaranyas (Wealthy Men) in the Late Nineteenth-century: A Biography of Chief Igwebe Odum of Arondizuogu (c.1860-1940)." Journal of African Economic History 36 (February 2012): 27-52.
"Neoliberalism in Microcosm: A Study of Precolonial Igbo of Eastern Nigeria." MBARI: The International Journal of Igbo Studies 1, no.1 (2008): 45-68.
"Civil Society and Igbo Traditional Politics: A Historical Survey of Age Grades, Secret Societies, Social Clubs, Women's Organizations, and Town Unions since 1900." International Journal of African Studies 6, no. 2 (2008): 15-28.
"Civil Society in the Islamic Kingdom of Morocco." Journal of International Review of Politics and Development 5, no.2 (2007): 37-53.
"Don C. Ohadike: The Man, His Intellectual Legacy and African Historiography." Journal of Dialectical Antropology 10, no. 4. (August 2007): 32-50.
"Deadly Ethnic Violence and the Imperiative of Federalism an Power-sharing: Could a Consociation Hold in Rwanda?" Journal of Commonwealth Comparative Politics 43, no. 1 (March 2005): 82-101.
Awards
Named an ISU Outstanding Researcher, 2017
Courses
HIST 1120 Global History Since 1500
HIST 2255 African History and Culture
HIST 4491 Seminar
IS 3300 Travel and Study Abroad
IS 3350 International Symposium
IS 4493 Senior Thesis