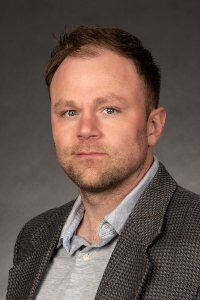 Justin Dolan Stover
Associate Professor - Modern European History; Irish History
Office: LA 337
Education
Ph.D. Trinity College Dublin
Research Interests
Modern European history; transnational history of nationalism, war & revolution; environmental history of war; modern Ireland, Britain & France; First World War; interwar Europe.
Representative Publications
"The Political Ecology of Nationalist Literature, 1880-1922," in The Cambridge History of Irish Literature and the Environment, ed. Malcolm Sen, (Cambridge: Cambridge University Press, 2020).
"Pre-War Paramilitary Mobilisation (Great Britain and Ireland)," in 1914-1918-online – International Encyclopedia of the First World War (February 2019).
"The Transformation of the Irish College, Paris: War, Education, and Administration, 1870-1918," in Forming Catholic Communities: Irish, Scots and English College Networks in Europe, 1564-1918, ed. Liam Chambers and Thomas O'Connor (Leiden, Netherlands/Boston, MA: Brill, 2017), 304-22.
"'Shattered Glass and Toppling Masonry': War Damage in Dublin and Paris," in Paris - Capital of Irish Culture: France, Ireland and the Republic, 1798-1916, ed. Pierre Joannon and Kevin Whelan (Dublin: Four Courts Press, 2017), 175-87.
"Families, Vulnerability and Sexual Violence during the Irish Revolution," in Perceptions of Pregnancy: From the Medieval to the Modern, ed. Jennifer Evans and Ciara Meehan, (London: Palgrave Macmillan, 2017), 53-69.
"Violence, Trauma, and Memory in Ireland: The Psychological Impact of War and Revolution on a Liminal Society, 1916-1923" in Jason Crouthamel and Peter Leese, eds., Aftershock: Psychological Trauma and the Legacies of War (Switzerland: Springer Nature, Palgrave Macmillan, 2017), 117-40.
"The Destruction of Dublin," Raidió Teilifís Éireann (RTÉ, 2016), Century Ireland, Boston College. Click here.
"La Bretagne et l'Insurrection de Pâques 1916," En Envor: revue d'histoire contemporaine en Bretagne, no. 7 (February 2016). Click here.
"Redefining Allegiance: Loyalty, Treason and the Foundation of the Irish Free State" in Mel Farrell, Jason Knirk, and Ciara Meehan, eds., A Formative Decade: Politics, Economics and Identity in Ireland, 1921-32 (Dublin: Irish Academic Press), 108-31.
"Irish Political Prisoner Culture, 1916-23" in CrossCurrents, 64:1 (March 2014), 90-106.
"Periphery of War or First Line of Defense? Ireland Prepares for Invasion, 1907-15" in Fancia., vol. 40 (Paris, Deutsches Historisches Institut, 2013), 385-96.
"Modern Celtic Nationalism in the Period of the Great War: Establishing Transnational Connections" in Deborah Furchtgott, Georgia Henley, and Matthew Holmberg (editors), Proceedings of the Harvard Celtic Colloquium, XXXII (Harvard University Press, 2013), 286-301
"Terror confined? Prison violence in Ireland, 1919-21" in David Fitzpatrick (editor), Terror in Ireland, 1916-1923 (Dublin, Lilliput Press, 2012), 219-35.
Current Projects
Enduring Ruin: Environmental Destruction and the Irish Revolution. Book manuscript in Preparation.
Courses
HIST 1106 Modern Europe
HIST 1120 Global History: War and Revolution
HIST 2291 The Historian's Craft
HIST 3323 The French Revolution & Napoleonic Era
HIST 3327 World War I
HIST 4443 (Special Topics) Environmental History of Ireland
HIST 4443 (Special Topics) World War II and the Holocaust
HIST 4445 Modern Irish History
HIST 4491 Senior Seminar
HIST 6600 Graduate Seminar: War and Violence in the Modern World
HIST 6600 Graduate Seminar: The Irish Revolution
Graduate Supervision
I welcome all graduate student subject proposals in modern European history, particularly those relating to the First World War, organized violence, environmental history of war, post-colonialism, and nationalism.
Links
Dr. Stover's page on academia.edu
Podcast episode of "Toward an Environmental History of the Irish Revolution" (talk at Queen's University Belfast, fall 2017)