ISU HEADLINES
News items from ISU Marketing and Communications
---
ISU College of Business and College of Eastern Idaho sign first articulation agreement
June, 20, 2018
IDAHO FALLS —Idaho State University and the College of Eastern Idaho have signed their first articulation agreement to facilitate the transition of business students from CEI to ISU.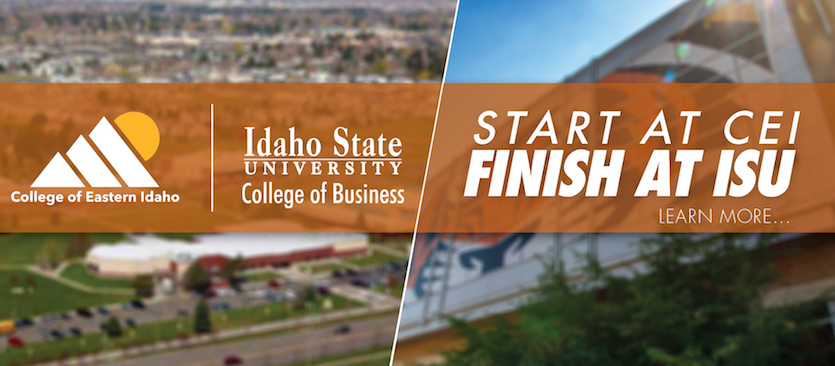 Students seeking a business degree will now be able to start at CEI and complete an Associate of Arts in General Studies and then easily continue to ISU to complete a Bachelors of Business Administration degree. The partnership provides students specific advisement and an opportunity to complete an associate's degree and a bachelor's degree in a total of four years (2+2). The agreement states that students matriculating this coming fall semester to CEI would have "catalog rights." This means that students who maintain continuous enrollment would lock in the catalog requirements at ISU established the specific year that they enrolled at CEI.
"This is historic. This is the first 2+2 agreement for CEI," said Lori Barber, dean of general education at CEI. "As a community college we're going to see where the community leads us and what our students want as we add more 2+2 programs. ISU is here in Idaho Falls to partner with us to build more pathways for students."
A typical 2+2 program is one that begins at a community college with a two-year associate degree. Coursework taken at the community college then transfers to a four-year program, allowing students to complete a bachelor's degree in the same time it would have taken if they had initially gone to a four-year institution. Students enter community college with a four-year degree in mind and with advisement, select courses at the first institution that align with their ultimate goals.
Michelle Munoz, transfer coordinator for ISU said, "Students will see themselves as university students from day one. If a student wants to do business, here's your pathway to a four-year degree at ISU. They begin to think of themselves right away as university business students."