ISU HEADLINES
News items from ISU Marketing and Communications
---
Idaho Conference on Health Care and Thomas Geriatric Symposium registration open; Conference is Sept. 30, pre-registration preferred by Sept. 25
September, 21, 2016
POCATELLO- Registration is now open for the 29th Annual Idaho Conference on Health Care and the 9th Annual Thomas Geriatric Health Symposium.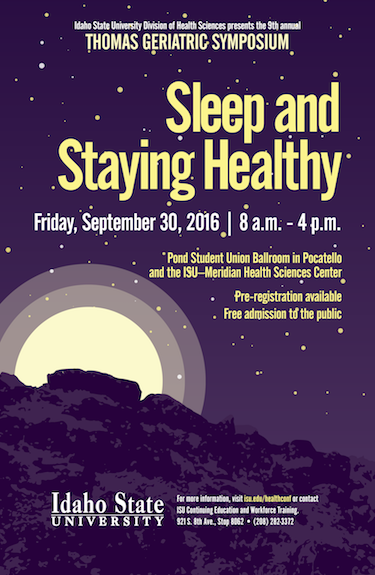 The event will be held Friday, Sept 30. from 8 a.m. – 4 p.m. at the Idaho State University Pond Student Union Ballroom in Pocatello and at the ISU-Meridian Health Science Center.
The event is held annually for community members, students and healthcare professionals to learn about specific health issues. This year's theme is "Sleep and Staying Healthy." The Kasiska Division of Health Sciences is sponsoring the event that is free to the public. Speakers Dr. Krishna Sundar, Andrea Wintersywk and Steve Stuebner will discuss topics such as how proper sleep can prevent chronic disease, how different medications affect your sleeping habits and the health benefits of cross-generational outdoor exploration.
Attendees are asked to pre-register for the event by Sept. 25. More information about the conference, including how to register, can be found at isu.edu/healthconf or by contacting Continuing Education at (208) 282-3155 or cetrain@isu.edu.