Healthcare Administration
Tracy J. Farnsworth, EdD., MHSA, MBA, FACHE
Associate Professor
BA, Brigham Young University
MA, Arizona State University
EdD, Idaho State University
Dr. Tracy J. Farnsworth was appointed President of the Idaho College of
Osteopathic Medicine (ICOM) at Idaho State University (ISU) in 2016. He
also serves as Associate Professor, Healthcare Management, at ISU.
Prior to his work at the University Dr. Farnsworth served in various executive level
positions with Intermountain Healthcare, Catholic Healthcare West, and the City of
Hope National Medical Center.
Dr. Farnsworth is a graduate of Brigham Young University. He also received
Masters Degrees in Business and Health Services Administration from Arizona
State University, and a Doctor in Educational Leadership at ISU. In 2014
Farnsworth received the Kole-McGuffey Prize for excellence in education
research. In 2016 he received the distinguished author award by the Association of
Schools of Allied Health Professions.
Dr. Farnsworth is a Fellow of the American College of Healthcare Executives
(FACHE). He also serves as immediate past Chair of the Association of University
Programs in Health Administration (AUPHA), and as a member of the Portneuf
Medical Center Board of Trustees.
Farnsworth has been active in his church and community, including the Boy Scouts
of America where he received the Silver Beaver award in 2009. Tracy and his wife
Michelle are the parents of four children and fourteen grandchildren.
Ruiling Guo, DHA
Professor
Office: BA 530
DHA, Central Michigan University
MPH, Idaho State University
MLIS, McGill University
BA, Peking University
Dr. Ruiling Guo is a Professor of Healthcare Administration at Idaho State University College of Business. She has been working and teaching in academia and health care systems for over three decades. Her research interests focus on evidence-based medicine/practice, evidence-based management in healthcare decision-making, healthcare policy, population health, managerial epidemiology, and healthcare information systems.
Dr. Guo is a fellow of the Center for Evidence-based Management, a distinguished member of the Academy of Health Information Professional (AHIP), a member of the American College of Healthcare Executives, the Association of University Programs in Health Administration, the American Public Health Association, the American Health Information Management Association, and the Health Information and Management Systems Society. She also serves on the editorial board for the Journal of Hospital and Healthcare Administration, and review panel on the Journal of Health Administration Education.
Ruiling (Raylene) received her doctorate in Health Administration (DHA) from Central Michigan University, Master of Public Health (MPH) from Idaho State University, Master of Library and Information Science (MLIS) from McGill University and Bachelor of Arts (BA) from Peking University. Ruiling loves reading, traveling, physical exercises, and learning new things and different cultures.
Daniel Kim, Ph.D.
Portneuf Medical Center Endowed MHA Program Director & Assistant Professor
Office: BA 528
Ph.D., University of Alabama at Birmingham
BA, University of Michigan
Dr. Kim received his doctorate from University of Alabama at Birmingham with an emphasis in strategy. His primary research interests focus on health literacy, health disparity, leadership competencies, strategic management and outcomes. He has taught courses in the US healthcare system, research methods, and philosophy of science.
Joshua Thompson
Undergraduate Program Director & Clinical Assistant Professor
Office: BA 524
Joshua Thompson is a Graduate of Idaho State University, where he received an MPA emphasizing in Health Care Administration. He is also a graduate of the Villanova Six Sigma Healthcare Program. He has worked as a CEO and Administrator of an acute care psychiatric hospital as well as an Administrator of a multiple Nursing Homes. He is in his 3rd term as Chairman for the Idaho Board of Examiners of Nursing Home Administrators. He began teaching at ISU in 2015 as an Adjunct Professor and was hired on full-time as a Visiting Professor in August of 2017.
Executive in Residence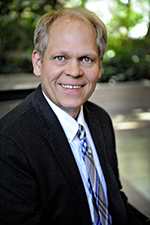 Doug Crabtree, MPA
Executive in Residence Visiting Clinical Professor
Doug Crabtree is the Healthcare Administration program's first Executive in Residence (EIR). Crabtree recently retired from the Idaho Falls hospital, Eastern Idaho Regional Medical Center (EIRMC) where he worked as the Chief Executive Officer (CEO) for 19 years. As the program's EIR, Crabtree will take the role as instructor in both graduate and undergraduate level HCA and Master of Healthcare Administration (MHA) programs. In this role, Crabtree will also use his extensive background working in the healthcare administration field to provide academic program directors and the College of Business dean with advise in the initial launch of the MHA program
Throughout his career, Crabtree has served in numerous high level positions in the healthcare industry for over 30 years in addition to being the Idaho Hospital Association Chair twice.