Staff and Contact Information
The Main Office of the Graduate School is located in Room 401, on the top floor of the Museum Building (Idaho Museum of Natural History).
Graduate School
Idaho State University
921 South 8th Ave., Stop 8075
Pocatello ID 83209-8075
Phone: (208) 282-2150
Email: graddean@isu.edu
Karen Wilson Scott, Ph.D.
Interim Dean of the Graduate School
Office: Room 411, Museum Building
(208) 282-2490
Karen Wilson Scott earned her Ph.D. in Education with an emphasis in adult education and self-directed learning in 2002 from Idaho State University. She earned her M.Ed. degree in adult education from the University of Idaho and her B.A in Communications from Lindfield College. She has been a member of the Organizational Learning and Performance (OLP) Department at Idaho State University since 2005. Scott was appointed Chairperson of OLP from 2011-2016. She served as interim associate dean of the College of Education from 2016-2018. She was appointed interim Dean of the Graduate School in 2019.
Prior to working in academia, Scott was a communications specialist and project manager at the Idaho National Laboratory 1977-2002.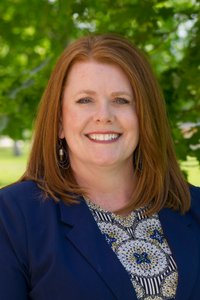 Tracy Collum, Ed.D.
Associate Dean of the Graduate School
Office: Room 409, Museum Building
(208) 282-3140
Tracy's role in the graduate school is to implement strategies to reach enrollment goals, provide services to help students with their professional development, evaluate policies, petitions, and requests, as well as support faculty and departments in the development and recruitment of graduate programs.
Tracy joined ISU in May 2014 after 12 years working with adult completion programs and graduate students in North Carolina. With degrees from North Carolina State (Ed.D. Adult & Higher Education), Springfield College (M.S. Physical Education- Sport Psychology) and High Point University (B.S. Psychology), Tracy has worked in higher education since 2002. Recent presentations in the areas of leadership, Q-methodology, recruitment, admission, and enrollment at regional, national and international conferences include: National Association of Graduate Admission Professionals (NAGAP), Western Association of Graduate Schools (WAGS), and International Society for the Scientific Study of Subjectivity (ISSSS). Tracy has also been part of panels, presentations, and published articles on student service in higher education.
Previously, Tracy has been the President and Vice-President of the NC Adult Education Association and founding Vice-President of the Southeastern Regional Chapter of NAGAP. With an extensive administrative background in higher education, Tracy has been part of multiple steering committees to move from a 3 credit to a 4 credit curriculum, bringing student conferences to campus, strategic planning, and research/assessment – amongst others.
Tracy has been instrumental in bringing a graduate research poster session/symposium to two universities to promote and showcase the academic efforts graduate students are conducting, growing participation each year.
Amanda Eakins, Ed.D.
Associate Director of Operations
Office: Room 412, Museum Building
(208) 282-2665
Amanda's role in the graduate school is to manage funding accounts such as student travel scholarship; nonresident tuition Waivers (NRTW); ASISU scholarships; Graduate Teaching Assistantships (GTA); Graduate Assistantship Teaching Experience (GATE); and Graduate Recruitment Assistantships for Faculty (GRAF). She is the staff advisor for the Graduate Student Association; processes oral examination schedules and ballots; manages the day-to day operations of the Grad School Office to include HR, payroll, staff supervision and development; and serves as the administrator of the Grauduate Council.
Amanda joined the Graduate School at Idaho State University in February 2016. Her professional experience is enriched by a B.S. in Management and a M.Ed. in Teaching and Learning with a student services cognate. She is currently a doctoral candidate in the Ed Leadership and Management Program at St. Thomas University. Her doctoral studies focuses on the socialization of doctoral students in online programs. She has published numerous articles in peer-reviewed journals, and has presented her work on online learning initiatives to include the MOOCS platform at the University of Campinas in Sao Paulo Brazil and Kennesaw State University in Atlanta Georgia to name a few.
Amanda has more than 10 years of progressive leadership and management experience of operations in fields such as Medical, Dental, Real Estate, Logistics and Construction. She began her higher education career in 2014 at the University of Oregon, College of Education. She is an active member of Kappa Delta Pi (KPD) and serves on the International committee and International Partnership subcommittee. Amanda also advises several student groups on campus to include the Graduate Student Association, Women of Color Association and the Black Student Associaiton.
She is a Veteran of the United States Army and has received awards such as "Soldier of the Year" for her Unit and Battalion. As of late she was nominated for the Fall 2017 CPI supervisor of the semester and was awarded the Cesar Chavez Student Advocacy Award by the Lambda Theta Alpha Latin Sorority Inc.
Student Engagement & Success
Anna Siddoway
Graduate Pathway Specialist
Office: Room 416 , Museum Building
(208) 282-3362
Anna guides inquiry through graduation for the Colleges of Business, Health Professions, and Nursing.
Anna Siddoway grew up in the rural town of Mud Lake, Idaho, and came to Idaho State University to study Dietetics. She has worked for the Graduate School since 2008. She started while in her undergraduate program as a student intern working with applications and email correspondences. Currently, she is a graduate student in the Health Education program. Anna has worked for the Graduate School since 2008.
Admissions
Bea Valencia
Outreach & International Admissions Coordinator
Office: Room 415, Museum Building
(208) 282-2270
Bea's role in the graduate school focuses on International Admissions which includes International Student Assistance, Admissions, Recruitment Support, and the managing of College Week Live, an online platform used for real-time dialogue between the Graduate School and international students.
Bea was born and raised in Reno, NV and graduated from Pershing County High School. She then attended Idaho State Univesity and obtained a B.A in Sociology/Criminology. The Graduate School welcomed Bea in October 2016. Prior, she worked at the International Programs Office doing International Recruitment and the Study Abroad Program for two years. As an ISU undergraduate student, Bea was a 2 year ASISU senator for the College of Education and apart of diverse student and community organizations. Bea is now a candidate for the Masters in Public Administration Program at Idaho State University.
Braeden Udy
Graduate Pathway Specialist
Braeden Udy earned his Masters of Public Administration in 2018 from Idaho State University. His research focus centered on equality, access, and opportunity in relation to public administration leadership. He earned his Bachelors of Science in American Studies and a Political Science Minor in 2013 from Utah State University.
He has worked for ISU since 2014. When he is not working, he spends his time hiking the mountains of Pocatello, writing a historical fiction novel, playing his red piano, and cooking delicious food.
Technical Process Coordinator
Cory Astin
Technical Process Coordinator
208-282-2390
Cory Astin was born and raised in Pocatello, ID and first started attending Idaho State University in 2004. He earned his undergraduate degree in Health Care Administration, and in 2016 later earned his M.B.A. Prior to joining the Graduate School in August 2019, Cory had worked as an Analyst in both healthcare market research and product manufacturing. He had also spent time in the United States Army as a Medic and resided in Germany while he was serving.
Contact
1-208-282-2150
Idaho State University
921 S. 8th Ave, Mail Stop 8075
Pocatello, ID 83209-8075