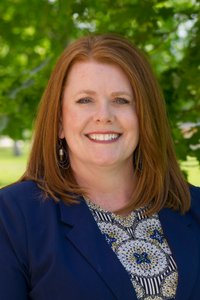 Tracy Collum, EdD
Associate Dean of the Graduate School
Office: Room 409, Museum Building
(208) 282-3140
Tracy's role in the graduate school is to implement strategies to reach enrollment goals, provide services to help students with their professional development, evaluate policies, petitions, and requests, as well as support faculty and departments in the development and recruitment of graduate programs.
Full Bio
Tracy joined ISU in May 2014 after 12 years working with adult completion programs and graduate students in North Carolina. With degrees from North Carolina State (Ed.D. Adult & Higher Education), Springfield College (M.S. Physical Education- Sport Psychology) and High Point University (B.S. Psychology), Tracy has worked in higher education since 2002. Recent presentations in the areas of leadership, Q-methodology, recruitment, admission, and enrollment at regional, national and international conferences include: National Association of Graduate Admission Professionals (NAGAP), Western Association of Graduate Schools (WAGS), and International Society for the Scientific Study of Subjectivity (ISSSS). Tracy has also been part of panels, presentations, and published articles on student service in higher education.
Previously, Tracy has been the President and Vice-President of the NC Adult Education Association and founding Vice-President of the Southeastern Regional Chapter of NAGAP. With an extensive administrative background in higher education, Tracy has been part of multiple steering committees to move from a 3 credit to a 4 credit curriculum, bringing student conferences to campus, strategic planning, and research/assessment – amongst others.
Tracy has been instrumental in bringing a graduate research poster session/symposium to two universities to promote and showcase the academic efforts graduate students are conducting, growing participation each year.
The Main Office of the Graduate School is located in Room 401, on the top floor of the Museum Building (Idaho Museum of Natural History).