About Pocatello
The Pocatello metropolitan area is home to approximately 85,000 people. With Idaho State University and several large industries, Pocatello serves as the educational and commercial center for Eastern Idaho.
Pocatello offers shopping, theater, movies, museums, parks, golf courses, and a zoo, as well as a hot springs resort and ski area within 1/2 hour drives. The Fort Hall Reservation, home to the Shoshone-Bannock tribes, houses a tribal museum. Pocatello is the annual host to numerous national events and touring performances.
Dry Mountain Climate
Pocatello is at an elevation of 4,450 feet in the moderately broad valley of the Portneuf River, a tributary of the Snake River. Rolling hills bordering Pocatello rise approximately 1,000 feet above the valley, while mountains within a few miles to the south reach elevations of 9,260 feet.
Pocatello has a dry climate, with the cool winters and mild summers that are typical of the Intermountain West. Average annual precipitation is 10-12 inches with 42.7 inches of snowfall.
Outdoor Recreation Paradise
Pocatello's setting among unspoiled mountains and streams is an outdoorsman's paradise. Abounding with mountains, cliffs, lakes, rivers, and natural hot springs, the Pocatello region offers endless recreational adventures such as hunting, rock climbing, water skiing, rafting, hot tubbing in natural springs, swimming, snow skiing, hiking, mountain biking, snowmobiling, and horse riding. Fishing opportunities abound among the dozens of reservoirs, ponds, lakes, streams, and rivers that cover SE Idaho.
What can I do on my day off?
Downtown
Farmers Market
Art Walk
Revive @ 5 Wednesday concerts
Westside Players Dinner Theater
Zoo Events
Ross Water Park
Festivals
Sagebrush Arts Fest
Wildflower Festival
Bannock County Bluegrass Festival
Shoshone-Bannock Festival Pow-Wow
Pocaroo Music Festival
Grapes & Hops on the Greenway
RiverFest
Pioneer Day Celebration
Oktoberfest at the Brewery
Stephens Arts Performing Center
Theater
Symphony
Concerts
Dance / Ballet
Idaho State University
Summer Concert Series
International Dinners & Festival
Sports Events
Natural History Museum
Craft Shop
Outdoor Adventure Center (outdoor info & gear rentals)
Movie theater
Game Center
Lectures
Immediate Area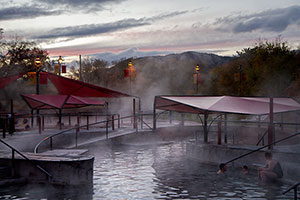 What can I do on my weekend off?
Bear Lake
Bear Lake has some of the bluest water in Idaho with sandy beaches, campgrounds, fishing, swimming, scuba diving, sailing and wind surfing. Just west of the Bear Lake community of St. Charles is the incredible Minnetonka Cave.
Craters of the Moon National Park
Craters of the Moon is a volcanic wonderland that is fun to explore. An ocean of unearthly landscapes and lava tube cave exploration for almost everyone.
Sun Valley
Sun Valley is located in the Sawtooth Wilderness. The wilderness is home to more than 300 alpine lakes, which provide ample opportunities for fishing and hiking. It is a premier ski resort which draws people from around the world. Secluded guest ranches, motels, resorts and gift shops are plentiful.
Jackson Hole, Wyoming
Jackson is a historic town that will simply amaze you. It includes two ski areas and several galleries, shops, theaters, motels and resorts. The nearby historic Elk refuge allows visitors to view winter feeding of migrating elk.
Yellowstone National Park
Yellowstone National Park is America's oldest and largest national park. Camp, backpack, hike or bicycle while you enjoy the wildlife, hot springs, paint pots, geysers, canyons, rivers, waterfalls and, of course, Old Faithful.
Grand Teton National Park
Grand Teton National Park encompasses some of the most spectacular scenery in all of North America. This park includes 10 mountain summits which tower more than a vertical mile above the flat valley floor. Glaciers cling to mountain faces and jewel-like lakes sparkle in the bright alpine sun. Elk, bison, moose, bald eagles, and trumpeter swans can be seen. Canoe rentals, mountain climbing classes, float trips and scenic walks are all offered at the park.


Connect with KDHS
208-282-4899
208-282-2946
921 S. 8th
Stop 8055
Pocatello, ID 83209-8055
Imagine yourself at ISU with our virtual 360° tour: http://youvis.it/xYoT2l