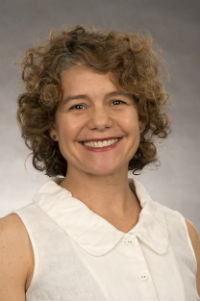 Susan Goslee
Associate Professor of English- Sabbatical Fall 2022
Office: LA 217
EDUCATION
PhD, Literature and Creative Writing (2007), University of Utah
MFA, Creative Writing- Poetry (2001), University of Alabama
BA, Psychology (1993), Swarthmore College
Current project
My current project emphasizes the role of fantasy in systems that transport and de-humanize their subjects. More specifically, I use the lyric to study coerced or violent displacement—from the flooding in the development of the Tennessee Valley Authority in the 1930s, to extraordinary rendition by the CIA, to child trafficking—and an understanding of systemic exploitation informs my approach to this topic. Appalachia figures prominently in the manuscript-in-progress as a case study of oppressive systems' mechanisms.
I think the lyric, in particular, is well-suited for such destabilizations because systems that call attention to themselves, such as patterns of rhythm and sound, compose this form. Since the lyric spotlights its own machinery, it is able to interrogate the systemic.
This project grows out of issues explored in my completed poetry manuscript "Welcome to Kingdom City," which has most recently been a semi-finalist for the 2017 Brittingham and Pollak Prizes, the 2016 Pleiades Editors' Prize, and the 2015 Lexi Rudnitsky First Book Prize. For the poem series that anchors the manuscript, I use a derelict private game park, Ligertown, that ran in the 1990s in southeastern Idaho to explore humans' contradictory response to fierce creatures and how their muteness (relative to human speech) enables such different reactions. Other poems examine isolation and imprisonment in other forms.
Recent Publications
"Poem" Stirring: A Literary Collection
"Wark, R., and Peck, C. 1982. Behavioral consequences of early visual exposure to contours of a single orientation. Developmental Brain Research. Oct Vol 5 (2): 218-221" Stirring: A Literary Collection
"Ligertown: Elegy" Western Humanities Review
"Ligertown: Welcome to Kingdom City" Western Humanities Review
"Ligertown: The schoolyard lion" Juked: Online
"Ligertown: Introduction" Permafrost: Online
"Ligertown: Responding Officer" Permafrost: Online
"Interregnum" Volt
"Extraordinary rendition, 2004" The Southampton Review
Editorial Position
Poetry Editor at Prompt Press (promptpress.org)
Faculty Advisor
Black Rock & Sage, ISU's student journal of creative works (blackrockandsage.org)
Teaching Interests
Creative writing: poetry and prose, Literary Magazine Production, Creative Writing in the Schools, 19th Century British Literature
Specializations
Creative writing: poetry
National and campus literary magazines
ISU Awards and Honors
Distinguished Teacher, 2012
Outstanding Service, 2010
Courses Taught
6662: Graduate Seminar in Creative Writing
4494: Senior Seminar in Creative Writing
4466/5566: Early Nineteenth-Century Literature: British
4409/5509: Literary Journal Production
4406/5506: Advanced Creative Writing Workshop
4405/5505: Creative Writing in the Schools
3306: Intermediate Creative Writing Workshop
2268: Survey of British Literature II: 19th Century to Present
2206: Creative Writing Workshop
1102: Writing and Rhetoric II