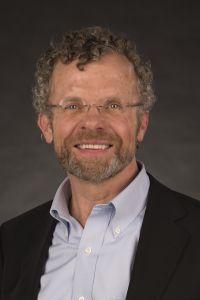 Roger Schmidt
Professor of English
Office: LA 271
EDUCATION
PhD, English (1989), University of Washington
MA, English (1985), University of Washington
BA, English (1980), University of Washington
My primary specialty is Eighteenth-century British literature. I enjoy the poetry of Pope, Johnson's Rambler essays and Boswell's Life of Johnson, Hogarth's prints, eighteenth-century typography, the history of manners, and the history of medicine. Beyond the eighteenth century, I enjoy literature in translation, particularly Japanese and Russian; the study of writing technologies, especially calligraphy, letterpress, and the history of the book; and film studies, with an emphasis on film history.
My interest in the study of writing technologies has led to studying eighteenth-century books at the Library of Congress in Washington, D.C. as part of Rare Book School; to a residence at Chawton House Library in England as a Research Fellow where I lived in the Old Stables and taught myself to "forge" Jane Austen's handwriting; to teaching students to write with dip-pens and quills; to developing the VisCom Experimental Print Lab in collaboration with Paula Jull from the Department of Communication, Media and Persuasion where students can work with traditional hand-crank letterpresses; to being a founding board member of the Pinyon Jay Press; and to establishing at Oboler Library the Samuel Johnson and his Circle collection of rare books and prints housed in Special Collections. Each semester I have my students, from first-year to graduates, work with this collection, particularly the rare prints. Among these prints are William Hogarth's Marriage a la Mode (1745), a current focus of my research into the history of medicine.
In addition to developing the Samuel Johnson and his Circle Rare Book Collection, I helped create the interdisciplinary Film Studies Minor that is housed in the Department of English and Philosophy. My main interest is in film history, particularly film noir. I am excited at the forthcoming development and expansion of this program.
I am delighted to work with graduate students on eighteenth-century topics. That said, I have directed a wide range of Master Theses, Doctoral Papers, and PhD Dissertations, over such authors as Shakespeare, Sterne, Austen, Emily Bronte, Hawthorne, Chopin, H.H. Brackenridge and Philip Freneau, and the Japanese writer, Koda Rohan; on subjects such as the Ballets Russes' 1912 production of Daphnis and Chloe, Humanist Pedagogy, the rhetoric of medical case studies, and using eighteenth-century poetry in first-year composition classes; I have also directed MA creative theses in poetry, short fiction, creative non-fiction (memoir), and a graphic novel.
Awards/Honors
Rare Book School (University of Virginia): The Eighteenth-Century Book, Library of Congress, Washington D.C., July 2017
"To What Shall I Compare this Life?" An essay listed in "Notable Essays and Literary Nonfiction of 2014," Best American Essays 2015. Editor Robert Atwan
Chawton House Library Fellow, in conjunction with University of Southampton, UK, 2013
Idaho Humanities Council Grant, 2012
American Society of Eighteenth-century Studies 2011 Innovative Course Design Award
Distinguished Teacher, ISU, 2011
Master Teacher, ISU, 1995
Selected Publications
"Wasted Days and Wasted Nights: Sleeping and Waking in the Eighteenth-Century" In Lifestyle and Medicine in the Enlightenment. Routledge. (August 2020)
"To What Shall I Compare This Life," (essay) Raritan (Spring 2014) 95-106.
"A Literary History of Teeth," Raritan (Winter 2010) 23-42.
Water & Mountain: Two Tales by Koda Rohan; translated by Tsutomu Naga and Roger Schmidt Rendezvous (Vol. 40, No. 1) 2009.
"Thirteen Ways of Looking at a Blackboard." Raritan (Winter 2006, Vol. XXV, No. 3) 47-69.
"Kant's Last Cup." Chapbook. Pocatello, ID: Blue Scarab Press, 2006.
"A Trip to Maldon," in Pilgrims and Natives. Rendezvous (Fall 2005, Vol. 38, No. 2) 59-62.
"Caffeine and the Coming of the Enlightenment," Raritan (Spring 2003, Vol. XXIII, No. 1) 129-149.
The Manufacture of Glass: Essays. Rendezvous (Spring 2001, Vol. 35, No. 2)
Courses Taught
6631: Seminar in Teaching Writing
6627: Seminar in Major Literary Figure (Jane Austen, Samuel Johnson)
4499/5599: History of Writing Technologies; Calligraphy
4491: Senior Seminar (Forging Jane Austen)
4477/5577: Shakespeare in Performance
4472/5572: Proseminar in Major Literary Figure (Samuel Johnson, Jane Austen, Chekhov and Tolstoy; Arthur Conan Doyle)
4465/5565: Eighteenth-Century Literature
4456/5556: Comparative Literature: Russian Literature; Japanese Literature
3324: Genre Studies in Non-Fiction
3305: Art of Film II (Film Noir; The Films of Alfred Hitchcock)
2267/2268: British Literature I & II
2257/2258: World Literature I & II
1126: Art of Film I
1115: Major Themes in Literature: Russian Literature
All levels of Composition