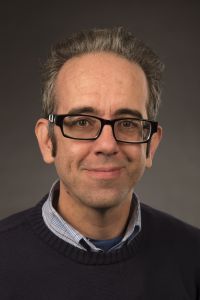 Matthew VanWinkle
Associate Professor of English
Office: LA 226
EDUCATION
PhD, English (2006), Boston College
MA, English (1998), Boston College
BA, English (1995), Boston University
As his long elegy for his friend Hallam draws to a close, Tennyson reflects both on his strengthening appreciation for their altered bond, and on the limits of that appreciation: "Strange friend, past, present, and to be; / Loved deeplier, darklier understood." These lines read vividly, poignantly, in themselves; they also speak to something daunting but vital about working on literature from an increasingly distant historical moment. In pursuing my work on nineteenth-century British poems and fictions, I often feel my admiration of them deepen, feel that I am coming to know something of them that an initial glance cannot fully recognize or appreciate. At the same time, however, I feel that this understanding remains at least partially in the shadows, and that to acknowledge the incompleteness of even the most acute insight is to pay an indispensable respect to a difference I might otherwise be tempted to remake into a resemblance.
Tennyson's evocative lines also provide a model for how I have recently begun thinking about neo-Victorian fictions: late twentieth and early twenty-first century narratives set in the Victorian era, exploring a kind of self-reflexive historicity involved in the construction or reconstruction the Victorian past. Do we imagine the Victorians imagining the past in the same ways that we imagine them as the past? Or have the dynamics of historical recollection changed between their era and ours? One strand of my recent work considers the implications of both the points of contact and points of departure that the answers to these interrelated questions might provide.
Selected Publications
"'Is the Language Not Rich with Felicity of Expression?': Penny Dreadful, Romantic Poetry, and the Limits of the Neo-Victorian," Filming the Past, Screening the Present: Neo-Victorian Adaptations, edited by Shannon Wells-Lassagne and Eckart Voigts, Trier: Wissenschaftlicher Verlag Trier, 2021, pp. 155-168.
"Kept in the Dark: Poetry, Collaboration, and Collapse in Pandaemonium and Tom and Viv," New Ohio Review 26 (2019), 160-164.
"Christina Rossetti's 'By Way of Remembrance': Address, Intertextuality, and Abiding Self-Scrutiny." Victorian Poetry vol. 58, no. 1, Spring 2018, pp. 59-80.
"'That Smileless Mouth of Him': Humor and the Malice of Delay in Dracula." The Journal of Dracula Studies, no. 19, 2017, pp. 91-110.
"Tennyson's 'Tithonus' and the Exhaustion of Survival in The X-Files." The X-Files and Literature: Unweaving the Story, Unraveling the Lie to Find the Truth. Ed. Sharon R. Yang. Newcastle upon Tyne, England: Cambridge Scholars, 2007. 298-311.
"Fluttering on the Grate: Revision in 'Frost at Midnight.'" Studies in Romanticism, 43 (2004): 583-98.
"Mocking Stupendous Mechanisms: Romantic Parody and Frankenstein's Dream." Frankenstein's Dream. Ed. Jerrold E. Hogle. College Park, MD: U of Maryland; 2003.
Awards/Honors
ISU Master Teacher Award, 2020
Courses Taught
6625: Seminar in a Literary Period
4491: Senior Seminar in Literature
4467/5567: Studies in Late 19th-Century Literature
4466/5566: Studies in Early 19th-Century Literature
3311: Writing and Research about Literature
2268: Survey of British Literature II
2267: Survey of British Literature I
2211: Introduction to Literary Analysis
1102: Writing and Rhetoric II
1101: Writing and Rhetoric I