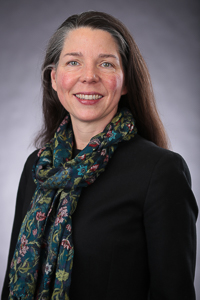 Jessica Winston
Professor of English; Chair of English and Philosophy
Office: LA 263
EDUCATION
PhD, English (2002), University of California, Santa Barbara
MA, English (1996), University of California, Santa Barbara
BA, English (1994), Wellesley College
My expertise lies in early modern literature and culture (c. 1485-1642), with a specialization in early modern drama and allied expertise in poetry. My research aims to reframe critical understandings of Tudor literature, a period long neglected by scholars, who viewed it as "drab" as compared to a Shakespearean "golden age" (to use C.S. Lewis's enduring terms). In the past decade, critics have sought to revive interest in this literature, showing that it contributed in significant ways to the period's major cultural transformations. My first book, Lawyers at Play, advanced this work, examining how the the literary culture of the Inns of Court responded to and shaped transformations in the English legal profession in the 1560s. My new book project "Tudor Drama in Modern Performance, 1890–present" aims to further reframe Tudor studies by showing how modern productions have reinforced older critical notions of Tudor literature, even as they have demonstrated the plays' continuing significance.
I teach courses in Shakespeare, early modern drama, and Renaissance literature, as well as lower-division, general education, and required major courses in writing and literary analysis.
Complete CV available online at: academia.edu.
Books
Lawyers at Play: Literature, Law, and Politics at the Early Modern Inns of Court, 1558-1581 (Oxford: Oxford University Press, 2016). Awarded Joseph L. Andrews Legal Literature Award, 2017, American Association of Law Libraries
Elizabethan Seneca: Three Tragedies (co-edited with James Ker), MHRA Tudor and Stuart Translations Series, vol. 8 (London: Modern Humanities Research Association, 2012). 340pp.
Selected Articles and Book Chapters
"Gorboduc Now! The First English Tragedy in Modern Print and Performance." English: Journal of the English Association, special issue on "Territory, Politics, and Performance in Early Modern England," edited by Paul Frazier and Harriet Archer, 68:261 (2019): 184-203.

"From Discontent to Disdain: Thomas Lodge's Scillaes Metamorphosis and the Inns of Court," Elizabethan Narrative Poems: The State of Play, ed. Lynn Enterline, Arden Shakespeare – State of Play Series. London: Bloomsbury, 2019. 143–166.
"Situated Interpretation: Teaching Shakespeare with Live Performance." The CEA Forum 48:1 (2019), 290–333.
"Digital Resources for Performance History: Online Newspaper Archives and Modern Productions of Gorboduc" in Early Modern Literary Studies 20:1 (2018). 2200 words. Web.
"Legal Satire and the Legal Profession in the 1590s: John Davies's Epigrammes and Professional Decorum." Oxford Handbook to English Law and Literature, 1500-1700, ed. Lorna Hutson. Oxford: Oxford University Press, 2017. 121-141.
"Rethinking Absolutism: English de casibus Tragedy in the 1560s," A Mirror for Magistrates in Context: Literature, History and Politics before the Age of Shakespeare, ed. Harriet Archer and Andrew Hadfield. Cambridge: Cambridge University Press, 2016. 199-215.
"Early 'English Seneca': From 'Coterie' Translations to the Popular Stage," Brill's Companion to the Reception of Senecan Tragedy: Scholarly, Theatrical, and Literary Receptions, ed. Eric Dodson-Robinson. Leiden: Brill, 2016. 174-202.
"A Note on Jasper Heywood's 'Free Compositions' in Troas (1559)" (co-authored with James Ker). Modern Philology 101:4 (2013), 564-75.
Awards/Honors
Huntington Library Travel Grant, 2018
Joseph L. Andrews Legal Literature Award, American Association of Law Libraries, 2017
Outstanding Researcher Award, ISU, 2017, 2018
Fellowship, National Endowment for the Humanities, 2011-12
Master Teacher, ISU, 2007, 2010
Research Fellowship, Idaho Humanities Council, spring 2009
Mellon Sawyer Seminar Postdoctoral Fellowship, University of Aberdeen, 2003-04
Courses Taught
Upper-Division / Graduate
Censorship and Renaissance Literature
Adaptations of Seneca in Renaissance Drama
Non-Shakespearean Renaissance drama
Teaching Shakespeare
Adaptations of Shakespeare, 1600-2000
Shakespeare in Performance
Shakespeare
Renaissance Literature - Women in Renaissance Literature
Genre Studies in Drama - Survey of Tragedy
Writing and Research about Literature
Lower-Division / General Education
Survey Early British Literature
Introduction to Literary Analysis
Honors Humanities I
Writing and Rhetoric II
Writing and Rhetoric I