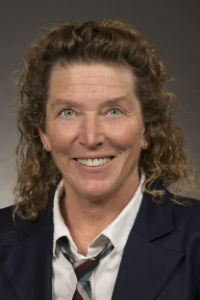 Cathy Peppers
Senior Lecturer in English
Office: TAB 277- Idaho Falls Campus
208-282-7778
EDUCATION
Ph.D. in English, University of Oregon
M.A. in English Lit. and M.F.A. in Creative Writing, Bowling Green State University
B.A. in English and Political Science, Macalester College
During my first eight years at ISU, I taught a range of courses in the English department, from developmental composition through creative writing and a variety of literature courses. Drawing on some prior professional experience, I also taught a few courses in public relations for the then-Mass Communication department.
My next ten years were housed in the College of Business, where I created and taught courses that developed into one unique core Management department course in critical analysis and creative problem solving. I won the College of Business Outstanding Teacher award in 2012, and an ISU Outstanding Teacher award in 2015.
Now in my 19th year at ISU, I'm back in the English department, based in Idaho Falls where, along with colleague Jenn Fuller, I'm teaching a range of courses that will allow students to complete the entire Professional Writing major on the Idaho Falls campus.
Courses Taught
3324: Genre Studies in Nonfication
3308: Business Communication
3307: Professional and Technical Communication
1102: Writing and Rhetoric II
Contact Us
(208) 282-2478
(208) 282-4472
Department of English and Philosophy
Liberal Arts Building 262
921 S 8th Ave, Stop 8056
Pocatello, ID 83209-8056