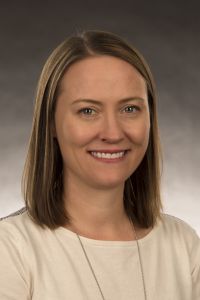 Bethany Schultz Hurst
Associate Professor of English
Office: LA 156
208-282-3542
EDUCATION
MFA, Creative Writing (2003), Eastern Washington University
BA, English (2000), Colorado State University
I often identify myself in relation to the West, having grown up and lived in the Rocky Mountain region for most of my life. Idaho has been my home since I started teaching at ISU in 2003. This geography shows up in my creative work, as I explore issues connected to identity and home within the context of the American West. More specifically, my poetry is driven by these questions: If the boundary between the domestic and wild is uncertain, then where/what can we as humans claim home? If we do make a claim, how much responsibility do we take for the problematic history that allows us to stake our claim?
In the classroom, I think of myself as both a writer and a teacher of writing; these roles should ideally be synchronous. Whether I'm teaching creative writing or composition, I seek to position myself in the classroom as a fellow writer. I experience the same writing struggles, challenges, and triumphs as my students. My teaching philosophy centers on connecting individuals to larger writing communities; I aim to provide students with both the private space and the community interaction necessary to the writing process. To aid students in seeing themselves as writers within a community, I encourage students to spend time developing relationships with their texts and to take ownership over their classroom roles. Writing communities should extend beyond the classroom, as well, and much of my service work seeks to provide access to literary/creative writing experiences through organizing public literary readings and activities and hosting visiting writers.
Book
Miss Lost Nation. Tallahassee: Anhinga Press, 2014. Winner, Robert Dana-Anhinga Prize for Poetry. Finalist, 2016 Kate Tufts Discovery Award.
Selected Recent Poems in Journals
"Seascape with Evacuating Animals," Gulf Coast (Fall/Winter 2017)
"Soup Bone and Juniper," Willow Springs 78 (June 2016)
"Bones that Have Been Reassembled and Displayed in Museums Throughout the World," Drunken Boat (Spring 2016)
"Failed Sci-Fi Film Treatment," New Orleans Review 41 (Fall 2015)
"On Our Way Home Again" and "Reports from the Edge of Town," Smartish Pace 22 (2015). Finalists for Erskine J. Poetry Prize.
"Fruits of Our Labor," American Literary Review (Spring 2015.)
"Crisis on Infinite Earths, Issues 1-12," New Ohio Review, Issue 16 (Fall 2014). Selected for Best American Poetry 2015.
"The Unlikely Event of a Water Landing," Gargoyle, Issue 59 (Fall 2012)
"Disarmament" and "Homesteading," River Styx, Issue 87 (Summer 2012). "Disarmament" nominated by River Styx for Best New Poets 2013.
"Preordained" and "Problems with Nudity," Cimarron Review, Issue 179 (Spring 2012)
"Ice Caves: Shoshone, Idaho," Valparaiso Poetry Review 13.1 (Fall/Winter 2011)
"Complications of a Late Freeze" and "Every Couple before Us," The Gettysburg Review 24.2 (Summer 2011). "Every Couple before Us" nominated by The Gettysburg Review for Best New Poets 2012.
Awards/Honors
Finalist, Kate Tufts Discovery Award. Claremont Graduate College, 2016
The Best American Poetry, 2015
Master Researcher, ISU, 2015
Outstanding Service, ISU, 2011
Distinguished Teacher, ISU, 2008
Courses Taught
6662: Creative Writing Seminar: The Political Poem
4494: Senior Seminar: Creative Writing
4406/5506: Advanced Creative Writing Workshop
3306: Intermediate Creative Writing Workshop
2206: Introduction to Creative Writing Workshop
1102: Writing and Rhetoric II
1101: Writing and Rhetoric I
Contact Us
(208) 282-2478
(208) 282-4472
Department of English and Philosophy
Liberal Arts Building 262
921 S 8th Ave, Stop 8056
Pocatello, ID 83209-8056