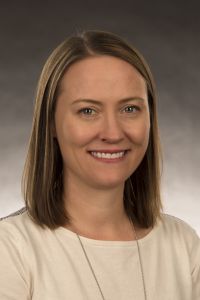 Bethany Schultz Hurst
Professor of English
Office: LA 156
EDUCATION
MFA, Creative Writing (2003), Eastern Washington University
BA, English (2000), Colorado State University
"To be haunted — one need not be a house" —Emily Dickinson
In my poetry, I aim to employ lyric form to explore the ways in which the contemporary United States West, in particular, may be haunted by the ideologies that drove 19th-century white settlement and continue to justify land-use policy today. Of the lyric form, Helen Vendler notes that "we are drawn in by the architecture of the poem—the manner in which its parts are arranged, so as to make a structure that reflects emotional intensity." Because of the lyric's relationship to both interiority and artifice/construction, I think of it as an ideal formal approach for investigating the impact of collective cultural imaginations on built environments.
Book
Blueprint and Ruin. Southern Indiana Review Press, 2022. Michael Waters Poetry Prize.
Miss Lost Nation. Anhinga Press, 2014. Robert Dana-Anhinga Prize for Poetry, selected by Richard Blanco. Finalist, 2016 Kate Tufts Discovery Award.
Selected Recent/Forthcoming Poems in Journals
"Exposure," Southern Humanities Review
"The Birds Are Always in the Corn," Terrain.org
"Donner Party," "Pinta, Nina, Santa Maria," and "Mylar," South Dakota Review
"Keepsake" Grist
"what now have you been eating?" Image
"Notes on Pet Monkeys and How to Manage Them: Classification, Cage Items, Ailments, Concluding Observations" The Florida Review
"Evensong (O Bewildering Picture)" Ecotone
"Exile Queen" New Ohio Review
"Broken Water Main" Split Rock Review (Pushcart Prize Nomination)
"No Season for Figs" and "Parable" Ploughshares
"Notes on Pet Monkeys and How to Manage Them: General Management" Juked (Pushcart Prize Nomination)
"Seascape with Evacuating Animals" Gulf Coast
Selected Awards/Honors
Humboldt Prize for Poetry. The Florida Review, 2020
Runner-up, Auburn Witness Prize for Poetry. Southern Humanities Review, 2020.
Idaho Commission on the Arts Literary Fellowship, 2017
Finalist, Kate Tufts Discovery Award. Claremont Graduate College, 2016
The Best American Poetry 2015
Master Researcher, ISU, 2015
Outstanding Service, ISU, 2011
Distinguished Teacher, ISU, 2008
Courses Taught
6662: Creative Writing Seminar: The Political Poem
4494: Senior Seminar: Creative Writing
4408/5508: Advanced Creative Writing Workshop: Prose
4406/5506: Advanced Creative Writing Workshop: Poetry
3306: Intermediate Creative Writing Workshop
2206: Introduction to Creative Writing Workshop
1102: Writing and Rhetoric II
1101: Writing and Rhetoric I