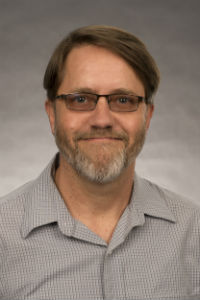 Alan Johnson
Professor of English- On Sabbatical Spring 2023
Office: LA 212
EDUCATION
PhD, English (1998), University of California, Riverside
MA, English (1988), University of Virginia
BA, English (1984), Southern Illinois University
My expertise is in postcolonial literature and theory, with an emphasis on India, where I was raised. Like my colleagues, I teach a variety of other courses besides my specialty, such as postcolonial ecocriticism, history of the novel, religion and literature, major figures (Rushdie, Naipaul), , literary theory, comparative literature, national literatures, writing about literature, honors humanities, first year writing, and an honors class on Hindi (Bollywood) film. In 2010 I was a Fulbright-Nehru lecturer in India, focusing on "globalization and the place of literature," and I've traveled throughout India for research, conferences, and talks. My current project, for which I received a 2016-17 Fulbright-Nehru research award, is an interdisciplinary study of depictions of forests in Indian literature. My interdisciplinary interests have taken me to conferences around the U.S., such as ASLE and RMMLA, as well as to India, Sri Lanka, Singapore, the Philippines, England, France, and Canada, and to literary festivals in India. I currently serve as the university's Fulbright Program Adviser.
Books- Academic

Postcolonial Literature Today, co-edited with Jagdish Batra (New Delhi: Prestige, 2015).
Out of Bounds: Anglo-Indian Literature and the Geography of Displacement (Univ. of Hawai'i, 2011).
Books- Novel
Family Plot (as A. G. Johnson), Vishwakarma Publishers, India. Mystery novelist Sujata Massey calls it "an accomplished" novel that "meld[s] the beauty and rich history of South India with a puzzling crime. I quickly fell under the spell of Johnson's elegant writing and innate understanding of local voices, history and hill station life."
Select Journal Articles and Book Chapters
"Da Gama to Ghosh, and Points in Between: Littoral Forests and Cultures of Trade." Journal of Southeast Asian Ecocriticism inaugural issue (Singapore), August 2021. 18-41.
"Shadows of Enchantment in Indian Forest Fiction: Mahasweta Devi's "The Hunt" and Hansda Sowvendra Shekhar's The Mysterious Ailment of Rupi Baskey," in Dwellings in Enchantment: Writing and Reenchanting the Earth, ed. Bénédicte Meillon (France), Rowman & Littlefield, Nov. 2020.
"'Mera Joota Hai Japani': Memory, Context, Play," in Osmania Journal of English Studies (Hyderabad, India), 2019 issue, pp.1-14.
"Teaching Amitav Ghosh in an Upper Division Single Author Course," Teaching Amitav Ghosh MLA series volume, ed. Gaurav Desai and John Hawley; April 2019
"Fraudulence, Knowledge, and Post-Imperial Geographies in John Le Carré's Fiction: A Cavellian Postcolonial Reading," by Alan Johnson, in Stanley Cavell on Aesthetic Understanding, ed. Garry L. Hagberg. Springer, Nov. 2018, 265-292 https://link.springer.com/book/10.1007/978-3-319-97466-8
"Narrative Identities in India's Global Age," in Narrative, Identity, and Academic Community in Higher Education, ed. Brian Attebery et al. Routledge, 2017. 47-67
"'Going Jungli': Flora Annie Steel's Wild Civility," Flora Annie Steel: A Critical Study of an Unconventional Memsahib, ed. Susmita Roye, University of Alberta Press, 123-160
"Cross-cultural Humanities," Rendezvous: Journal of Arts & Letters 43:1 & 2, special issue on State of the Humanities, ed. S. Sieber and A. Petit, Spring 2017: 9-18
"Sacred Forest, Maternal Space, and National Narrative in Mahasweta Devi's Fiction," ISLE: Interdisciplinary Studies in Literature and Environment, 23:2 (Summer 2016): 506-525
"Landscapes of Terror and Nation in Hindi Film: The Case of Dil Se," Weber—The Contemporary West, special South Asia Focus issue, ed. Michael Wutz, T. Vijay Kumar, and Kerstin Schmidt, 32:2 (Spr/Sum 2016): 35-48
"Local Writing is World Writing: Reflections on Literary Studies in a Global Age," The Atlantic Critical Review (India) 13:2 (April-June 2014): 1-15
"The American Hero's Passage to India: Geography, Frontier Myths, and Planetary Perspectives," Writing Today (India) 1:2 (Jan. 2014): 1-12
"Ghosts of Irish Famine in J. G. Farrell's The Siege of Krishnapur," Journal of Commonwealth Literature (London) 46:2 (June 2011): 275-92
"The Savage City: Locating Colonial Modernity," Nineteenth-Century Contexts 25.4 (2003): 315-32
"Culture, Metaphor, Art: The Context of Beauty," Rendezvous: Idaho State University Journal of Arts and Letters 36:1 (Fall 2000): 23-36
"Club Members?: Reading John Masters's Bhowani Junction," The Journal of Commonwealth Literature (London), Summer 2000: 3-26
Other Publications
"Wasteland, Forest, and Emplacement: The Promise (and Peril) of Narration," Re-Thinking Environment: Literature, Ethics and Praxis, ed. Shruti Das; New Delhi: Authors Press, 2016. 21-39
"Anglo-Indians and Globalization," The Way We Are, ed. L. Crumb and D. Van Veldhuisen (New York: CTR Inc., 2008): 252-56
"Picturing Violence in an Age of Technological Reproduction," Literature in Times of Violence, ed. G. R. Kataria and S. Mandal. Delhi: Prestige Books, 2008
Awards/Honors
Fulbright-Nehru awards to India, 2010 (lecturer) and 2016-17 (researcher)
Idaho Humanities Center award for research in India, 2014
Two sabbaticals, as well as several Idaho State University grants
Outstanding Researcher, ISU, 2012
Courses Taught
Postcolonial, comparative, and world literatures; graduate seminars in literary theory, religion and literature, history of the novel, and politics and the novel; major figures; national literatures; introductory literature; senior seminars on such topics as ecocriticism; first year writing; Honors Humanities; and Honors short course on Hindi film
Additional information, including some papers, CV, is available at Academia.edu and at alangjohnson.wordpress.com.