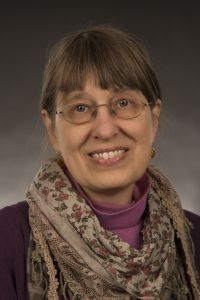 Sonja Launspach
Associate Professor of English
Office: LA 220
208-282-2237
EDUCATION
PhD, Linguistics (1998), University of South Carolina
MA, Linguistics (1995), University of South Carolina
BA, German Language and Literature (1982), Washington University
BFA, Graphic Design (1982), Washington University
Research Interests
I am a sociolinguist and as a sociolinguist, I study how language is used in everyday contexts and social situations. My research interests include conversation analysis, discourse analysis, narrative, dialect studies and studying writing through a linguistics lens. I've recently become interested in the intersection between linguistics and pedagogy. I teach the linguistics courses for our majors, courses in the TESOL certificate program and co-direct the interdepartmental linguistics minor.
Selected Publications
2016 "Making the Case: Using the case method to teach argument." Co-author, Angela Petit. Teaching English in the Two Year College. To appear.
2016 "Exemplar narratives: Resources for maintaining solidarity and upholding group standards in an American Quilting Guild." Text and Talk 36:2. 179-197.
2015 "Stories and objects: Narrative and the construction of connective links in the American quilting guild." Book chapter in Narrative, Identity and the Liberal Arts. (Eds.) Brian Attebery, John Gribas, Mark K. McBeth, Paul Sivitz, and Kandi Turley-Ames. NY: Routledge. To appear. 33 pp. in ms.
2013 "'That really was a good method for beginners:' How narratives are used to situate objects and techniques in a quilting guild." Narrative Inquiry. Vol. 23, No. 2, pp. 262-282.
2012 "The journey to Idaho: The use of oral history tapes and census data to trace the history of dialect features." Idaho Yesterdays. Vol. 53, No. 1 & 2.
2008 "The Role of Talk in Small Writing Groups: Building declarative and procedural knowledge for basic writers." Journal of Basic Writing. Vol. 27, No. 2, pp. 93-117.
2003 "Compliments and self deprecatory assessments: A quilter's resource in the co-construction of performance events. RASK International Journal of Language and Communication. No. 18, Spring 2003.
2000 "Literal or Loose Talk: The Negotiation of Meaning on an Internet Discussion List." Words on the Web: Computer Mediated Communication. Ed. by Lyn Pemberton and Simon Schurville. Exeter, UK: Intellect Ltd.
2000 "Beyond Grammar: Linguistics in the Composition Classroom" with Martha Thomas. In our Own Voice: Graduate Students Teach Writing. Ed. by Tina Good and Leanne Warshauer. New York: Allyn Bacon.
Courses Taught
6685: Seminar in Linguistics
6680: Introduction to Linguistics
4488/5588: Introduction to Sociolinguistics
4484/5584: Rotating Topics in Linguistics
4480/5580: Varieties of American English
2281: Introduction to Language Studies
1102: Critical Reading and Writing
1101: English Composition
Contact Us
(208) 282-2478
(208) 282-4472
Department of English and Philosophy
Liberal Arts Building 262
921 S 8th Ave, Stop 8056
Pocatello, ID 83209-8056