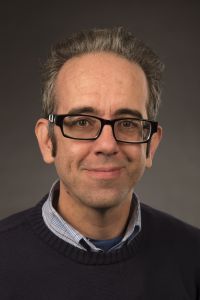 Matthew VanWinkle
Associate Professor of English
Office: LA 226
208-282-4272
EDUCATION
PhD, English (2006), Boston College
MA, English (1998), Boston College
BA, English (1995), Boston University
Selected Publications
"Tennyson's 'Tithonus' and the Exhaustion of Survival in The X-Files." The X-Files and Literature: Unweaving the Story, Unraveling the Lie to Find the Truth. Ed. Sharon R. Yang. Newcastle upon Tyne, England: Cambridge Scholars, 2007. 298-311.
"Fluttering on the Grate: Revision in 'Frost at Midnight.'" Studies in Romanticism, 43 (2004): 583-98.
"Mocking Stupendous Mechanisms: Romantic Parody and Frankenstein's Dream." Frankenstein's Dream. Ed. Jerrold E. Hogle. College Park, MD: U of Maryland; 2003. http://www.rc.umd.edu/praxis/frankenstein/vanwinkle/vanwinkle.html.
Courses Taught
6625: Seminar in a Literary Period
4491: Senior Seminar in Literature
4467/5567: Studies in Late 19th-Century Literature
4466/5566: Studies in Early 19th-Century Literature
3311: Writing and Research about Literature
2268: Survey of British Literature II
2267: Survey of British Literature I
2211: Introduction to Literary Analysis
1102: Critical Reading and Writing
1101: English Composition
Contact Us
(208) 282-2478
(208) 282-4472
Department of English and Philosophy
Liberal Arts Building 262
921 S 8th Ave, Stop 8056
Pocatello, ID 83209-8056