Groups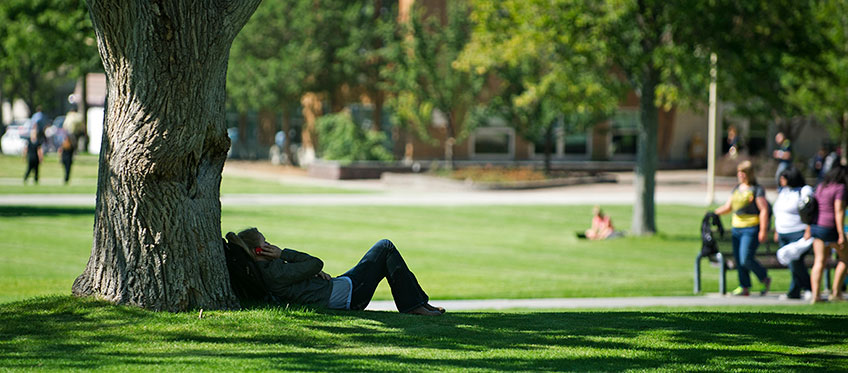 Group Therapy: Is it for you?
For many of the life concerns that college students often face, group counseling is one of the best treatments available. Groups offer a unique opportunity in a safe and supportive place to receive support and use peer interaction to help individuals work on the challenges that they are facing. Groups can help establish a sense of connection with other students and help give support and valuable feedback regarding common concerns as they navigate their academic and personal lives at ISU.
Although many students are initially hesitant to join a group they often find that it is a very beneficial and positive experience.
Groups at ISU Counseling and Testing Service have an average of five to eight students and one to two counselors. They generally meet weekly, for 90 minutes, at a fixed time each semester. While our selection of groups varies throughout the year the center typically offers general therapy groups for ISU students, as well as theme-focused groups, and drop-in groups.
Benefits of Groups
Connect to others facing similar issues
See how others handle similar problems
Learn and practice new skills in a safe environment
Get multiple perspectives
Share your unique perspective
Improve self-awareness
Improve social skills
Enhance acceptance of yourself and others
Improve self-esteem
Research supports the effectiveness of group treatment and the ISU Counseling and Testing Service offers a variety of weekly groups in order to meet the various needs of the diverse students we serve. Groups are a powerful way to bring about meaningful change in the interpersonal, emotional, or personal challenges students face. For many concerns such as learning communication and social skills, overcoming anxiety, learning about interpersonal communication, getting social support, and learning life skills to improve personal well-being, groups are the recommended treatment that could help students overcome difficulties and benefit their lives. Please contact the ISU Counseling & Testing Service at (208) 282-2130 to schedule an appointment with one of our counselors to discuss joining a group.
Groups Offered at Counseling and Testing Service
Understanding Self and Others (USO)
These groups are effective ways to gain support from other individuals dealing with a variety of personal concerns. It is an opportunity to address boundaries, emotional intimacy, increase self-awareness, and practice new behaviors in a safe, confidential environment.
fACT Check
This group focuses on Focused Acceptance and Commitment Therapy (FACT) principles of being present, opening up, and doing what matters. These skills can help you with responding to difficult situations, thoughts, and emotions, stressful life events, problematic relationships, and impulsivity to improve your quality of life and personal well-being.
Anxiety ACTion
The Anxiety ACTion Group is focused on helping students understand their struggles with anxiety in new ways and learn new ways of acting to change their anxiety and pursue a full and meaningful life. This semi-structured group utilizes Acceptance and Commitment Therapy (ACT), which teaches individuals to see their personal experiences and relationships from different perspectives, and to act in valued ways that allow them to relate differently to anxious feelings, depressed moods, worrying thoughts, and self-defeating behaviors.
Mindful Self-Compassion
This group focuses on ways to be more compassionate with yourself through struggles, difficulties, and challenges. Mindfulness and self-compassion skills can help you quiet the voice of harsh criticism and negative judgment and help you learn simple ways and techniques for supporting yourself during difficult moments. This skills-based group uses practices and exercises from the Mindful Self-Compassion program.
Mindfulness Meditation
This group is open to students, staff, faculty, and community members to join together for mindfulness meditation. Participants will be guided through a 20-minute meditation and a brief discussion. No experience with meditation necessary to attend, and no need to commit to the entire series.
Fall 2022 Group Schedule
Monday
Tuesday
Wednesday
Thursday
Friday

fACT Check


12:00 - 1:00pm


Liva Rigney

In-person

Mindful Self-Compassion

12:00 - 1:00pm

Jen Miesch & Ann Bailey

Online

Meditation Hour

12:15-12:45

Jen Miesch

Online
Start date:
January 12


Anxiety ACTion

3:00 - 4:45pm

Matt Ashton

In-person

Understanding Self & Others

3:00 - 4:30pm

Kristin Stewart-Yates
& Jess Sellman

In-person

Understanding Self & Others

3:00 - 4:30pm

Cliff Rone & Blaney Hanvey

Online

Understanding Self & Others

3:00 - 4:30pm

Cameron Staley & Mosiah Castrejon

In-Person


Survivors of Suicide Loss Support Group*

4:00 - 5:00pm

*January 12, February 9,
March 9, April 13