Groups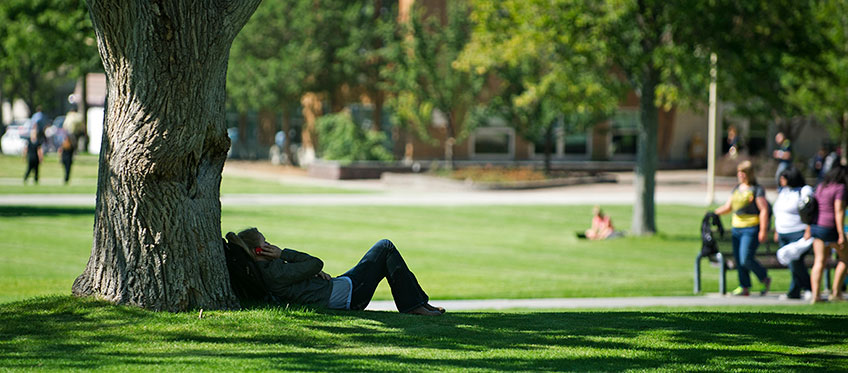 Group Therapy: Is it for you?
For many of the life concerns that college students often face, group counseling is one of the best treatments available. Groups offer a unique opportunity in a safe and supportive place to receive support and use peer interaction to help individuals work on the challenges that they are facing. Groups can help establish a sense of connection with other students and help give support and valuable feedback regarding common concerns as they navigate their academic and personal lives at ISU.
Although many students are initially hesitant to join a group they often find that it is a very beneficial and positive experience.
Groups at ISU Counseling and Testing Service have an average of five to eight students and one to two counselors. They generally meet weekly, for 90 minutes, at a fixed time each semester. While our selection of groups varies throughout the year the center typically offers general therapy groups for ISU students, as well as theme-focused groups, and drop-in groups.
Benefits of Groups
Connect to others facing similar issues
See how others handle similar problems
Learn and practice new skills in a safe environment
Get multiple perspectives
Share your unique perspective
Improve self-awareness
Improve social skills
Enhance acceptance of yourself and others
Improve self-esteem
Research supports the effectiveness of group treatment and the ISU Counseling and Testing Service offers a variety of weekly groups in order to meet the various needs of the diverse students we serve. Groups are a powerful way to bring about meaningful change in the interpersonal, emotional, or personal challenges students face. For many concerns such as learning communication and social skills, overcoming anxiety, learning about interpersonal communication, getting social support, and learning life skills to improve personal well-being, groups are the recommended treatment that could help students overcome difficulties and benefit their lives. Please contact the ISU Counseling & Testing Service at (208) 282-2130 to schedule an appointment with one of our counselors to discuss joining a group.
Groups Offered at University Counseling and Testing Service
Understanding Self and Others (USO)
These groups are effective ways to gain support from other individuals dealing with a variety of personal concerns. It is an opportunity to address boundaries, emotional intimacy, increase self-awareness, and practice new behaviors in a safe, confidential environment.
Do Better Today (DBT)
This group focuses on mindfulness, interpersonal effectiveness, distress tolerance, and emotional regulation skills. These skills can help you with managing intense emotions, stressful life events, problematic relationships, or impulsivity to improve your quality of life and personal well-being.
This group utilizes Dialectical Behavior Therapy (DBT). DBT is a form of therapy with helps you learn life skills to manage intense emotions, stressful life situations, difficulties in relationship, and find alternative ways of coping effectively in life situations.
Seeking Safety
The Seeking Safety group teaches coping skills to individuals who have experienced trauma and/or substance abuse. The focus of this group is to establish coping skills by developing safety in relationships, thinking, behavior, and emotions. The group teaches evidence-based cognitive-behavioral techniques to shift harmful thought patterns while building self-compassion. Students as they practice Seeking Safety coping skills will learn to manage emotional reactions by staying in the present moment without delving deep into the past or details of the trauma.
Anxiety ACTion Group
The Anxiety ACTion Group is focused on helping students understand their struggles with anxiety in new ways and learn new ways of acting to change their anxiety and pursue a full and meaningful life. This semi-structured group utilizes Acceptance and Commitment Therapy (ACT), which teaches individuals to see their personal experiences and relationships from different perspectives, and to act in valued ways that allow them to relate differently to anxious feelings, depressed moods, worrying thoughts, and self-defeating behaviors.
Mindfulness Meditation
This group is open to students, staff, faculty, and community members to join together for mindfulness meditation. Participants will be guided through a 20-minute meditation and a brief discussion. No experience with meditation necessary to attend, and no need to commit to the entire series.
Spring 2021 Group Schedule
(All Spring 2021 groups will be through Zoom)
Anxiety ACTion
Mondays 3:00 - 4:30pm (Matt & Lucinda)
Understanding Self & Others (USO)
Mondays 1:00 - 2:30pm (Cameron & Erin)
Tuesdays 3:00 - 4:30pm (Cliff & Elie)
Wednesdays 12:00 - 1:30pm (Sally & Shar)
Wednesdays 3:00 - 4:30pm (Cameron & Wilson)
Mindfulness Meditation
Fridays 12:15-12:45pm (Jen)
For more information on our groups, please contact the center at (208) 282-2130 and ask to speak with a counselor.
CATS Connections
CATS Connections brings individuals together who may benefit from learning and supporting others with similar aspects of identity. Meetings are held weekly for one hour and are facilitated by a staff member from ISU's Counseling and Testing Service.
Survivors of Suicide Loss
Community for Survivors of Suicide Loss
This monthly support group is open to any student, faculty, or staff member who would like to connect with others who have suffered the loss of a loved one to suicide.
When: Monthly 2nd Thursdays, 8:00 a.m. - 9:00 a.m.
Where: Meetings are over Zoom. Register for the group by clicking on the link below. Upon registration you will be emailed a link for the Zoom meeting. For questions, contact Rick Pongratz at rickpongratz@isu.edu or Sheryl Yee at sherylyee@isu.edu
Community for International Students
This group is open to Idaho State University International students interested in connecting with others to increase their social interactions and improve their experience at ISU and within the community.
When: Thursdays, 1:00 p.m. - 2:00 p.m. through June 24th
Where: Meetings are over Zoom. Register for the group by clicking on the link below. Upon registration you will be emailed a link for the Zoom meeting. For questions, contact Sheryl Yee at sherylyee@isu.edu