Community Outreach Request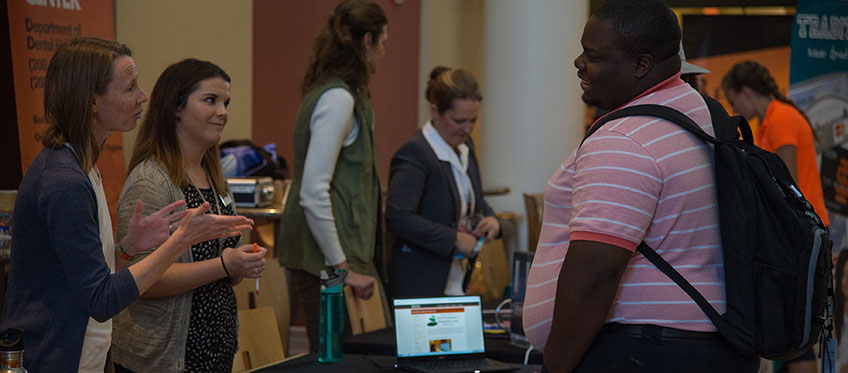 Outreach and Workshops
ISU Counseling and Testing Service is excited to offer a variety of outreach services including workshops, presentations, and guest lectures on a variety of topics. Presentations can be designed to fit the needs of specific classes, groups, or departments. Please see our list of common presentation topics in the drop down menu or talk with us about your ideas or needs.
Presentation Request
If you are interested in having Counseling & Testing Service present to your group, please complete the Presentation Request Form and we will get back to you. We request that you provide a minimum of two weeks notice when making an outreach request so that we can best accommodate your needs. If you are requesting a presentation in response to a crisis or urgent situation, we will do our best to meet your need. If you need additional information, please contact Susan MaComb and Sally Bodkin, ISU Counseling & Testing Service Outreach Coordinators, at (208) 282-2130, or by email at macosusa@isu.edu;baumsall@isu.edu.
Presentation Request Form
Bengal Mental Health Fund
Contact Us
Pocatello:
(208) 282-2130 - Counseling Services
(208) 282-4506 - Testing Services
Graveley Hall, South Tower, Room 351
Idaho Falls:
(208) 282-7750
Bennion Student Union Building, 2nd Floor, Room 223
Hours
Fall/Spring: M-F 8-5
Summer: M-F 7:30-4
Suicide Awareness
If you or someone you know has a mental illness, is struggling emotionally, or has concerns about their mental health, there are ways to get help. Counseling and Testing Service is here to provide help to you, a friend, or a family member.
National Suicide Prevention Lifeline: 1-800-273-TALK(8255)
Crisis Text Line: Text HOME to 741741 in the US