Groups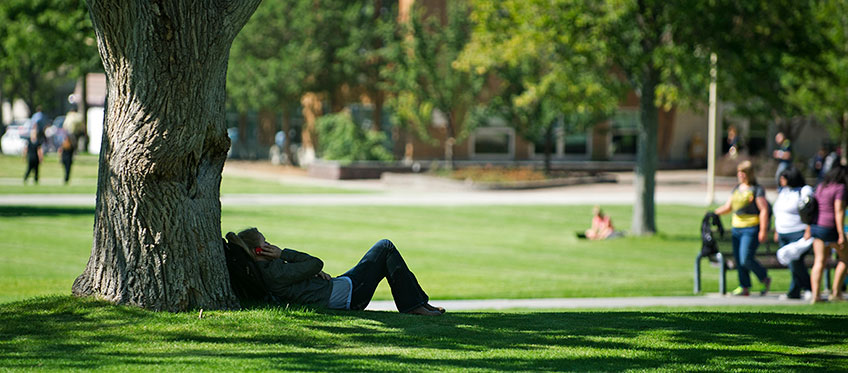 Group Therapy: Is it for you?
For many of the life concerns that college students often face, group counseling is one of the best treatments available. Groups offer a unique opportunity in a safe and supportive place to receive support and use peer interaction to help individuals work on the challenges that they are facing. Groups can help establish a sense of connection with other students and help give support and valuable feedback regarding common concerns as they navigate their academic and personal lives at ISU.
Although many students are initially hesitant to join a group they often find that it is a very beneficial and positive experience.
Groups at ISU Counseling and Testing Service have an average of five to eight students and one to two counselors. They generally meet weekly, for 90 minutes, at a fixed time each semester. While our selection of groups varies throughout the year the center typically offers general therapy groups for ISU students, as well as theme-focused groups, and drop-in groups.
Benefits of Groups
Connect to others facing similar issues
See how others handle similar problems
Learn and practice new skills in a safe environment
Get multiple perspectives
Share your unique perspective
Improve self-awareness
Improve social skills
Enhance acceptance of yourself and others
Improve self-esteem
Research supports the effectiveness of group treatment and the ISU Counseling and Testing Service offers a variety of weekly groups in order to meet the various needs of the diverse students we serve. Groups are a powerful way to bring about meaningful change in the interpersonal, emotional, or personal challenges students face. For many concerns such as learning communication and social skills, overcoming anxiety, learning about interpersonal communication, getting social support, and learning life skills to improve personal well-being, groups are the recommended treatment that could help students overcome difficulties and benefit their lives. Please contact the ISU Counseling & Testing Service at (208) 282-2130 to schedule an appointment with one of our counselors to discuss joining a group.
Groups Offered at University Counseling and Testing Services
Understanding Self and Others (USO)
These groups are effective ways to gain support from other individuals dealing with a variety of personal concerns. It is an opportunity to address boundaries, emotional intimacy, increase self-awareness, and practice new behaviors in a safe, confidential environment.
Do Better Today (DBT)
This group focuses on mindfulness, interpersonal effectiveness, distress tolerance, and emotional regulation skills. These skills can help you with managing intense emotions, stressful life events, problematic relationships, or impulsivity to improve your quality of life and personal well-being.
This group utilizes Dialectical Behavior Therapy (DBT). DBT is a form of therapy with helps you learn life skills to manage intense emotions, stressful life situations, difficulties in relationship, and find alternative ways of coping effectively in life situations.
Anxiety ACTion Group
The Anxiety ACTion Group is focused on helping students understand their struggles with anxiety in new ways and learn new ways of acting to change their anxiety and pursue a full and meaningful life. This semi-structured group utilizes Acceptance and Commitment Therapy (ACT), which teaches individuals to see their personal experiences and relationships from different perspectives, and to act in valued ways that allow them to relate differently to anxious feelings, depressed moods, worrying thoughts, and self-defeating behaviors.
Sexual Concerns
Many people struggle to change unwanted habits and thoughts related to sexual issues, such as pornography viewing and masturbation. The Sexual Concerns group is intended to help individuals being to bring their sexual behaviors in harmon with their personal values. The group teaches evidence-based psychological principles based in Acceptance and Commitment Therapy (ACT) that allow group participants to gain helpful strategies in changing their behavior and to also gain support from others working to address similar concerns.
CATS Connections
CATS Connections brings individuals together who may benefit from learning and supporting others with similar aspects of identity. Meetings are held weekly for one hour and facilitated by a counselor from ISU's Counseling and Testing Service.
TRANS Cats -- For ISU students seeking safe supportive conversations regarding gender identity and discovering helpful resources on campus and in the comunity. This group will be taking place on Wednesday's from 12-1 p.m. in the Lambda Qi Room located on the 2nd floor of the Student Health Center.
CATS Spectrum -- For ISU students on the Autism Spectrum interested in connecting with others to increase their social interactions and improve their experience at ISU and in the community. This group will be taking place on Thursday's from 12-1 p.m. in the Diversity Resource Center.
CATS International -- For international ISU students looking for a supportive place to talk about their transition away from home, navigating ISU or the community, and building diverse relationships. This group will be taking place on Thursday's from 11 a.m. -12 p.m. in the Diversity Resource Center.
Mindfulness Meditation
This group is open to students, staff, faculty, and community members to join together for mindfulness meditation. Participants will be guided through a 20-minute meditation and a brief discussion. No experience with meditation necessary to attend, and no need to commit to the entire series.
Pocatello Campus
Pond Student Union - Clearwater Rooms
Fridays 12:15 - 12:45pm
For more information on our groups, please contact the center at (208) 282-2130 and ask to speak with a counselor.