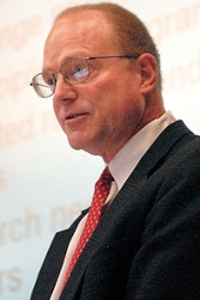 David Beard
Ph.D - Professor and Undergraduate Program Director
Office: Colonial Hall 232
David Beard is a Professor of Computer Science and has been at ISU for over 20 years. He double majored in Math with a Computing Emphasis and Philosophy at Hope College (1978 before earning a Ph.D. in Computer Science from the University of Michigan Ann Arbor (1985) focused on Databases and Human Computer Interaction. Dr. Beard has worked for Ford Motor Company Engineering, GTE Government Systems, and Siemens Corporate Research.
Dr. Beard has over 95 patents, publications and presentations, including the Journal of Radiology, of Behaviour & Information Technology, the Journal of Human Computer Interaction, SIGCHI, and CSCW. He has been principal investigator on National Institute of Health and U.S. Army grants, served on NIH and Army study sections reviewing grant proposals, and conducted reviews for the National Science Foundation and numerous journals and conferences. Dr. Beard is past chair for the society for Computer Applications in Radiology and served on the Computer Science, Radiology, and Medical Informatics faculty at UNC Chapel Hill. He has built interactive database visualization tools involving hundreds of thousands of lines of code in 31 programming languages for Engineers, the U.S. Army, homeland security, hospitals, and Radiologists.
Dr. Beard taught his first programming class in 1980. He has taught Introduction to Programming (CS-I) in seven languages as well as CS-II (Object-Oriented Programming), Data Structures, Algorithms, Databases, Advanced Databases, Lisp, Software Engineering, Computer Science Senior Project, Computer Organization, System Programming and Assembly, and Human Computer Interaction.