Department News
Send comments, suggestions or items for inclusion to Lori Medellin, Administrative Assistant I.
Our very own, Olivia T. Ngadjui, LPC (she/her) successfully defended her dissertation entitled "Shaking Up The Room: The Process of Professional Identity Development of Black Doctoral Students in Counselor Education." Her dissertation was funded by the Association for Adult Development and Aging (AADA) and the Association for Counselor Education and Supervision (ACES). In defending earlier than required, we look forward to seeing her graduate in the upcoming Spring 2021 semester and are excited to see where she decides to seek employment. Congratulations, Dr. Ngadjui, LPC!
The Idaho State University Department of Counseling's Certificate in Animal Assisted Interventions was identified by Animal Assisted Interventions International (AAII) as a key educational institution to support AAII's mission and strategic plan. On November 12, 2020, was accepted as part of the inaugural Education Institution Members of Animal Assisted Interventions International.
Animal Assisted Interventions International (AAII) is a non-profit association and coalition of practitioners, individuals, or organizations that has a strong foundation of positive interactions with people and animals, at all stages in the AAII continuum (training, handling, treating, educating, etc.) It is built to have a solid foundation in standards of practice and embraces sharing of quality professional level information. AAII currently has members in Europe, North America, Latin America, and Oceania. AAII prides itself in collaborating with AAI related individuals, organizations, and institutions worldwide. AAII members and the Board of Directors have spent the past 7 years developing practical standards, competencies, and accreditation for Animal Assisted Intervention (AAI) work. AAII identified key areas for development within professional discipline member organizations, governmental agencies, educational institutions, and organizations that support those working in animal assisted activities (AAA), animal assisted education (AAE), animal assisted therapy (AAT), and other professionals in AAI work. While AAIs have a rich history, there is much work to be done in the area of uniform terminology, standards, education, competencies, accreditation/certifications/qualifications, evaluation, and research to fit the uniqueness of each branch of AAIs. To support AAII's key areas for development and strategic planning, AAII invited key educational institutions that are involved in AAIs to become the inaugural Educational Institution Members of AAII and contribute to the worldwide development of this rapidly growing discipline. This 3-year membership term is from 2021-2024, after which time members will be eligible for re-application.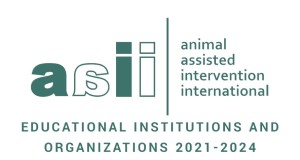 Congratulations to Olivia T. Ngadjui and Katie Sacco, Doctoral Candidates, for RMACES Awards.
Olivia has been awarded the Rocky Mountain Association for Counselor Educators and Supervision (RMACES) Multicultural and Social Justice Advocacy Award and the RMACES Emerging Leader.
She has also been sworn in as an ASISU Supreme Court Justice.
Katie is the recipient of the Rocky Mountain Association of Counselor Education and Supervision (RMACES) Supervision Award.
Olivia T. Ngadjui, Doctoral Candidate, receives 2020 ACES Research Grant Award.
The ACES Research Grant Award Committee is pleased to announce 10 recipients for the 2020 competition. The competition was steep with 48 submitted proposals. After careful review, the committee, led by Dr. Jennifer Baggerly at the University of North Texas at Dallas, is distributing a combined total of $15,000 to these 10 winners. These researchers will conduct studies that will increase understanding of professional development in Counselor Education and Supervision by specifically focusing on areas of teaching, supervision, professional identity, or leadership development.
Principal Investigator

University or Agency

Research Study Title

Abigail Conley

Virginia Commonwealth University (Richmond, VA)

Do We Practice What We Preach? Exploring Counselor Education Doctoral Students Experiences from Diverse Religious/Spiritual Backgrounds

Dan Li

University of North Texas (Denton, TX)

Lived Experiences of Counselor Trainees' Online Learning: A Phenomenological Study

Heather C. Robertson

St. John's University (Queens, NY)

Technological Training Interventions to Increase Counselor Competence

Isak Kim

The Pennsylvania State University (State College, PA)

Training-Related Retraumatization as a Mediator between Adverse Childhood Experiences and Traumatic Stress among Counseling Trainees

J. Richelle Joe

University of Central Florida (Orlando, FL)

Poverty Simulation as a Tool to Enhance Cultural Competence and Reduce Bias Among Counselors-in-Training

Jessica Rohlfing Pryor

Northwestern University (Evanston, IL)

A Pilot Study on Rupture and Repair in Counseling Mentorship

John Pryor

Oregon State University (Corvallis, OR)


Exploring the Experiences of Supervisors of Home-Based Counselors: An Interpretive
Phenomenological Analysis of the Perspectives of Supervisors Who Provide Supervision to
Home-Based Counselors

Olivia T. Ngadjui

Idaho State University (Pocatello, ID)

Shaking Up The Room: The Process of Professional Identity Development of Black Doctoral Students in Counselor Education

Ryan M. Cook

The University of Alabama (Tuscaloos, AL)

Nondisclosure by Doctoral Students in the Dissertation Process

Summer Kuba

Liberty University (Lynchburg, VA)


The Effect of Mentorships on Counselors in Training Professional Identity Development
Aishwarya Joshi receives grant award

Ms. Joshi is the 2020 recipient of the Multicultural Assessment and Research in Counseling Grant, awarded by the Association of Assessment and Research in Counseling for her research entitled "International Female Faculties Navigating Identities in CACREP Accredited Programs: A Critical Narrative Inquiry". The grant was developed to inform and encourage research and assessment initiatives that focus on multicultural and social justice issues in Counseling, Counselor Education and Supervision.
Congratulations to both of our accomplished doctoral students!
Ms. Olivia Ngadjui is the 2020 recipient of the Association for Adult Development and Aging's Research Grant for her dissertation research entitled "Shaking Up the Room: The Process of Professional Identity Development of Black Doctoral Students in Counselor Education." The $500 grants was developed to fund studies that increase understanding of issues pertaining to adult development and aging. The Association for Adult Development and Aging is a Division of the American Counseling Association.
Ms. Kelsey Sarasqueta-Allen is the 2020 recipient of the Association for Adult Development and Aging's Government Relations Award. This award is given to a member of Association for Adult Development and Aging (AADA) or American Counseling Association (ACA) who has taken the lead on an advocacy event or initiative that addressed a political need related to counseling adults. The advocacy event or initiative involved contact with government officials at the local, state, or federal level with the purpose of addressing a matter of concern to professional counselors or adult clients.
Olivia Ngadjui, doctoral candidate in the Department of Counseling, is demonstrating extraordinary leadership in the Association for Multicultural Counseling and Development (AMCD). We applaud her most recent efforts!
She began as the Parlimentarian for the organization in July 2020
She was accepted and recognized as a 2020 AMCD Mentee for the 2020 Mentoring Program Committee in January 2020
She presented "What About Us? Perceptions of Students of Color on Andragogy and Curricula" at the AMCD Mentee Research Symposium in June 2020.
Along with recent Graduate, Camille Frank, she presented on "Infusng Sentipensante for Mentoring, Teaching and Supervising Collectivist Students" at the AMCD Virtual Summit June 2020.
Congratulations to 2020 Graduates:
Ph.D - Camille Frank, Tim Hakenewerth, William Lane and Tessa Price.
Meridian Master Students - Alyssa Dillon, Cade Kirkhart, Cara Ruiz, and Jennifer Weseman.
Pocatello Master Students - Angelica Alvarez Titus, Joyce Engel, Maggie Gardner, Rebekah Hood, Kimberly Leishman, Cameron Mutchler, Misty Olsen, Daniel Palmer, Ilijan Paurevic, Sara Pinson, Ashley Rohrbach, Samuel Runyan, Alejandra Salas, Jo Anna Shotiveyaratana, Rachel Shryock, Dianna Simonson, and Laura Wolter.
Congratulations to Amirah Nelson
Amirah has been selected as a Rocky Mountain Association of Counselor Education and Supervision Graduate Committee (RMACES) member. As a RMACES Graduate Committee member, students have the opportunity to promote change in the region through the sharing of ideas and implementation of approved projects, facilitation growth and modeling professionalism.
Three activities, projects, and/or ideas Amirah has for promoting graduate student development in RMACES are:
1. Develop and create competencies and/or workshops for graduate level students who are wanting more training to become certified and more skilled (e.g. multiculturalism, and supervision) Hopefully this will lead to discussions on inclusivity and open conversations for the gaps and lack of resources from graduate students.
2. Continue using technology positively to connect students to more resources and networking opportunities using social media platforms (e.g., Facebook, Instagram, and Twitter).
3. Create or continue a mentorship program for graduate students at the Master's and Doctoral level to create more networking opportunities.
Dr. Leslie Stewart and Timothy Hakenewerth, doctoral student, accepted publication!
"Emotional Support Animal Requests: Recommendations for Holistic and Ethical Practices", authored by ISU Department of Counseling faculty member, Dr. Leslie Stewart, and doctoral student, Timothy Hakenewerth, was accepted for publication in the Journal of Creativity in Mental Health. To provide a more comprehensive and interdisciplinary set of recommendations for Emotional Support Animal requests, Dr. Stewart and Timothy collaborated with two additional co-authors: Peter Rabinowitz, a medical doctor from the OneHealth Initiative, and Heather Fowler, a nationally recognized Doctor of Veterinary Medicine, so that perspectives from mental health, medicine, and veterinary science could be integrated into the manuscript.
Congratulations to Aishwarya Joshi, first year doctoral student!
Aishwarya has been awarded the American Counseling Association Foundation Grant for her project titled: Reframing Mental Health Perceptions: Need for Mental Health Assessment and Education in Embu, Kenya. The purpose of this project is to understand and bridge the mental health gaps through needs assessment and mental health education of orphaned children from 9-12 grade in Embu County in Kenya.
Congratulations to our own Dr. Logan Lamprecht, Clinical Assistant Professor/Meridian Counseling Clinic Director
Dr. Lamprecht was awarded a Program for Instructional Effectiveness (PIE) Teaching Innovation Grant for his grant "Building Cohesive and Experiential Distance Learning Communities through Technology-Enhanced Classroom Environments"
Congratulations to Edson Andrade, Emerging Leader with the American College Counseling Association (ACCA).
Olivia Ngadjui, second year doctoral student, presented at ISU TEDx, "Making Friends Across Culture".
2019 Idaho Counseling Association Conference Presentations By Faculty, Doctoral Students and Master Students:
ICA PRESENTATIONS: PRE-CONFERENCE
Helping the Healers: Understanding, Recognizing, and Responding to Vicarious Trauma - Presented by: Leslie Stewart, LPC, PhD
Fundamentals of Clinical Supervision - Presented by: Camille Frank, M.Coun., LPC, NCC, Timothy J Hakenewerth, Ed.S., LPC, NCC, and Jessica Henderson, Ph.D., LPC, NCC
Creating Ethical Practical Strategies for Supervision: An Advanced Supervision Workshop - Presented by: Christian D. Chan, PhD, NCC, Jessica Henderson, PhD, LPC, NCC, and Lynn Bohecker, PhD, LMFT
CONFERENCE PRESENTATIONS
Fundamentals of Supervision - Camille Frank, M.Coun., LPC, NCC, Timothy J Hakenewerth, Ed.S., LPC, NCC, and Jessica Henderson, Ph.D., LPC, NCC
Creating Ethical Practical Strategies For Supervision: An Advanced Supervision Workshop - Christian D. Chan, PHD, NCC, Jessica Henderson, PHD, LPC, NCC, Lynn Bohecker, PHD, LMFT
Helping The Healers: Understanding, Recognizing, And Responding To Vicarious Trauma - Leslie Stewart, LPC, PHD, Olivia Ngadjui, LPC
Resilient Counselors: Introducing the Practice of Compassionate Mind Training - Kalin Morley, LPC, NCC, Brianne Scott, MA
Supporting Couples Experiencing Infertility: Exercising Compassion And Resilience - Shawn Parmanand, PHD, LCPC
Intersectional Advocacy In Counseling: Fostering Resilience When Working With Diverse Clients - Brianne E. Scott, M.A., Randy Astramovich, PH.D. & LPC
Peer Consultation Using The "Wise Crowds" Liberating Structure - Beverly Hines, LPC, Alan Hines, MD
Intersectionality And Positive Body Image: A Framework Of Strategies For Counselors - Christian D. Chan, PHD, NCC, Olivia T. Ngadjui, MA, Camille D. Frank, M.COUN, LPC, NCC, Amirah R. Nelson, MA
P.E.A.C.E. - Compassionate Conversations Enhance Awareness And Resilience - Jordan Wixom, LPC, NCC, Camille Frank, LPC, NCC, Timothy J. Hakenewerth, ED.S., LPC, NCC
Expressive Self-Reflection: Use Of Creative Means For Counselors - Katie K. Sacco, MCOUN, LPC, NCC, Kalin Morley, MCOUN, LPC, NCC
POSTER PRESENTATIONS
Experiential Therapy - Erin Miller
New opportunities: Reframing stigma associated with mental health, PTSD and counseling for first responders - Richard T. Brown
Counseling Transgender Youth, An Invisible Demographic - Skylar Marie Ballinger
In the trenches: Barriers to effective PTSD treatment for veterans - Bryan Wayne Anderson
Race-Based Trauma and the Therapeutic Relationship - Anna Louise Baird-Udy
Trauma-informed yoga, a body-based intervention adjunct to counseling - Jennifer Beckstead
Masculinity and Depression in Counseling - Alex Diede
Teen Mental Health and Social Media - Jan Fisher Clark
Strength-based Interventions for Incarcerated Youth - Kent Hobbs
Walking the Middle Path - A Call to Action - Amber Griffin
Counseling Refugees: An Overview of Practical Applications - Stacey Martinez
Resilience Building for Life - Jay Perry
A Counselor's Role in Promoting Resilience - Catherine Christiansen
Dr. Shawn Parmanand, ISU Department of Counseling Clinical Assistant Professor and Professional Development Coordinator in Pocatello, speaks with KISU Shaela Litzau about Emotional Wellness Month
Congratulations to Dr. David M. Kleist on receiving the 2019 Association for Counselor Education and Supervision (ACES) Legacy Award.
The intent of the ACES Legacy Awards is to recognize ACES members, past and present, who have made a significant and lasting impact on ACES or on the counselor education and supervision profession through the development of policies and/or programs that have advanced the field of counselor education and supervision. Presenting the award to Dr. Kleist is Dr. Kirsten Murray, 2007 graduate of the ISU Counselor Education and Supervision doctoral program.
Congratulations to the Pocatello 1st Year Clinical Mental Health Counseling students. All were accepted for the poster presentation at the upcoming Idaho Counseling Association Conference in November.
Back row: Amber Griffin, Cole Hildebrand, Erin Miller, Jennifer Beckstead, Jay Perry, Kent Hobbs, Anna Baird-Udy, Catherine Christensen.
Front row: Doctoral Student Olivia Ngadjui, Bryan Anderson, Alex Diede, Skylar Ballinger, Associate Professor Dr. Leslie Stewart, Jan Clark, and Doctoral Student Brianne Scott.
Congratulations to our own Olivia Ngadjui, doctoral student in the ISU counselor education and counseling program.
Olivia will be presenting "Making Friends Across Culture"! as one of the scheduled presenters for TEDx Idaho State University, scheduled for Oct. 26. https://www.idahostatejournal.com/…/article_d66b1c39-4f2f-5…
2019 Association for Counselor Education and Supervision Conference
At the 2019 Association For Counselor Education and Supervision Conference in Seattle, Washington, doctoral students Beverly J. Hines, Anna James-Krzemieniecki, Brianna Scott, and Edson Andrade received the ACES Research Grant Award for "Lived Experiences of Doctoral Students Involved in Master's Students' Remediation".
Faculty and doctoral students also presented 19 poster and education sessions:
A Framework for Promoting Empowerment and Engagement of Male Supervisees In the Supervisory Relationship - Doctoral students Edson Andrade, Masters Degree, Lindsdale Graham, Masters Degree.
How to support first-generation, Latinx graduate students in counseling - Doctoral Student Edson Andrade, MS.
Still: Sexist Microaggressions in CES and Suggestions for Reduction - Professor Elizabeth Horn, PhD; LPC.
A Grounded theory Analysis of Counselor Educators Decision Making During Admission Interviews: An Exploration of the Process and Mental Heuristics - Associate Professor Chad Yates, PhD; LPC.
Ethical and Effective Remediation Practices with Students Struggling to Counsel Members of the LGBTQ+ Community Due to a Faith-Based Values Conflict: A Delphi Study - Professor Elizabeth Horn, PhD; LPC.
Becoming a Gatekeeper: A Grounded Theory Study - Associate Professor Steve Moody, EdD; LPC.
Group Work Strategies to Transform Hate and Facilitate Courageous Conversations in Counselor Education & Supervision - Assistant Professor Christian Chan, PhD; NCC.
The Pen and The Sword: Academic Writing Instruction for Master's Counseling Students - Associate Professor Randall Astramovich, PhD; PhD; LPC.
Culturally Responsive Supervision Practices of University Supervisors - Assistant Professor Christian Chan, PhD; NCC.
Can You Hear Me Now? Exploring Deafhood in Counselor Education - Department Chair & Professor David Kleist, PhD.
Previous Journeys: Supporting Counselor Development of Students with Varying Work Experiences - Doctoral Candidate Timothy Hakenewerth, Masters Degree; LPC (ID, MO); NCC.
Pedagogical Implications for Sexual Assault Stigma: Rape Myth Acceptance Amoung Counselors-in-Training - Doctoral Candidate Camille Frank, Masters Degree; LPC (ID); NCC.
Exploring the Experiences of Gay Male Counselor Educators - Associate Professor Randall Astramovich, PhD; LPC.
The forgotten "S" in ACES: An interpretative Phenomenological Analysis of Simultaneous Supervision - Doctoral Candidates William Lane, Masters Degree; MCOUN; LPC; NCC, Camille Frank, Masters Degree; MCOUN; LPC; NCC, Timothy Hakenewerth, Masters Degree; EDS; LPC; NCC, Tessa Price, Masters Degree; MA; LCPC
Doctoral Advising as a Multigenerational Process - Department Chair and Professor David Kleist, PhD.
Teaching Counseling Students about Theories and Etiology of Addiction and Addictive Behaviors: Exploring a Multimodal Explanation of Addiction - Doctoral Student Brianne Scott, Masters Degree, Associate Professor Chad Yates, PhD; LPC
Talk-In-Interaction: Enriching Counselor Education Research Through Conversation Analysis - Associate Professor Steve Moody, PhD; LPC
Using Item Response Theory to Test Questions Upon a Masters Level Counseling Comprehensive Examination: An Exploration of Test Items on the Counselor Education Comprehensive Examination - Associate Professor Chad Yates, PhD; LPC, Doctoral Student Katie Sacco, Masters Degree; LPC; NCC, Doctoral Candidate William Lane, Masters Degree; LPC; NCC
Advocacy Evaluation: A Methodological Framework for Social Justice and Advocacy Research in Counseling - Associate Professor Randall Astramovich, PhD; LPC, Doctoral Students Olivia Ngadjui, Masters Degree; LPC, Kalin Morley, Masters Degree; LPC, Linsdale Graham, Masters Degree, Anna James Krzemieniecki, Masters Degree; LPC
Congratulations to doctoral student Anna James-Krzemieniecki as our new Idaho Association for Counselor Education and Supervision President-Elect!
Anna James-Krzemieniecki is a second year Counselor Education and Counseling doctoral student at Idaho State University and maintains a private practice in Meridian, Idaho. Prior to becoming a doctoral student, Anna worked with college students, as a counseling intern, on interdisciplinary teams at Boise State University and College of Idaho. As a doctoral student, Anna is actively engaged in the supervision, education, and mentorship of master's level counseling students in addition to providing continuing education workshops to counselors in the community. Anna's scholarly interests include, trauma informed approaches to counselor education and gatekeeping, mentorship in higher education, and maternal mental health.
Congratulations to Dr. Chad Yates and Dr. Leslie Stewart – Published book chapter "Specialty Certifications in Professional Counseling" in the Handbook of Counseling and Counselor Education.
Congratulations Ashley Brianne Rohrbach Master in Counseling student. Ashley has been awarded a scholarship from the National Board for Certified Counselor (NBCC) Foundation.
The NBCC Foundation, an affiliate of the National Board for Certified Counselors, Inc.(NBCC), has awarded a $5,000 2019 NBCC Foundation rural scholarship to Ashley Brianne Rohrbach, of Pocatello, Idaho. The rural scholarship is awarded to counseling students who are from rural communities and commit to practicing in rural areas upon graduation.
The mission of the NBCC Foundation is to leverage the power of counseling by strategically focusing resources for positive change. The Foundation created the rural scholarship in 2009 to improve access to counseling services in rural communities, which suffer disproportionately from a lack of mental health care. More than 85 students from across the country applied for the seven 2019 rural scholarships.
As a rural scholarship recipient, Rohrbach will receive up to $5,000 to support her counseling education and recognize her commitment to the underserved. Rohrbach is a graduate of Southern New Hampshire University, in Manchester, and is currently a master's student in the clinical mental health counseling program at Idaho State University, in Pocatello. After graduation, Rohrbach plans to work to develop LGBTQ+ affirming services for clients who live within rural Southeastern Idaho, as there are few resources available currently. She plans to have an emphasis on identity work with clients who identify within the LGBTQ+ populations. Earning this scholarship allows Rohrbach to travel to conferences that otherwise may have been unattainable, in order to gain insight from professionals around the world to best serve her clients.
Congratulations to Dr. Chad Yates, Dr. Daniel Huddock, Dr. Randall Astramovich and Dr. Jehan Hill - New research article published in the Professional School Counseling-Sage Journals.
Helping Students Who Stutter: Interprofessional Collaboration Between Speech-Language Pathologists and School Counselors
Abstract
Children who stutter may experience challenges in their social and emotional development that can lead to academic struggles in school. School counselors and speech-language pathologists (SLPs) are uniquely positioned to collaborate on school-based interventions to help children who stutter. We review common elements of stuttering in children and provide suggestions for enhanced collaboration between school counselors and SLPs.Cong
Dr. Leslie Stewart invited to share animal-assisted intervention knowledge on national stage.
Although it's a topic professors have been teaching in counseling classes for several years at ISU, many people don't realize the complexity of animal-assisted intervention as an effective addition to counseling and counselor education. Extensive skill and training are involved, for both the counselor and the potential therapy animal.
Animal-assisted intervention in counseling involves specially trained and evaluated animals who help counselors work with clients. ISU's Dr. Leslie Stewart, associate professor of counseling, is making herself known nationally with accomplishments involving animal-assisted intervention. She was recently asked to share her knowledge and expertise on the topic of animal assisted crisis response at a congressional panel on Capitol Hill, on behalf of Pet Partners, in Washington D.C. Dr. Stewart has also paved the way for ISU, along with many other universities and organizations, to provide a certificate program for counseling and other healthcare professionals involved in animal-assisted intervention, both human and animal.
Animal-assisted intervention is unique compared to other styles of counseling. Because animals are involved, many additional variables are present. Since animals can't speak to express their feelings, it is the counselor's job to learn how to recognize not only the client's body language, but the animal's as well. It is vital that both the animal assisting with a counseling session, and the client, are enjoying and benefiting from the interaction. This is especially important to discern when animals and clients are meeting for the first time. Dr. Stewart is quick to point out that therapy animals are not service animals, and are not emotional support animals. She says, "You can train animals to do many things, but you cannot train them to continually enjoy the interaction between both new and familiar individuals. It is essential that they become socialized for many different settings and to have exceptional manners. It is crucial that they are more predictable than not, and are capable of reliably responding to handler commands. No different than humans, animals can have bad days as well." It is important to note that not all animals, even those who are friendly and well-trained, are suitable for this role, or want this role. Not only must the animal be specially trained, socialized, and evaluated, they must actively enjoy their work. Although training for counselors in this field is relatively new, Dr. Stewart's research has contributed to the development of specialized provider competency models for animal-assisted intervention that are now being implemented on a national scale.
Dr. Stewart's curiosity for counseling and animal-assisted intervention sparked from her days as a horseback riding instructor. In providing adaptive riding lessons for children with a variety of physical and mental health challenges, Dr. Stewart discovered a need for more qualified, vetted counselors and was interested in learning how to effectively incorporate therapy animals into treatment. Her original research on animal-assisted intervention competencies addresses the specialized training that counselors offering this style of counseling will need in order for themselves, their clients, and the animals to be safe and effective. "We know that the provider needs to be well-trained, but what does that even look like? We know they need to have special skills that are additional to a counselor who doesn't do this, or an OT [occupational therapist] who doesn't do this, but what are those skills? The result of that became a set of competencies for providers of animal-assisted intervention," she explains.
In 2016, the American Counseling Association officially adopted a core set of animal-assisted intervention provider competencies that stemmed directly from Dr. Stewart's research. Now, the American Psychological Association is working closely with Dr. Stewart as a consultant, to develop their own set of provider competencies. Also, as part of an extensive collaboration between Dr. Stewart and Pet Partners there is now a tiered model of therapy animal handler competencies that are appropriate to multiple levels of handler professionalization: volunteer handlers, paraprofessional handlers, and licensed professional handlers. Pet Partners is a national organization that works to prepare, evaluate, and register therapy animal-handler teams to provide animal assisted activities (i.e. hospital visits, senior care centers, school visits, literacy improvement programs) and animal assisted intervention (i.e. counseling veterans or other populations with PTSD , patients engaged in physical or occupational therapy, animal assisted education in schools, and those approaching end of life).
Though many clients are offered the option of working with an animal during counseling, Dr. Stewart says she does not provide it to everyone. "In certain situations, such as survivors of abuse, clients can feel uncomfortable and want space from animals but are nervous about expressing their want to set boundaries or space from the animal. If clients are offered and accept animal interaction, more consent is needed compared to the typical consent given for counseling sessions," she explains. Since there are times when the animals simply don't want to be just a therapy animal; their consent is equally as valid and crucial as a human's consent.
Dr. Stewart has found that animal-assisted intervention can be beneficial not only in counseling practice, but also in counselor education. At ISU, Dr. Stewart offers a certificate program for Animal Assisted Interventions in Counseling; it's a nine-credit certificate program consisting of three courses. These classes can be taken over one summer or spread out over multiple summers. Enrolled students as well as practicing professionals can take these courses that are offered both on campus and online. Today, ISU is now one of just a handful of institutions across the United States that offers an animal-assisted intervention training and certificate program. Stewart's enthusiasm and passion for the program are to thank for the establishment and success of this program at ISU. For more information about Stewart and this program, visit https://www.isu.edu/counseling/programs/animal-assisted-interventions-certificate/. For more information on distinguishing service animals from other types of animals, please see: https://www.ada.gov/regs2010/service_animal_qa.html.
Dr Leslie Stewart and her Animal Assisted Interventions partner Star Sapphire.