Commencement Symbols
The President's Medallion
ISU's medallion was created by ISU art professor Gail Dial in 1979. Its base is a four inch disc of Idaho silver. Three unique opals only found in Idaho are mounted on the base. Engraved on the front of the medallion is an abstract depiction of ISU's Retired University Seal. On the back, each ISU president's name is listed. The heavy medallion is worn suspended from a chainmail collar representing the University's chain of command. At commencement it is worn by the University president as an element of his academic attire.
University Motto and Seal
The University Motto is "Veritas Vos Liberabit" - "The truth will set you free." The motto was written by former student Ralph Harris. While designing the seal, Harris felt a Latin motto was appropriate to include, but agonized over what would be suitable. Each day when he walked to art school he passed a large Catholic cathedral. One day a priest he would occasionally visit with on his way to school suggested "Veritas Vos Liberabit." The University Motto continues to appear on the current University Seal.
The University Mace
Idaho State's commencement begins with the entrance of the University Mace, carried by the Distinguished Teacher Award recipient who serves as the marshal of the academic procession. The placement of the Mace in front of the podium signifies the proceedings have official sanction. As an ancient symbol of authority, the Mace reminds us that Idaho State University is a custodian of higher learning and of the power ISU bestows upon those who come here to learn.
Gonfalons
The gonfalons – commonly referred to as college banners – add an element of color and pageantry to ISU's commencement ceremonies. The name comes from medieval Italy, where "gonfaloni" was the name given to community meetings in Florence. At Idaho State University, each one of the seven colleges, schools or divisions has at least one gonfalon and the gonfalonieres, or carriers of the banners, precede each college, school or division during the processional into Holt Arena.
ISU Bell
The ringing of the ISU bell was incorporated into "March through the Arch" ceremonies in 2000–2001. During Commencement, the bell is rung once more as a congratulatory farewell to graduates leaving ISU as they embark on new careers and experiences.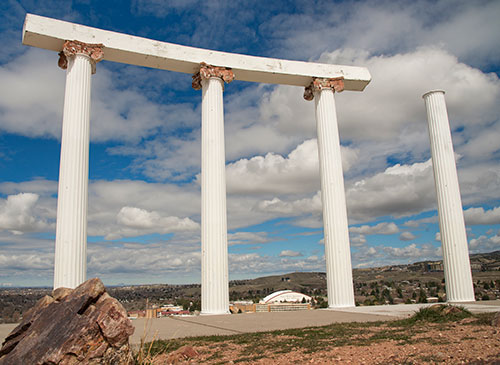 The Pillars at Red Hill
During Homecoming in 1970, the white pillars atop Red Hill were dedicated for the world to see. Donated by Jack Henderson in 1966, each pillar is 20 feet high and weighs nearly 600 pounds. The three connected pillars represent the freshman, sophomore and junior classes. The beam connecting them together is symbolic of those students being surrounded by friends, classmates and supported by the University's services. The fourth column stands alone. It represents the senior class after graduation, standing alone but ready to face the world and its challenges bolstered with their degree from Idaho State University.