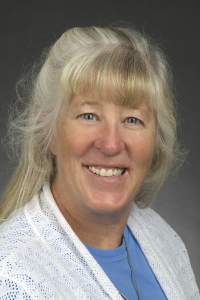 Nancy Devine, PT, DPT, PhD
Associate Professor
Office: Garrison Hall 312
Research Areas:
Motor control and learning for people post-stroke
Neuroplastic pain reduction for complex regional pain syndrome
Education:
PhD Experimental Psychology, Idaho State University, Pocatello ID 2020
DPT Physical Therapy, MGH Institute of Health Professions, Boston MA 2006
MS Biology (emphasis neuroanatomy), Idaho State University, Pocatello ID 1993
BS Physical Therapy, University of Vermont, Burlington VT 1986
Biographical Sketch:
Dr. Devine has clinical experience in acute care, inpatient/outpatient neurologic rehabilitation, and hospice. She has been a faculty member at ISU since 1990 and currently teaches multisystem management.
Research Projects (Current and Future):
Virtual Reality Mirror Box Intervention
Participants >1 year post-stroke use a virtual reality headset that incorporates use of the intact arm to perform virtual tasks that are reflected to make it appear as if they are using the affected arm. The observation of the affected arm performing virtual tasks, even though they are actually performed by the intact arm, may provide neuroplastic changes in the brain to support recovery of voluntary movements in the affected arm. Participants also participate in an equivalent number of sessions practicing using the affected arm.
Augmented Reality Mirror Box Intervention
This area of research is a collaboration with a practicing physical therapist who developed an app to provide a reflected augmented reality view of the world. Patients receiving physical therapy services for complex regional pain syndrome in the arm or leg use the MirrorBox app to see the real word reflected (augmented reality). They then provide progressive sensory stimulation to the intact limb while perceiving the stimulation to be occurring on the involved, painful limb. Experiencing the visual perception of being able to apply progressively more sensory stimulation to the involved limb (even though it is actually occurring on the intact lim) assists in developing neuroplastic changes in which sensory stimuli actually applied to the painful limb are no longer perceived as being painful.
Body-Weight-Support Treadmill Training
We are developing a research protocol to have participants > 1 year post stroke who are interested in regaining the ability to run. Body-weight-supported treadmill training will be used to provide a safe environment to practice running at progressively increased speeds and eventually reducing the amount of body weight supported. The running mechanics trained on the treadmill will then be trained over-ground.
Personal Interests/Hobbies:
Outdoor activities: hiking, fly-fishing, kayaking, skiing, snowshoeing