When you think of hiking, skiing, good restaurants and a community atmosphere, what is the first place that comes to mind? Now what if I told you that you can find all of this and more right in Idaho's very own backyard?
Pocatello is a vibrant city that offers much in the way of small-town charms. There are plenty of historical spots in town, as well as cozy coffee shops and great places to grab a bite to eat. Not to mention, Pocatello is very much a college town and it's very evident that the community loves their Bengals! In this ever-growing country, it's becoming more and more difficult to find a quaint, quiet community, but Pocatello can offer you just that!
When you first drive into town, the first thing you'll notice are the giant orange paw prints paving the roads. This is our way of letting all visitors know - you've officially entered Bengal territory! This is a great feature, especially for prospective students who are visiting the campus for the first time. Not to mention, our iconic white pillars on the top of Red Hill! Or the symbolic tradition of March Through the Arch, when all new students march through campus to Swanson's Arch to officially begin their journey as Idaho State students. We Bengals are proud of our traditions and where we come from, and we want to share that with everyone we meet!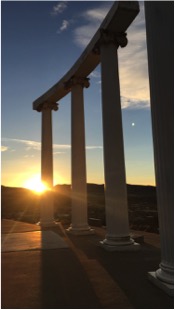 Red Hill Pillars
The community is very involved with Idaho State events. On football game days, everyone in town is invited to join us on the practice field for a pre-game tailgate! There's huge orange tents with yard games and plenty of food options from the food trucks that come to every event.

I have to say though, my favorite part of the school year is the very beginning. Everywhere you look, local businesses are supporting their Bengals. With the Welcome Back Orange and Black event during the Week of Welcome, students are able to walk around Old Town and meet with people from all over town and get more free swag items than they know what to do with. When it comes time for homecoming week, all the businesses paint their windows orange and black to show their pride and there is a homecoming parade that the whole town lines the streets for on the day of the big football game. As a current ISU student who is not from Pocatello, I can honestly say that I have never felt more welcomed into a community and homecoming week always leaves me bursting with pride to be a Bengal and to live in a town as great as this one.
Pocatello is much more than just Idaho State University, however. The city offers so much in the way of cute little coffee shops and great restaurants, as well as historical sites.
Coffee shops are great for getting together with friends on a quiet Sunday morning, but they are also great places for college students to study in a relaxing environment. Pocatello is home to many local coffee shops such as Bru House, Mocha Madness, and College Market. Each coffee shop has its own personality that makes it unique. Bru House is located in Old Town, and it hosts art shows and local singers, as well as other private events. Barista Erin Schilk from Mocha Madness describes their shop atmosphere as "very personable" because every barista works hard to know each customer by name so they can have better relationships with the people who drink their coffee. And College Market is located right next to campus, making it the perfect place for students to meet for group projects or just to work on homework together while enjoying a nice cuppa joe. Of course, we do have Starbucks and other chain shops as well, but there's definitely something to be said about the ambiance of a small, local shop.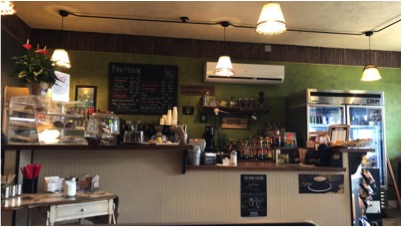 Bru House
In addition, Pocatello offers many different dining options. Buddy's Italian restaurant is a town favorite, and is well-known for their salad dressing. Goody's and Fifth Street Bagelry are popular among ISU students and faculty, as they are located on fifth street adjacent to campus. Goody's has great pizza and subs, and Fifth Street is home to Pocatello's best bagel sandwich. Other great restaurants include Mama Inez for mexican cuisine, Sumisu for some quality sushi, and MacKenzie River and the Sandpiper for some fancier dining options. You really can't go wrong with any restaurant, they all serve delicious and unique dishes!
Aside from great places to eat, Pocatello is the best place to enjoy outdoor activities. Ross Park, only a few minutes down the road from central campus, is a great place to hang up a hammock and relax for a few hours. There is also a frisbee golf course here which is a great way to spend an afternoon and get some fresh air! Of course, there are great places to spend some time outdoors on campus as well. The Quad (pictured to the left), Cadet Field and Bartz Hill all offer a great study spot for a sunny day and good places to hang out with friends, or even set up a volleyball net or soccer goal when you need a break from studying!
Pocatello is also well known for its hiking trails, City Creek and Gibson Jack. City Creek offers a dozen trail options for hikers and bikers, all for different skill levels. Gibson Jack is known to be a slightly more difficult trail, but with views that are totally worth it. Last, but certainly not least, is the Pebble Creek Ski area, which is the best place around for skiers and snowboarders! The mountain is unique in the way that the majority of the trails are of intermediate level or higher, and it offers a great opportunity for those who love a challenge! We are lucky in Pocatello to have easy access to the mountains around us, plus it allows for breathtaking views, no matter the season!

Looking more into the past, Pocatello also has a lot of great historical spots. At the aforementioned Ross Park, is a replica of Fort Hall from the days of the Oregon Trail. This is a great way to see the history first-hand. The Museum of Clean is another attraction unique to Pocatello that houses thousands of cleaning artifacts that date way back. There are a lot of hands-on activities and plenty for kids to do, too! Idaho State's campus is home to another great museum - The Idaho Museum of Natural History. Students are able to walk through the history of the state in the official museum of Idaho, which was founded in 1934. Finally, the city of Pocatello, named after a chief of the Shoshone-Bannock Tribe, began as a small settlement with room to create a railroad.* Today, the historic downtown district has great food, antiques, community events, and the railroad is still very prevalent and useful to the town.
Now, Pocatello means something different to everyone, so I asked a few students around campus what their favorite part of Pocatello is. Senior Jenna Strop said, "Probably how small and quaint it is. People are so nice because everyone knows everyone!" Crosby Crevelt, an Outdoor Education major, said he really enjoys that Scout Mountain and Pebble Creek are so close to campus. The recreational opportunities in the area allowed him to excel in his field of study. Last but not least, ASISU President and Pocatello native Logan Schmidt said, "I felt like I had a family on every street I grew up on and I always knew I had someone to look out for me growing up." He went on to describe all the hidden opportunities he found over the years here, and how this little town had such a huge impact on his life.
Pocatello is clearly more than just what meets the eye. With breathtaking mountain views from anywhere in town, and so much rich history, it is easy for every heart here to be filled with pride and passion. Each person you meet here can give you at least one example of how this town has changed their life. So, let it change yours. Take a moment to revel in all that is the wonderful city of Pocatello, you might be surprised at what you find.