ISU Meridian Nutrition Clinic
CONTACT US:
Phone: (208) 373-1734
Fax: (833) 390-1293
Address:
ISU Meridian Health Science Center
1311 E. Central Dr.
Meridian, ID 83642
Directions:
HOURS:
Telenutrition Services and in-person visits available by appointment
Tuesday - Wednesday

9:00 AM - 4:30 PM
Other days, as needed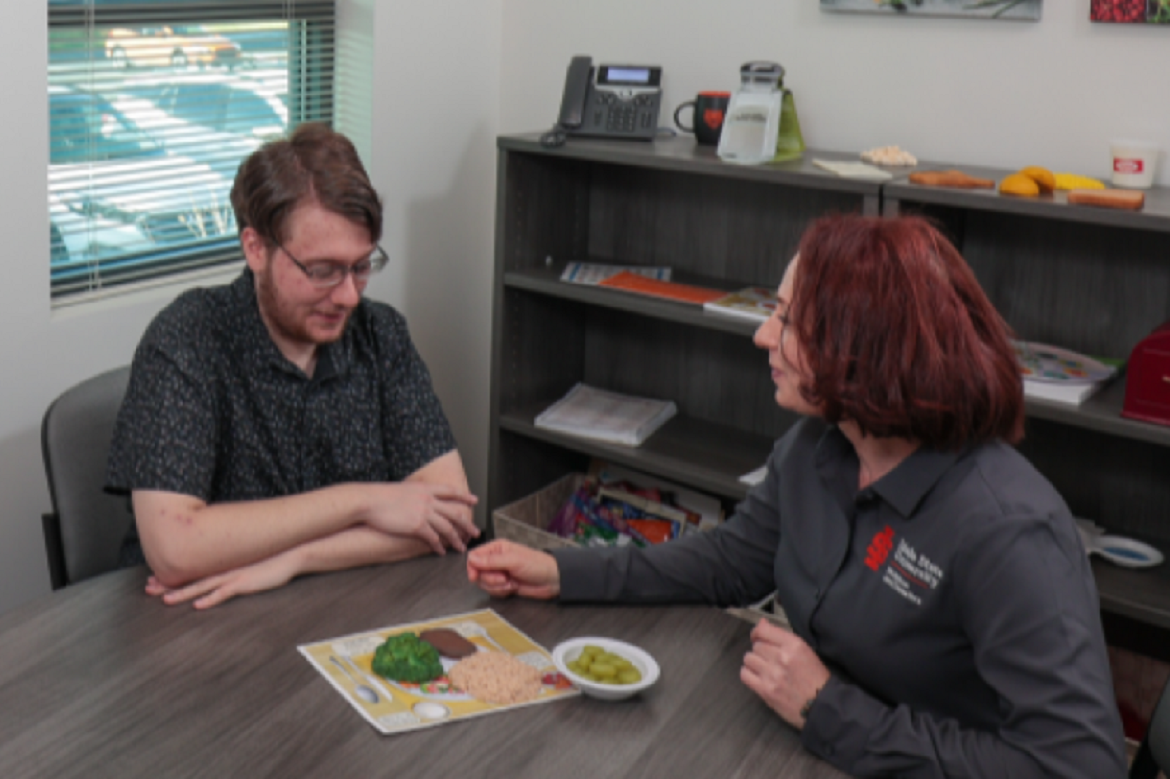 The ISU Meridian Nutrition Clinic is part of the University's outreach efforts to the Treasure Valley community and Idahoans in remote areas. The clinic is used to conduct research grant activities and provide students with state-of-the-art clinical educational experiences.
Chronic disease management
Prediabetes and diabetes
Gastrointestinal (GI) disorders
Healthy aging
Nutrition and wellness
Prental care
Urological conditions (interstitial cystitis, ED)
Weight management
Women's health
Vegetarian, vegan, plant-based eating
A Healthy Pregnancy for Baby-and You!
90-minute session delivered via Zoom
What to eat, what to avoid
Offered monthly. For specific dates and to register, call: (208) 373-1734
Menopause Matters
12-week in-person workshop
Have fun trying belly dancing and chair yoga
Registration open for January class. To register, call: (208) 373-1734
Diabetes
CDC Lifestyle Change Program:
Reduce your risk for prediabetes and type 2 diabetes
12-week, online and in-person classes
Health Screenings
Supermarket Tours
Cooking Demos
Make an Appointment
Call (208) 373-1734 to schedule an appointment:
Clinic Hours: Tuesday - Wednesday, 9:00 AM - 4:00PM
Other days at mutually available times
Patient Referrals
The ISU Meridian Nutrition Clinic accepts referrals for both in-person and telenutrition counseling appointments via phone or fax:
Phone: (208) 373-1734
Fax: (833) 390-1293
Consent Forms
Consent forms are traditionally sent via DocuSign to your email account. If you are unable to sign consent forms electronically, paper copies are also available for your covenience. Please print and return with you on the day of your appointment.
Parking
ISU provides free parking for clinic patients/clients:
Clinic parking is outlined in yellow directly in front of the ISU Meridian Clinics' entrace.
The parking area is located on the southwest side of the building facing I-84.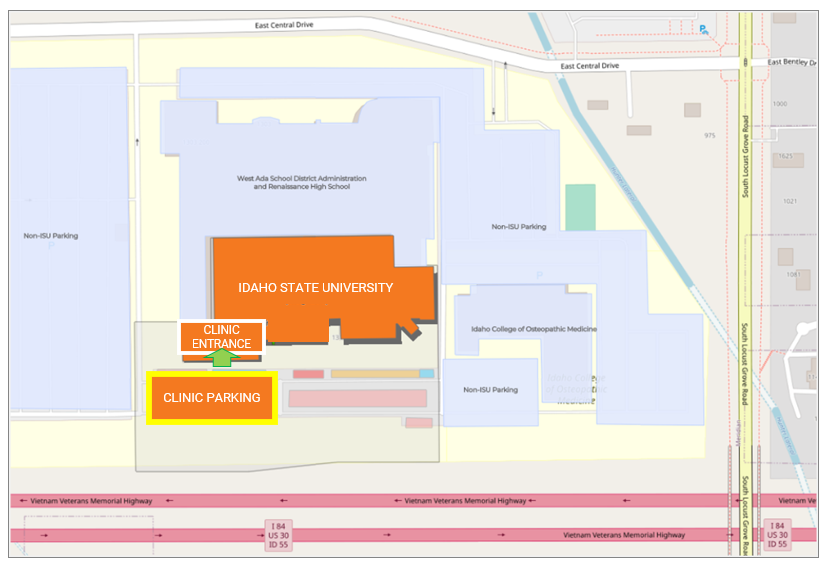 Billing
If you have insurance, please bring your insurance card with you to every appointment. Our clinic accepts and bills the following insurance plans:
Aetna
Blue Cross of Idaho
Cigna
Medicare (physician referral required)
Medicaid (physician referral required) Only covers 2 visits for children and pregnant women
Pacific Source
Regence Blue Shield of Idaho
Select Health
Tricare
United Healthcare
UMR
Payment
Some nutrition services are non-covered or may be subject to your deductible.
Payment, including co-pays, is expected at the time of service.
We accept cash, check, and visa/debit payments.
Ask about our income-based sliding scale.
Click here to make an online payment:

Pay Online
About Our Income-based Sliding Scale
If you don't have health insurance, or your insurance doesn't cover nutrition counseling, the ISU Meridian Nutrition Clinic offers reduced payment rates through an income-based sliding scale.
The sliding scale is not insurance. However, for those who qualify, appointment fees are based on both income and household size. You can qualify even if you are insured.
Patients are responsible for paying any unpaid balance for services.
This includes the sliding scale fee, co-pays, co-insurance, deductibles, and other services
not covered by insurance.