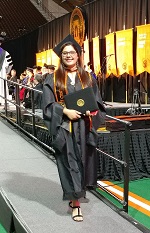 Rachana Luitel, MSHI
The Master of Science and Health Infomatics (MSHI) program is very proud to announce Ms. Rachana Luitel as the first Masters of Science in Health Informatics graduate at Idaho State University.
Rachana was also the recipient of the Outstanding Masters of Science in Health Informatics Graduate Award, 2019.
Congratulations Rachana!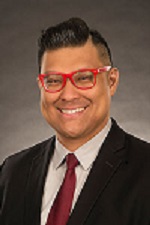 Assistant Professor Dr. Christian Chan from the Department of Counseling received two national awards at the American Counseling Association Conference in New Orleans, LA.

The ALGBTIC Ned Farley Service Award, Association for Lesbian, Gay, Bisexual, and Transgender Issues in Counseling. This award is presented annually to an ALGBTIC member who has served ALGBTIC and/or the larger LGBTQQIA community through forwarding the mission and values of ALGBTIC, and the AADA 2019 President's Outstanding Service Award, Association for Adult Development and Aging.
Mickelsen Honored as 2019 Oustanding Master Teacher! Well done!
Wendy Mickelsen, MHE, RT(R)(M)(ARRT)
Mickelsen has been teaching in the radiographic science program since 2002. She mentors and advises students at both the Pocatello and University Place campus in Idaho Falls. She delivers her courses with a passion and zest which takes students "beyond the books" to increase their level of learning, clinical competence and effective health care delivery.
In radiographic pathology, her students actively perform a mock biopsy, and as part of her pediatric radiography class, the students travel to Primary Children's Medical Center in Salt Lake City to experience the gold standard in pediatric medical imaging practices.
In addition, Mickelsen is instrumental in aiding graduates in pursuing advanced imaging modality opportunities in computed tomography, magnetic resonance imaging, angiography, mammography, bone densitometry and the newly approved diagnostic medical sonography program. She has served as the president-elect, president and chair of the Board for the Idaho Society of Radiologic Technologists and is a former Idaho delegate to the American Society of Radiologic Technologists.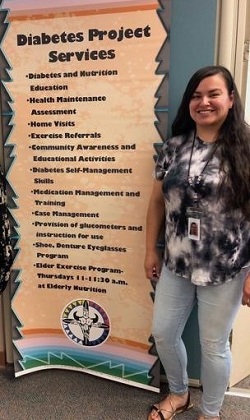 Shannlyn Spotted Elk, ISU's July 2019 CPI
Shannlyn Spotted Elk, who spent the past six months interning with the Shoshone Bannock Tribes Fort Hall Diabetes Program, is Idaho State University's July 2019 Career Path Intern of the Month.
Spotted Elk, a recent graduate of the ISU dietetics program, performed outreach through community presentations, participated in dietetic home visits and collaborated with the Fort Hall Language/Culture program on developing nutrition education posters with traditional foods. The diabetes program she works on is a division of the Tribal Health and Human Services.
Spotted Elk's internship experience with community outreach has helped shape her future plans as a dietitian. Spotted Elk graduated in May 2019.
"I plan on returning to school to get a master's or doctoral degree," Spotted Elk said. "I would then be able to conduct research on how to improve the health in Native Americans' communities and hopefully make real change come about."
ISU audiologists serving the Pocatello area in a new way!
Audiology services will soon be offered at the Pocatello Free Clinic! ISU audiologists will be volunteering time to provide much needed hearing healthcare within the Pocatello community at this clinic.
This is very exciting and has been a work in progress over many months. Comprehensive audiologic evaluations for adults who do not have insurance or the ability to pay for an evaluation will be offered. Also, the ISU Audiology program will tap into national programs to obtain hearing aids for those who could benefit from amplification. The goal is to provide services on Fridays. ISU audiology graduate students will also have an opportunity to see patients at this location and obtain valuable clinical experiences.