ISU iPad Initiative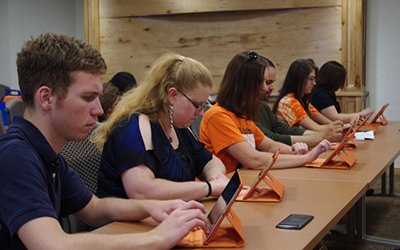 Promoting Technology in the Classroom: Creating Student Leaders Today, Tomorrow and Beyond
Why the iPad Initiative?
The number of online courses offered in the College of Arts and Letters has grown by 267% since 2013. As a result of this exciting increase and student response, we want to ensure an environment of the highest academic integrity for our students.
We are developing online curricula, technology tools and testing that will provide our students with the opportunity for great success now and in the future.
The College's "students first" mission includes a strong focus on the use of thoughtful and innovative technology to support today's 21st-century learners.
With the growth in online instruction and with higher education leaders in the state to pilot this project, the ISU iPad initiative will enhance and extend teaching and learning to bring tremendous value to our students, our teachers and our state.
The ISU iPad initiative supports the way students live and how they want to learn as ISU students. They will now have anytime, anywhere access to the largest collection of education content and productivity tools in the world, including over 75,000 educational apps now available on iOS devices.
What is the impact of the iPad Initiative?
In making iPads available to students via mobile containers, College faculty have created numerous ways to create a more engaged learning experience. This initiative gives the students technology skills they will need for careers in their fields.
Students have expressed their excitement about the use of this technology in their courses and how it will enhance their education, skill sets, and entry into the workforce. The impact will be realized through student recruitment and retention, as well.
Educational student empowerment
Students will be part of an educational leadership initiative that will be interactive, interdisciplinary and collaborative, modeling online course development at the state, regional, national and global levels.
For more information, download the Apple iPad Pilot Project PowerPoint presentation from June 28, 2013.