Fourteen eastern Idaho high school students receive $120,450 in scholarships from Idaho State University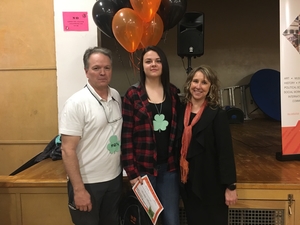 Fourteen eastern Idaho high school students will receive over $120,450 in scholarships from Idaho State University toward their undergraduate degrees. The students learned about these scholarships through the College of Arts and Letters Road Scholars program.
The College awarded $28,000 in Road Scholars Scholarships from their Dean's Excellence Fund. During their visits, the information they received not only included their Road Scholars Scholarship but outlined the additional recruitment scholarships they will be receiving at ISU based on their high school academics
The Road Scholars program was started in 2016 when the College's dean Kandi Turley-Ames wanted to find another way to help combat Idaho's low go-on rate for students continuing on to college after high school.
"Recruiting more students from eastern Idaho has always been a goal of ours, and through the Road Scholars program, we have been able to do so," Turley-Ames said.
Students were nominated by their high school principals, and were then asked to write a one-page essay that described their college and career goals. Once the College received the submissions, they selected a student based on their GPA, major of interest and goals highlighted in the essay. The College scheduled a visit to each high school and surprised the winning students during an assembly, class or small meeting.
"Most students rely on financial aid to start and finish their education, and we wanted to help these students who need it the most," Turley-Ames said. "By telling Students from Marsh Valley, Hillcrest, Snake River, Blackfoot, Independence, Century, Highland, Pocatello, Skyline and American Falls High Schools were awarded scholarships.
CONTACT
(208) 282­-3204
(208) 282-4610
921 S 8th Ave, Stop 8087 Pocatello, ID 83209­-8087