The College of Arts & Letters Recognizes Five Outstanding Eastern Idaho Dual-Enrollment Teachers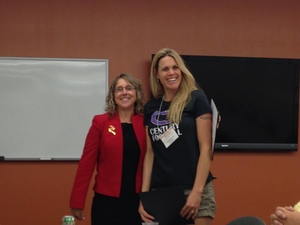 The College of Arts & Letters recognized five outstanding Eastern Idaho dual-enrollment teachers at ISU's Early College Annual Teacher Training in August.
The Arts & Letters Dual Enrollment Teacher Excellence Award was established this year to recognize the hard work and dedication Eastern Idaho high school teachers are putting into their dual-enrollment courses.
"There are so many outstanding teachers in Eastern Idaho and we wanted to come up with a way to recognize some of them every year," said Dean Kandi Turley-Ames. "The work that these teachers invest in providing their students with college-level instruction is remarkable."
This year's winners include James LeDoux, English, Renaissance High School, Meridian; Thomas Sanford, statistics, Highland High School, Pocatello; Robert Koepplin, German, Skyline High School, Idaho Falls; Doug Good, social studies, American Falls High School, American Falls; and Meg Fleishmann, science, Century High School, Pocatello.
"I was extremely honored to receive the Dual Enrollment Teacher Excellence Award last month at our annual workshop in Pocatello," said LeDoux. "We work very hard to ensure that our high school students are being challenged with college-level content and standards, and it was validating that the university saw fit to recognize the meaningful work that we do."
CONTACT
(208) 282­-3204
(208) 282-4610
921 S 8th Ave, Stop 8087 Pocatello, ID 83209­-8087