Two Arts & Letters Faculty Members Receive Distinguished Alumni Awards from the College of Idaho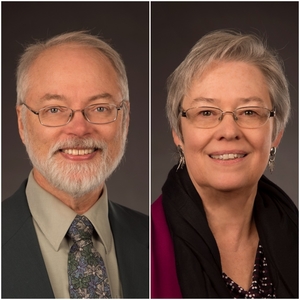 Brian and Jennifer Attebery, professors in the Department of English and Philosophy, recently received Distinguished Alumni Awards from the College of Idaho.
The Distinguished Alumni Award is given to members of the National Alumni Association who have shown exceptional accomplishments in their chosen professions and have distinguished themselves as leaders.
"I can think of no other couple who better epitomizes the College of Idaho values of academic excellence and community involvement," said Barry Fujishin '72 in a College of Idaho story. Fujishi is the classmate who nominated both the Atteberys for the award.
Brian and Jennifer Attebery are married but are being recognized individually for their accomplishments. Both are Fulbright Fellowship awardees and have received Distinguished Researcher Awards from ISU.
"It was a great honor to receive the Distinguished Alumni award from my undergraduate alma mater, The College of Idaho," said Jennifer. "The college has numerous graduates who have gone on to establish significant careers, so being singled out from among them was a nice reminder that my administrative, teaching, and research career may have made a difference. I'm very pleased to have been honored with this award."
The Atteberys have been recipients of other awards in recognition of their accomplishments and contributions to the academic community. Brian has received the Award for Outstanding Achievement in the Humanities from the Idaho Humanities Council, and Jennifer has received the Idaho Library Association Book Award for Building Idaho: An Architectural History.
"I was surprised and enormously pleased," Brian said. "I have known several of the previous honorees and I'm delighted to be in their company."
Written by Katie Damron, College of Arts & Letters Intern
CONTACT
(208) 282­-3204
(208) 282-4610
921 S 8th Ave, Stop 8087 Pocatello, ID 83209­-8087