College of Arts & Letters Professor Emeritus and Supporter Receive JRM Foundation Hometown Hero Awards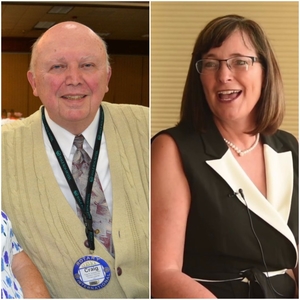 The JRM Foundation for Humanity honored Idaho State University professor emeritus Colonel Craig W. Nickisch and supporter Sheryl Brocket in September with an Idaho Hometown Hero Medal. The Idaho Hometown Hero recognizes men and women who have made a positive impact on their community by demonstrating heroism, strength, leadership and kindness.
"Both Craig and Sheryl have proved time and time again what it means to be an Idaho Hometown Hero through their work bettering Idaho through education," said Dean Kandi Turley-Ames. "We are honored to know and work with Craig and Sheryl and to help celebrate their accomplishments."
Col. (Rtd.) Craig W. Nickisch has held several positions serving in the U.S. Army throughout Central America, Europe and Southeast Asia. He has demonstrated instrumental leadership and bravery across the globe. Nickisch also served as a professor of foreign languages at ISU from 1988 to 2004. While serving as a professor, he earned the Master Teacher, Outstanding Public Service and Outstanding Researcher Awards. In 1999, he was selected as the Most Influential Professor in the College of Arts and Sciences.
Nickisch has dedicated much of his life to serving communities near and far through his travels as a member of the military. His service has extended beyond his military service as he continues to work in the community to inspire and educate others.
Sheryl Brockett has been a school administrator in School District 25 for the past 20 years. In the last nine years, as the principal of Century High School, she has led Century to become one of the top schools in the nation. Earlier this year, Century made "The Washington Post's" list of America's Most Challenging High Schools, ranking 2,019 out of 2,369 schools.
Brockett's commitment to education in the community has influenced the lives of thousands of students. Additionally, Brockett has worked tirelessly to improve the quality of education and academics at Century, which has been reflected in the school's performance and national rank.
Written by Katie Damron, College of Arts & Letters intern
CONTACT
(208) 282­-3204
(208) 282-4610
921 S 8th Ave, Stop 8087 Pocatello, ID 83209­-8087